WASHINGTON, D.C. -- Norman Borlaug, Nobel peace laureate and senior consultant of the Carter Center's Agriculture Program, was awarded the Congressional Gold Medal here July 17 for his work on high-yield, disease-resistant varieties of wheat credited with starting the "Green revolution" and alleviating starvation in India and Pakistan in the 1960s.
The medal, the highest civilian honor that Congress awards, was presented by President George W. Bush.
"Norman Borlaug has dedicated his life to health and peace for untold millions around the world," said former U.S. President Jimmy Carter. "We congratulate him on this significant, and fitting, award."
Dr. Borlaug, whose work is credited with saving up to a billion lives, was awarded the Nobel Peace Price in 1970. In 1986 Borlaug founded the World Food Prize, an annual $250,000 award to people whose work increases the quality, quantity or availability of food in the world.

During the ceremony, Dr. Borlaug, 93, said that hunger remains a problem with the rapid rise in the world's population.

"We need better and more technology, for hunger and poverty and misery are very fertile soils into which to plant all kinds of 'isms,' including terrorism," he said.

Dr. Borlaug, an Iowa native, was educated in a one-room schoolhouse and went on to attend the University of Minnesota. He continues to work for the International Maize and Wheat Improvement Center in Mexico and the Agriculture Program of The Carter Center to bring the Green Revolution to Africa. He also serves as a distinguished professor of international agriculture at Texas A&M University, where he gives guest lectures.

The Congressional Gold Medal was first awarded to George Washington in 1776. Other past winners include Thomas A. Edison, Bob Hope, Pope John Paul II, and the Rev. Martin Luther King.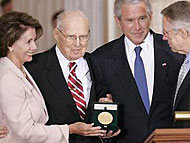 AP Photo

Norman Borlaug poses with House Speaker Nancy Pelosi, President Bush and Senate Majority Leader Harry Reid during the July 17 ceremony.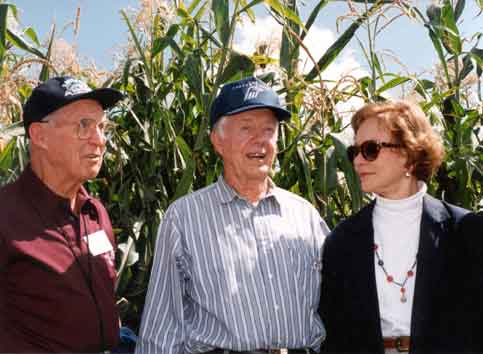 The Carters, with Norman Borlaug, Ph.D., senior consultant, Carter Center Agriculture Program, in Ethiopia in 1995. 
Read "Continuing the Green Revolution," by Norman E. Borlaug, Wall Street Journal Commentary, July 18, 2007
Read bio: Norman Borlaug, Ph.D., Senior Consultant, Carter Center Agriculture Program