EPHTI Helps Ethiopians Tackle Severe Shortage of Health Care Professionals
Ethiopia daily faces a devastating health emergency - one in six children will not see their fifth birthday, and the life expectancy is 41 years. The most common illnesses and causes of death could be easily prevented or treated if it were not for the acute lack of access to health care in the country.
Since 1997, the Ethiopia Public Health Training Initiative (EPHTI) has helped to address this alarming void through a landmark partnership between the government of Ethiopia, seven Ethiopian universities, 21 Ethiopian hospitals, and The Carter Center.
EPHTI is unique because the program helps Ethiopians determine the best way to deliver public health care to their country, rather than the one-size-fits all approach that is common in other parts of Africa.
International experts work side by side with Ethiopian teaching staff at the University of Gondar, Defense College of Health Sciences, Haramaya University, Hawassa University, Mekelle University, Jimma University, and Addis Ababa University to conduct training workshops and seminars to enhance faculty skills and to assist in developing learning materials based on Ethiopian experience.
EPHTI also works to enhance the classroom environment for health sciences students through the provision of computers, anatomical models, and supplies such as stethoscopes and gloves.
The program has made major progress: more than half a million copies of approximately 230 health learning materials have been produced, and more than 8,500 students have graduated from universities assisted by EPHTI since its inception. Already, these efforts have improved health care delivery for 75 million rural Ethiopians.
"Patients can now see health officers regularly, and many complicated cases can be managed in our health centers instead of having to transport patients to hospitals," Rahel Terefe Bogef, a health officer trained by the Initiative said.
The Carter Center-assisted EPHTI is made possible through USAID assistance.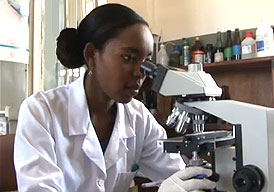 The Carter Center Ethiopia Public Health Training Initiative.
Watch Our Video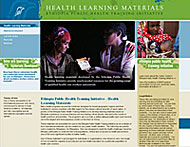 Visit the EPHTI Health Training Materials Web Site >>
This site includes modules, lecture notes, and manuals developed by Ethiopians, for Ethiopians. The materials are designed to meet the country's health challenges, particularly in underserved rural populations, where lack of access to health personnel is one of the most significant hurdles to better health.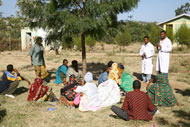 Photo credit: The Carter Center
(Click to enlarge)
Health science students educate members of a local community.