The Carter Center-led drive to eradicate Guinea worm disease gained significant momentum in 2009, with an all-time low of 3,190* total cases reported -- a 31 percent decrease from 2008.
When The Carter Center began leading the campaign to eradicate Guinea worm in 1986, there were an estimated 3.5 million cases of the disease in 20 countries in Africa and Asia. Today, less than a fraction of one percent of cases remain in only four endemic countries: Sudan, Ghana, Mali, and Ethiopia. Approximately 86 percent of remaining cases are found in Southern Sudan.
In 2009, Niger and Nigeria--once the most Guinea worm-endemic country in the world--stopped transmission after reporting zero cases for an entire calendar year for the first time. The four remaining endemic countries significantly reduced Guinea worm cases in 2009: Sudan reported a 24 percent reduction, from 3,618 in 2008 to 2,733 in 2009; Ghana reported a 52 percent decrease, from 501 in 2008 to 242 in 2009; Mali reported a 55 percent reduction, from 417 in 2008 to 186 in 2009; and Ethiopia reported a 41 percent reduction, from 39 in 2008 to 24 in 2009.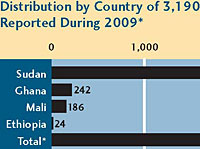 Click here to view full chart (PDF) >
REMAINING CASES (2009)
Sudan: 2,733
86 percent of total remaining cases
Ghana: 242
7.5 percent of total remaining cases
Mali: 186
5.8 percent of total remaining cases
Ethiopia: 24
Less than 1 percent of total remaining cases (0.75)
A waterborne parasitic infection acquired by drinking contaminated water, Guinea worm disease--or dracunculiasis--incubates in a person for about a year until a worm as long as 1 meter (3 feet) exits the body painfully and slowly from a blister in the skin. Guinea worm is spread only when humans drink contaminated water, and it can be eliminated through simple, low-technology measures, such as filtering all drinking water and educating people with emerging worms not to enter water sources.
With worldwide case reductions down by more than 99 percent since the beginning of the program, Guinea worm disease is poised to become the next disease after smallpox to be eradicated from Earth and the first to be wiped out without the use of a vaccine or medicine, and the first parasitic disease to be eradicated.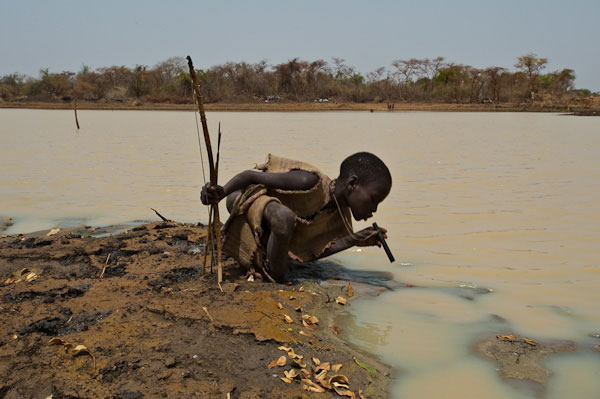 Photo: Carter Center/L. Gubb
(Click to enlarge) Guinea worm disease is poised to become the first parasitic disease to be eradicated, and the first to be wiped out without the use of a vaccine or medicine. Health education and low-technology measures, such as use of Carter Center-donated pipe filters (left), have contributed to the more than 99 percent reduction worldwide.
Despite the progress made in 2009, however, challenges to eradication remain. The last cases of any eradication campaign are the most difficult and expensive to eliminate. Although infected cases become fewer and far between, surveillance of countries, including the smallest communities in the most remote areas, must be intensified to prevent outbreaks and setbacks. In the case of Guinea worm disease, maintaining a broad and sensitive monitoring system over vast areas and providing a rapid response when necessary are expensive. Although surveillance is challenging, Guinea worm eradication is considered one of the most cost-effective public health efforts because of its relatively simple intervention measures.
The eradication of Guinea worm disease will prevent the suffering of entire communities and help keep citizens working and in school, rather than incapacitated by the disease, and is a community investment that will continue to grow indefinitely. In addition, the campaign has shown the remarkable impact that health education can make; it is possible to change people's behavior to improve health on a global scale
*Includes five cases exported to Niger; one from Ghana and four from Mali.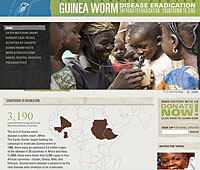 Learn more about the Carter Center's Guinea Worm Eradication Program
View major media coverage of the Center's Guinea Worm eradication efforts
Read "Winning The Worm War," New York Times
Op-Ed by Nicholas Kristof