From community engagement to water treatment and filtering to dog tethering, a cluster of villages in remote western Ethiopia is applying creative strategies to protect humans and animals from Guinea worm disease, and their diligence is paying off.

On a cloudy morning, 15 young men gather under a canopy at the Carter Center's Guinea worm compound in Gog. They are the captains of teams responsible for treating water sources with Abate®, a mild chemical donated by BASF that kills Guinea worm larvae. The captains meet regularly to plan and coordinate their work, ensuring every pond and well around the villages of Ablen, Wichini, and Atheti is treated every 28 days to help interrupt the worm's life cycle.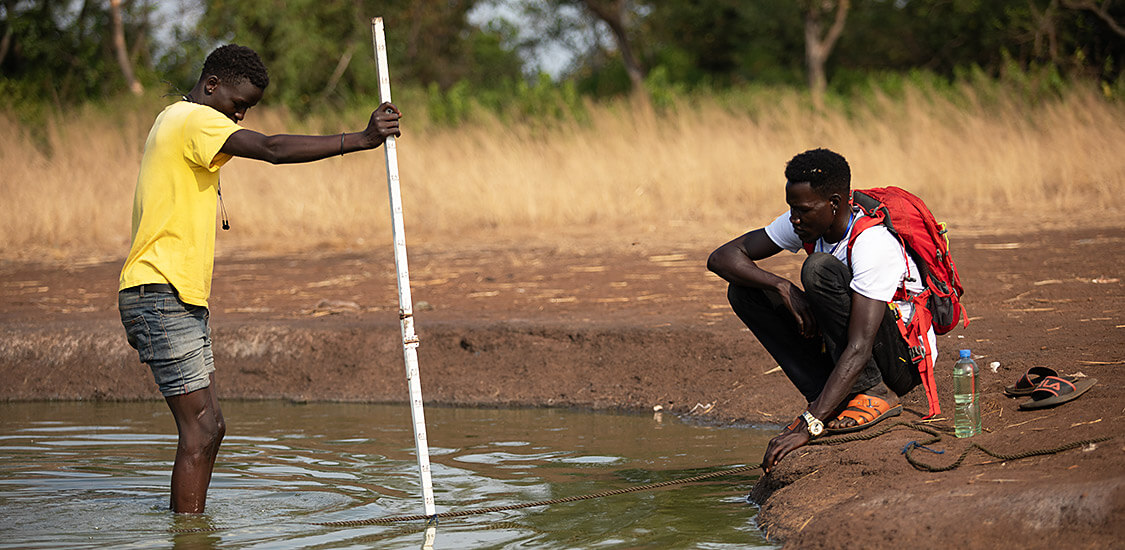 Community Captains
One of those captains is Wegwa Odol Othow, 21, who goes by the nickname Owick. He used to hunt baboons, which farmers consider pests, using dogs to chase them down. One day a few years ago, Owick spotted a small baboon that didn't run away with the rest of its troupe. He easily caught the animal and found it had about white worms emerging from its skin. Owick brought the crippled baboon back to town to show others. "I didn't think people would believe me if I told them," he said.

The worms were confirmed to be Guinea worms, which had not been seen in baboons before. Owick's discovery sparked an aggressive effort to monitor and apply Abate to watering holes used by baboons, even deep in the forest. When an animal — or person — swallows water infected with the water fleas that contain Guinea worm larvae, the life cycle of the parasite continues. The larvae develop inside an animal's or person's body for about a year, then emerge as adults up to 3 feet long through a wound in the skin.

Baboon hunters and wood gatherers are now paid to watch over watering holes and help The Carter Center and health ministry monitor baboon troupes' movements.
After his discovery, Owick began volunteering with other youth to teach community members how to avoid Guinea worm infection. Later, he joined an Abate team and advanced to team captain. Owick and his team measure the volume of water in a pond, calculate the amount of larvicide needed, and apply it.

Because loose dogs are at risk of acquiring Guinea worm disease from the same water sources the baboons use, people in Gog agreed to stop using dogs for hunting and to keep them tethered to prevent them from entering the water. It's working.

"The people here have really owned this intervention," said Kylie Saunders, a Carter Center technical advisor who is well known in the villages.
Keeping an Eye Out
Owick quit hunting to devote all his time to Guinea worm work. He gave two of his dogs to his cousin, Obang, himself a volunteer in Ablen.

One of the duties of youth volunteers is to inspect every dog daily for signs of Guinea worm infection. Obang, 14, loves this part of his role. He starts with the dogs Owick gave him, whom he named Tchalla and Georgie, then checks his neighbors' dogs.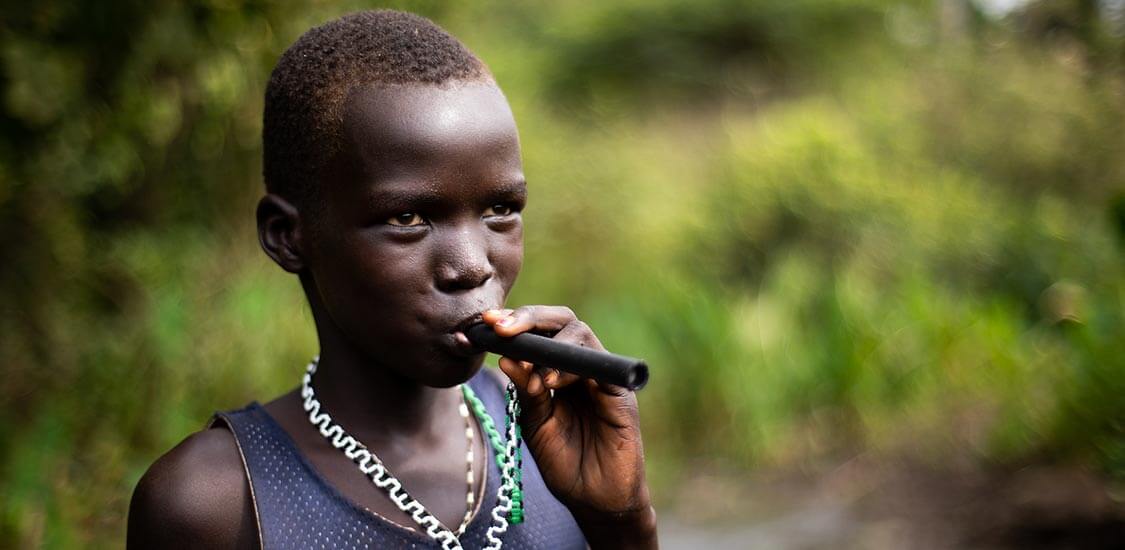 Until recently, dogs were strictly considered hunting animals in this part of Ethiopia. They weren't considered pets; they weren't even given names. That all changed when people started proactively tethering them. The dogs had to be fed, watered, and exercised, and before long they became part of the household. Dogs that once snarled and strained against their chains now wag their tails and happily roll over in anticipation of a young human rubbing them down, inspecting for signs of Guinea worm.

Ablen now is home to the first dog park in Ethiopia. Obang and other youths, as well as adults, walk their dogs to the park, for which the government donated land and The Carter Center provided fencing. There, dogs can frolic and become socialized. Responsible young adults keep watch over the park, enforce rules, and clean up messes.
Filtering Water
Everyone in Ablen, Atheti, and Wichini wears a pipe filter around his or her neck. Every household uses a water filter when filling jerry cans at a well, pond, or river and filters the water again before using it at home. Village volunteers like Okugni Oboya Nyum work constantly with their neighbors to keep them safe from infection.

"I help my community by giving them health education so they don't get Guinea worm disease," Okugni said.