Aug. 22, 2008
By Andrew Jack
The Financial Times, Aug. 23, 2008, Weekend Edition, pages 15-18. Linked with permission.
Financial Times correspondent Andrew Jack recently traveled to Nigeria, where he witnessed firsthand the historic efforts being made by Carter Center field staff and their partners in the field to eradicate Guinea worm disease. His article captures the Carter Center's momentum to make Guinea worm only the second disease to be eradicated in human history.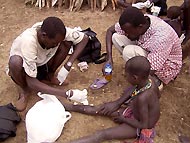 Photos: The Carter Center
(Click to enlarge)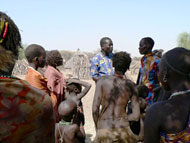 (Click to enlarge)
Makoy Samuel Yibi Logora, director of the Southern Sudan Guinea Worm Eradication Program, assists in the painful removal of a Guinea worm exiting a child's leg (left photo) and educates villagers on ways to prevent Guinea worm disease (right photo).
When Makoy Samuel Yibi Logora was growing up in a village in southern Sudan, no one there knew what caused Guinea worm. But they certainly understood its effects. The skin swells and becomes infected as a thin white parasitic worm takes several weeks to emerge slowly, agonisingly, through a huge blister.
The only thing that can be done medically at this stage is to resort to the ancient technique for easing the worm's laborious exit: winding the worm - which often grows to 3ft long - around a stick and coaxing it out, bit by bit. Some scholars believe this procedure is the origin of the ancient Greek symbol of healing, the rod of Asclepius enveloped by a serpent, which many medical bodies around the world still use as part of their logo.
Note: The Financial Times Web site requires that you register (for free) to access the full article.
---
Learn more about the Carter Center's Guinea Worm Eradication Program
Read More:  Guinea Worm Cases Drop to Fewer than 10,000
Sadia Revisited:  A Young Girl's Triumph Over Guinea Worm Disease
Southern Sudan Program Director Logora, Mali's President Touré  Honored With The Jimmy and Rosalynn Carter Award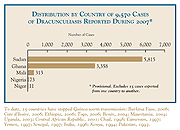 Guinea Worm Cases in 2007(PDF)