The Carter Center's Guinea Worm Eradication Program reported just 27 human cases in six African countries in 2020, a dramatic 50% reduction from 2019. Guinea worm infections in animals also were down 20% from the previous year.
The program remained 95% operational in 2020 despite the COVID-19 pandemic for two main reasons: First, it doesn't involve medications, so it was not affected by production and distribution interruptions that disrupted other programs. Second, Guinea worm surveillance and prevention rely principally on community volunteers, so international travel restrictions had little impact.
Chad
Only 12 human cases were reported in Chad, down 75% from the 48 reported in 2019. Animal infections fell 22%. The positive trend continued into the first months of 2021, as provisionally, only 86 infections in dogs were reported through March, compared to 436 a year earlier, an 80% reduction.
"The dramatic reductions we've seen in Chad may be an early indication that we're turning a corner in the most Guinea worm-endemic country," said Dr. Kashef Ijaz, Carter Center vice president of health programs.
Infections in Chad occur mainly along the Chari River. Carter Center-supported researchers believe animals become infected by eating fish, frogs, and discarded fish entrails that contain live copepods (tiny water fleas) that harbor Guinea worm larvae. The Chad Ministry of Health and The Carter Center are concentrating on teaching people the importance of tethering animals to keep them out of the water and not letting animals eat discarded fish guts.
The program's public information efforts are working: 85% of Chadians surveyed knew of the availability of a cash reward for reporting a case of Guinea worm disease. More than 134,000 rumors of possible infections were investigated in 2020.
Ethiopia
Ethiopia reported 11 human and 15 animal cases in 2020 from a remote area. The human cases occurred after people drank unfiltered water from ponds. A broken borehole pump in the area has been repaired, giving residents renewed access to safe water. A new well also was installed in 2020 on a commercial farm where a contaminated pond was the source of an outbreak in 2017.
Internal security challenges have forced large numbers of Ethiopians to relocate, both within the country and across the border in Sudan and South Sudan, but these movements have had little effect on the Guinea Worm Eradication Program, program director Adam Weiss said.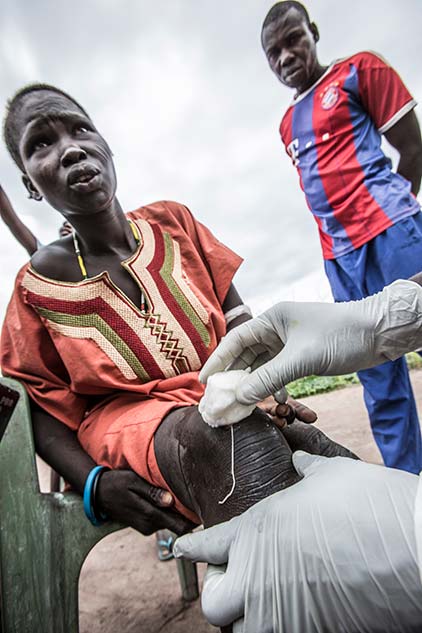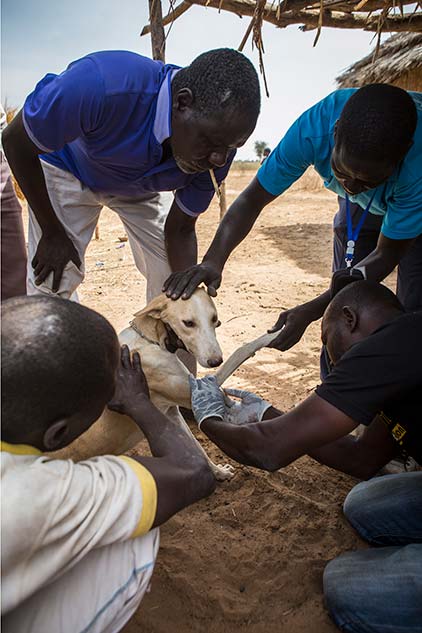 Left photo: A health worker extracts a Guinea worm from the knee of a South Sudanese woman. Right photo: In Chad, Dollar Taissou (bottom right) pulls a Guinea worm from the leg of 2-year-old dog Martoussia. Controlling infections in animals is necessary to eradicate the disease.
Mali
One human and nine dogs were reported infected in Mali in 2020. To accelerate the country's push to interrupt transmission, The Carter Center helped facilitate a workshop in September that included representatives of Mali's Ministry of Health and authorities from districts where dogs likely become infected.
Political stability and support will be key to completing elimination of the disease in Mali and attaining World Health Organization certification, said Dr. Donald R. Hopkins, the Carter Center's senior advisor for Guinea worm eradication.
South Sudan
South Sudan appears to be at the brink of interrupting transmission of Guinea worm disease, according to Makoy Samuel Yibi, director of South Sudan's Guinea Worm Eradication Program. The country reported just one human case in 2020 and has not reported any animal infections since a single dog infection in 2015. The program screened over 280,000 people for the disease in 2020, investigated over 55,000 rumors, and found about 78% of people surveyed knew of its cash reward for reporting a case.
Angola
Angola was officially declared endemic in 2020 after reporting single cases in three consecutive years, all in the same province. In August, The Carter Center and the World Health Organization assisted Angola's Ministry of Health in officially starting surveillance by trained village volunteers in 54 at-risk villages.
Cameroon
Just one human case was reported in Cameroon in 2020. That was a child in the country's Far North region, which borders Chad. The girl had spent time in Chad in 2019, and that is where it is believed she became infected. Cameroon reported six animal infections. Water sources in northern Cameroon are being treated with Abate® larvicide (donated by BASF) as a precaution, 285 health workers are conducting community-based surveillance, and thousands of leaflets have been distributed and radio messages broadcast to publicize rewards for reporting infections.
Learn more about the Carter Center's campaign to eradicate Guinea worm disease »