In early February 2010, a global health unit from PBS's "NewsHour," Public Radio International's "The World," and CNN.com visited Southern Sudan with former U.S. President Jimmy Carter and Center health staff to explore progress toward Guinea worm disease eradication in this last bastion for the parasitic infection. There were 3.5 million cases in 20 countries in Africa and Asia when The Carter Center formed an international coalition to wipe out this waterborne disease in 1986. Today, Southern Sudan harbors most of the approximately 3,200 remaining cases of Guinea worm disease in the world. Yet, despite tremendous challenges posed by insecurity and lack of clean drinking water, Southern Sudan is making progress against the "fiery serpent." These are just some of the media highlights of President Carter's visit. For additional Guinea worm news stories, please visit our "Guinea Worm In the News" section.
NewsHour's Global Health Unit Airs Special Feature on Campaign to End Guinea Worm Disease
Nearly 2.7 million people tune in to "NewsHour" each weeknight and more than 8 million viewers watch at least one night a week.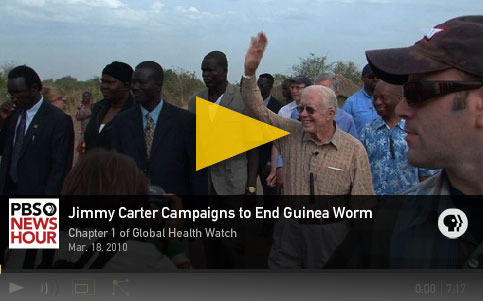 Jimmy Carter Campaigns to End Guinea Worm
Former President Jimmy Carter visits Sudan on his campaign to end water-borne Guinea worm, a debilitating parasitic infection.
Blog: Eradicating Guinea Worm, Step-by-Step
Special correspondent Fred de Sam Lazaro blogs about the efforts by health workers and the Carter Center to eradicate Guinea worm.
---

CNN.com Features Major Multimedia Coverage and Commentary by Former U.S. President Jimmy Carter
CNN.com-the world's leading news Web site-has produced a major package of stories, interactive media, and a column on Guinea worm eradication by President Carter.
Sudan Can Rid World of a Horrible Disease – Commentary by former U.S. President Jimmy Carter
Oppressed by war and poverty for generations, the Sudanese have struggled with terrible hardships. But the people of this vast country have a narrow window of hope to achieve progress by ridding both their nation and the world of a horrible disease forever.
Guinea Worm a Greater Challenge Than Smallpox
Since 1980, one disease has been erased from the face of the Earth: smallpox. Health officials believe Guinea worm disease will soon be next.
In Sudan, a War is Waged to Eradicate the 'Fiery Serpent'
It started as an itch on James Madol's right ankle and festered. Two days later, the boy cried when he saw a thin white worm emerge.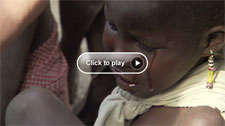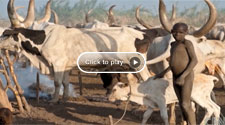 Watch the video: Eradicating Guinea worm in Southern Sudan Watch the audio slideshow: Guinea worm's elusive carriers
---
PRI's "The World" Broadcasts Feature and Expanded Podcast Interview with President Carter
A joint venture of Public Radio International, WGBH, and the BBC, "The World" is a one-hour, daily international news magazine broadcast by more than 260 public radio stations across the United States and reaching more than 2.7 million listeners a week.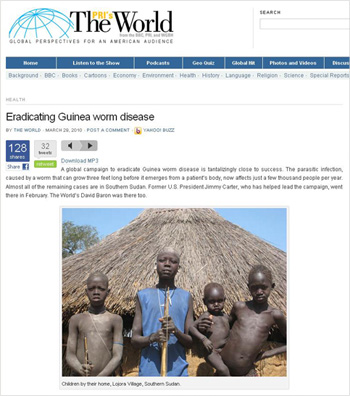 Eradicating Guinea Worm Disease
Jimmy Carter's first direct experience with Guinea worm was in West Africa. He visited Ghana and traveled to a hard-hit village. "It's about the size of Plains, Georgia, where I live. About 500 people. And 300 of its citizens had Guinea worm."
Countdown to Zero: Carter Center Guinea Worm Eradication Program >
Press Release: Former U.S. President Jimmy Carter Visits Last Stronghold of Guinea Worm Disease in Southern Sudan >
SUVORK5CYII=');">