Feb. 28, 2009
By: Kathryn Senior
Eradication of guinea worm disease, caused by the nematode parasite Dracunculus medinensis, is now close at hand. Cases fell to from 3.5 million cases in 1986 to a provisional 4643 cases in 2008, a reduction of 99.5 percent.

"Only 1972 of last year's cases were uncontained," reported Ernesto Ruiz-Tiben, Director of the Guinea Worm Eradication Program at the Carter Center (Atlanta, GA, USA). The centre, which has spearheaded the eradication effort in association with national Guinea Worm Eradication Programs, WHO, UNICEF, US Centers for Disease Control and Prevention, and funding partners, announced in December that the Bill & Melinda Gates Foundation and the UK's Department of International Development had pledged further funding of US$40 million and $15 million, respectively, to help support the final push.

"Eradication of this disease will happen, but it will take effort and commitment. Stopping transmission everywhere during 2009 will require immediate detection of every case and immediate implementation of actions to prevent contamination of sources of drinking water so that zero cases of the disease are reported in 2010," Ruiz-Tiben told The Lancet Infectious Diseases.

Preventing transmission of the parasite from all cases that occur this year would mean an end to guinea worm disease forever, since the guinea worm needs to pass through a human to complete its life cycle.

"Although animal cycles have been observed in non-endemic areas, such as central Asia and the northeastern USA, they do not seem to have given rise to human cases," confirms Sandy Cairncross (London School of Hygiene and Tropical Medicine, London, UK).

WHO has certified 180 countries free of transmission, including six formerly endemic countries: Pakistan (1996), India (2000), Senegal and Yemen (2004), and the Central African Republic and Cameroon (2007). Certification can only be requested 3 years after the last documented indigenous case, so 2013 would be the earliest date for official certification of global eradication.

"I hope that complete containment will be achieved in 2009, but it is realistic to expect that it might take a little more time. 2015 for the final certification of global eradication is more likely," commented David Molyneux (Liverpool School of Hygiene and Tropical Medicine, UK).

Cairncross also warns against complacency, noting that "while many hope that community-based surveillance would continue in all recently endemic communities, pressure on resources may limit this, with replacement by a well-advertised (and increasing) prize for reported cases."

Impressively, the eradication campaign has been pursued without a curative drug or vaccine. Overwhelming commitment to simple behavioural modifications, initiated and encouraged by village-based volunteers, has been entirely responsible. The Carter Center's founder, former US President Jimmy Carter, has been personally involved, visiting endemic areas to see how health education, the distribution of free cloth filters, sourcing or providing safe drinking water, and using larvicide applications for water sources have driven the eradication campaign. These interventions are highly cost effective.

"Over $4 billion has been spent on polio eradication, but guinea worm eradication is now much closer with an investment that currently totals only $300 million," said Molyneux. Eradication will also have significant economic benefits with a 29 percent return on investment in eradication expected, due to increased work capacity in the agricultural sector.

Results of an assessment in Chad in December last year will be presented to the International Commission for Certification of Dracunculiasis Eradication (ICCDE) at its meeting in September. Molyneux, a member of the ICCDE, said certification for these countries will also be reviewed later this year.

"The process is thorough; we check health centre records, water supplies, and rumour registers to make sure that there has been no transmission during the previous 3 years," explained Molyneux.

Four other countries, Benin, Chad, Kenya, and Uganda are currently also in precertification having had no cases for over 12 months; Togo, Burkina Faso, and Cote d'Ivoire will be assessed in 2010, since their last reported cases were in 2007. The disease remains endemic in six countries but only Ghana, Mali, and Sudan had more than 100 cases last year.

"Maximum efforts are required in Sudan, which, with 1817 uncontained cases in 2008, accounts for over 78 percent of cases in the world today," said Ruiz-Tiben.
Reprinted with permission from The Lancet Infectious Diseases.
Source: The Lancet Infectious Diseases,Volume 9, Issue 3, Page 149, March 2009.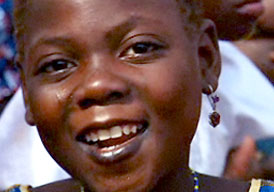 Guinea Worm Countdown to Zero
Watch Video
Related Resources
Learn more about the Carter Center's Guinea Worm Eradication Program