Dec. 14, 2006
In the community of Tampiong in northern Ghana, Miss Ghana 2005, Lamisi Mbillah, balanced on her high heel sandals, lifts a small black pipe filter above her head so that the hundreds of school children surrounding her could see it. She selects a shy little boy from the crowd to demonstrate how the filter works. The boy complies, using the pipe filter as a straw to drink from the container of water in Mbillah's hand.

This exercise is more than a casual show and tell for the students. Mbillah is on a mission to teach these children how to protect themselves from a debilitating infectious disease called Guinea worm that plagues thousands each year in the northern part of Ghana. Nearly half of affected Ghanaians are children younger than age 15.

Growing up in northern Ghana, Mbillah saw Guinea worm disease affect her neighbors and friends, and she was inspired to take action years later when she read a newspaper article.

"I saw an article about Guinea worm disease in Ghana with a list of all the districts and their numbers of cases. When I saw this article, I thought, 'this is really serious and people are not talking about it.' I vowed that if I became Miss Ghana, I would help the eradication effort."

Guinea worm disease in Ghana

Guinea worm is a parasitic disease caused by consuming water contaminated with infective larvae. The excruciatingly painful disease is commonly called the "fiery serpent" because of the blistering and slow exit of the parasitic worm through the skin. The worm, sometimes reaching 3 feet in length, leaves its victims temporarily crippled, often for months. An outbreak of the disease brings agricultural production to a standstill and reduces school attendance.

There is no vaccine or immunity to the disease. Despite this seemingly bleak prognosis, Guinea worm disease is set to be the next disease eradicated from the world. The infective larvae of the parasite can be strained from water using simple filtering techniques and health education measures have been put into place to prevent water sources from becoming re-contaminated with the disease. Once the parasite's cycle is broken, the disease will be gone forever.

Since 1986, a global eradication campaign spearheaded by The Carter Center has reduced cases of the disease by more than 99.7 percent leaving only a fraction of 1 percent of the disease in nine African countries. Nearly 99 percent of the remaining cases are found in Sudan and Ghana.

Community mobilization

After winning the crown of Miss Ghana in 2005, Mbillah, 22, set out to bring attention to the efforts of Ghana's Guinea Worm Eradication Program. In the past year, she has visited dozens of endemic villages to provide health education and participate in community mobilization activities to prevent the disease.

With the help of the British High Commission she raised $10,000 USD to purchase pipe filters for affected communities. In addition to promoting filtering and health education, she advocates for potable drinking water to be brought to areas where the only sources of water are stagnant ponds-perfect homes for infective Guinea worm larvae to thrive.

Mbillah continues to bring attention to the disease across Ghana, filming an appeal and a public service announcement for television to encourage Ghana's business leaders and decision makers to support the eradication effort.

Mbillah's public support to rid Ghana of Guinea worm disease comes at a crucial time for the country. For 20 years, Ghana has battled the disease, swiftly reducing cases when the eradication program started in 1987. However, the program's momentum stalled in the late 1990s. In the fist six months of 2006, the country reported only a 3 percent reduction in cases compared to the same time last year, an alarmingly slow decrease for a country aiming to eliminate the disease by 2007.

Guinea worm 'dear to my heart'

As a crusader to eradicate an infectious disease, Mbillah's charm is contagious.

"Guinea worm is dear to my heart. I grew up seeing Guinea worm and I know the implications of Guinea worm," Mbillah said while surrounded by a group of children at risk for the disease. "If we can get rid of this disease, I think that we will be a few steps ahead in terms of getting rid of poverty."

In recognition for her efforts to raise awareness for Ghana's Guinea worm eradication effort, Mbillah received the coveted Beauty With A Purpose Award during the 2006 Miss World competition in Warsaw, Poland. Her passion for the cause, however, extends beyond the pursuit of a crown; she plans to begin a postgraduate degree in public health next year.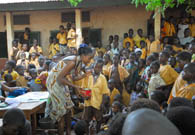 Carter Center Photos: Emily Staub
 
Lamisi Mbillah, Miss Ghana 2005, teaches a group of schoolchildren the importance of filtering water to prevent Guinea worm disease.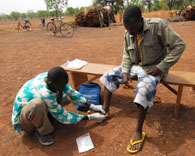 Guinea worm disease leaves its victims temporarily crippled, often for months. An outbreak of the disease brings agricultural production to a standstill and reduces school attendance.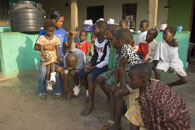 Photo credit: The Carter Center/L. Gubb
 
In February 2007, after an outbreak of Guinea worm disease incapacitated hundreds in Savelugu, northern Ghana, Mbillah visited a Guinea worm case containment center to teach patients how to avoid future infections.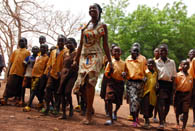 Mbillah believes that eradicating Guinea worm disease will bring Ghana one step closer to ridding the country of poverty.

Learn about the Center's Guinea Worm Eradication Program

Read a Q&A with Carter Center experts on the historic Guinea Worm Eradication Campaign

Total reported Guinea worm cases for 2005

Read more about the Carter Center's disease eradication and control efforts in The New York Times'  "On The Brink" series