April 26, 2010
Nearly 2.7 million people tune in to "NewsHour" each weeknight and more than 8 million viewers watch at least one night a week.
In early February 2010, a global health unit from PBS's "NewsHour," visited Southern Sudan with former U.S. President Jimmy Carter and Center health staff to explore progress toward Guinea worm disease eradication in this last bastion for the parasitic infection. There were 3.5 million cases in 21 countries in Africa and Asia when The Carter Center formed an international coalition to wipe out this waterborne disease in 1986. Today, Southern Sudan harbors most of the approximately 3,200 remaining cases of Guinea worm disease in the world. Yet, despite tremendous challenges posed by insecurity and lack of clean drinking water, Southern Sudan is making progress against the "fiery serpent."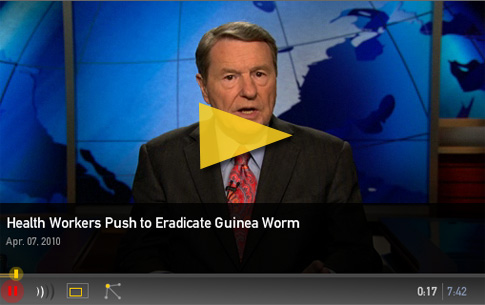 Watch as Jim Lehrer presents special correspondent Fred de Sam Lazaro's report from Sudan about the efforts by health workers and the Carter Center to eradicate Guinea worm.
Read blog by Fred de Sam Lazaro: Eradicating Guinea Worm, Step-by-Step >>