Aug. 5, 2011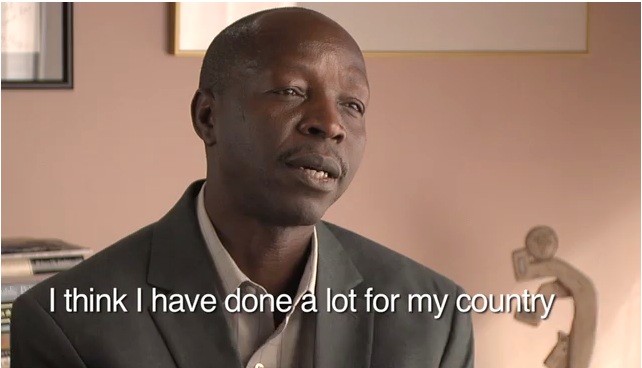 "I think I have something to share with another country" says Sadi Moussa, explaining why he recently relocated to Mali to help tackle public health problems after almost two decades doing similar work in his home country of Niger.
Moussa, now the Carter Center's country representative for Mali, was born in Niger and started his public health career there in the early 1990's, serving as the second national coordinator for the Government of Niger's Guinea Worm Eradication Program.
His 20-year commitment to wiping out the painful parasitic disease made Niger's success in stopping Guinea worm transmission in 2008 even more special to Moussa.
"When we started, there were about 33,000 Guinea worm cases in Niger," he explains. "Now that Guinea worm is gone, I am so happy, because I was involved in the very first case search. I am so proud that I could do this much for my country."
Moussa's dedication to the communities he serves led him to put public health before personal gain more than once. When the Nigerien Guinea worm program was threatened by political reorganization after a coup d'état in 1996, Moussa negotiated an agreement with the new government in which he resigned from his post as National Director of Hygiene, Sanitation and Prevention to remain the coordinator of the nation's Guinea Worm Eradication Program, effectively removing himself from the promotion track to make sure the Guinea worm campaign stayed full steam ahead.
This selfless dedication, combined with significant Guinea worm case reductions in Niger led to Moussa being selected as one of the inaugural Foege Fellows at Emory University in 2003. The full scholarship allowed him to earn his masters degree in public health and return to Niger with new skills to tackle public health problems.
The Nigerien minister of health also recognized Moussa's dedication in 2010, holding a surprise going away ceremony in his honor when he retired from the Federal Ministry of Health before taking a position with The Carter Center.
Now that Niger no longer has Guinea worm, Moussa is taking his expertise and dedication across the border to Mali, which still has a few cases of the fiery serpent in its vast arid interior. He also is taking on trachoma, a bacterial eye disease that can cause permanent blindness and is associated with poor sanitation and hygiene. His training as an environmental engineer and decades of public health work made him perfectly suited to this new challenge.
"The Guinea worm program gave a lesson for other programs," says Moussa. "You have trachoma, leprosy, tuberculosis, malaria. They're all trying to learn from this experience to establish a community based surveillance and see how they can improve the coverage of services at the community level."
To tackle the potentially blinding cases of trachoma in Mali, The Carter Center and its partners, including the National Ministry of Health, Conrad N. Hilton Foundation, Lions Clubs International Foundation, and local Lions Clubs, are implementing the World Health Organization-recommended SAFE strategy – Surgery, Antibiotics, Face washing, and Environmental hygiene. Moussa says the new job is going so well that he's confident Mali will eliminate blinding trachoma as a public health threat in the next few years.
"The change is just tangible," says Moussa. "Now, you can see faces are clean in their village, you can see people have safe water, 80 percent of households have latrines. But, when we started, it was like 15 or 20 percent."
When asked what he gets in return for sharing his life with people in need, Moussa's answer is simple: "I think it's good to help people, to help them with some problems like trachoma and Guinea worm. It is very simple and doesn't take much money. So I feel proud, I feel happy, and I think I make use of my life to help others."
Related Resources