Zerihun Tadesse Gebrelassie barely remembers his mother rushing his baby brother to a hospital in Ethiopia. Many patients, long lines, and few health workers made her wish she had a relative - maybe one who was a nurse - who could help her son. His little brother survived, but Dr. Zerihun says his mother never forgot that scene.
"When she learned that I was going to become a doctor she said, 'This is beyond what I asked for,'" recalls the Carter Center's representative in Ethiopia, who now oversees one of the Center's largest field offices.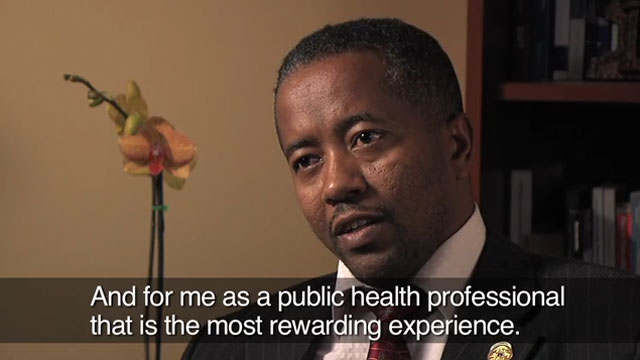 Dr. Zerihun has often gone beyond expectations. The first in his village of Lamberet, Ethiopia to become a physician, in 1992 he began his practice in a rural area where the half million or so Ethiopians had never even seen a doctor. A young man of 24 is not what they expected.
"Many people were not convinced that I was a physician," says Zerihun, "until they saw that I was trying to do something different, something they were benefitting from."
Malaria and trachoma, considered neglected tropical diseases, were rampant among the villagers he treated. Later, as the director for disease prevention and control in Ethiopia's Ministry of Health, Zerihun was determined to alleviate the suffering such diseases caused the poorest of the poor in his country.
In 2009, Zerihun joined the Carter Center's efforts to battle malaria, trachoma, and river blindness, eliminate lymphatic filariasis, and eradicate Guinea worm disease. Having gained much field experience, he thought he had seen it all. But during his first field survey of the Center's river blindness program he met a farmer, one of the many networks of community volunteers who provide health education and distribute preventive treatment. Zerihun says he was astonished by the man's dedication: "This person had been providing this service free of charge for over seven years, and he expressed his commitment beyond any shadow of doubt to continue for the rest of his life."
Zerihun says that was the moment he was convinced the key to conquering these diseases involves building an infrastructure of health workers to reach each and every household, a successful strategy employed widely by The Carter Center in Ethiopia and other African nations against neglected diseases. Since 1993, the Center has assisted Ethiopia's Guinea Worm Eradication Program, created a movement that has built more than a million household latrines to deter the spread of trachoma, distributed millions of bed nets to prevent malaria and lymphatic filariasis, and delivered millions of preventive drug treatments against multiple diseases, in addition to training thousands of community health workers.
Zerihun is inspired by this grassroots determination and commitment and humble about his own, maintaining his is a small contribution. But his wife, two small daughters, community, country, and The Carter Center would tell you his contribution is an inspiration to many.