The countdown to complete elimination of Guinea worm disease is ticking closer to zero. Ethiopia, Cote d'Ivoire, Burkina Faso and Togo now have joined the list of countries reporting an end to transmission of the disease. The Carter Center leads the international coalition fighting the disease.
No Guinea worm disease was reported in each of the four countries since 2006. In a ceremony in early April, former President Jimmy Carter honored the nations for their success in eliminating the disease. Only five endemic countries remain, accounting for fewer than 10,000 reported cases during 2007. This number is the lowest annual case count recorded by the campaign in its 22-year history.
Sudan and Ghana shoulder about 96 percent of the remaining cases. Mali, Nigeria and Niger are expected to break the transmission cycle soon. In 2007, Ghana reported its lowest case numbers since its first case search was conducted in 1989. The Sudan program reported approximately 6,000 cases, a reduction of more than half from the previous year.
Known as the "forgotten disease of forgotten people," Guinea worm is an ancient parasite that is contracted when people consume water contaminated with infective larvae. After one year, the mature worm slowly emerges from the body through a blister in the skin. The debilitating pain of this process often drives victims to immerse themselves in cool water; in doing so, they allow the worm to release new larvae into the water supply, perpetuating the disease. Once this cycle is broken, the disease will be gone.
That is not as easy as it may sound, especially in the final phases of eradication. Guinea worm's one-year incubation period makes tracking progress challenging. Setbacks can emerge at any time, requiring vigilance by health workers and maintenance of costly surveillance systems throughout endemic countries even when only a handful of cases remain.
Preserving financial and political support for the eradication campaign is equally tricky. With the substantial reduction of cases, global health institutions are eager to apply limited financial and human resources to other pressing needs, particularly those that are life-threatening.
On the ground level, health education workers try to convince communities that behavioral changes are the solution to a disease many cannot intuitively understand. The effective use of household and pipe filters, application of a safe chemical larvicide to the water supply, and treatment of Guinea worm symptoms require nurturing. And the stakes are high: one case of a victim contaminating a water source, for example, puts an entire community at risk.
Continued vigilance is the key to eventual eradication of Guinea worm disease. The substantial gains of 2007 bring The Carter Center closer to being able to celebrate the end of a scourge.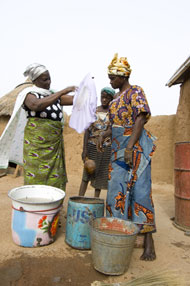 Photo credit: Carter Center/ L. Gubb
A traditional birth attendant (left) explains to a Ghanaian woman how to use a cloth water filter to prevent Guinea worm disease.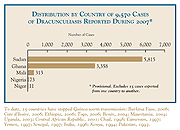 View as PDF >>