Feb. 14, 2022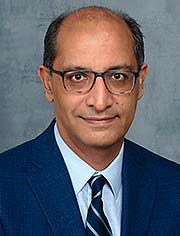 Dr. Kashef Ijaz
As the sole medical resident at a small health outpost in 1991 rural Pakistan, Kashef Ijaz did it all. He saw 50 to 100 patients a day from a neverending line outside his office. He sutured wounds, delivered babies, helped control malaria. He once helped an elderly man who was convinced that Ijaz's stethoscope could cure his arthritis.
Today, Ijaz works on a larger scale, helping people around the world as the Carter Center's vice president for health programs. But he's never forgotten how the Pakistanis relying on him at that small clinic lived.
Ijaz jokes that as a young man in Pakistan he could hardly escape becoming a doctor. His father was a surgeon, his uncle was the chief of medicine for the Pakistan army, six of his cousins are doctors today.
He eventually settled in Arkansas as a medical epidemiologist after coming to the United States and earning a master's in public health from the University of Oklahoma. He had no idea he was moving to the epicenter of tuberculosis research in the United States, due to the state's historical burden of the disease.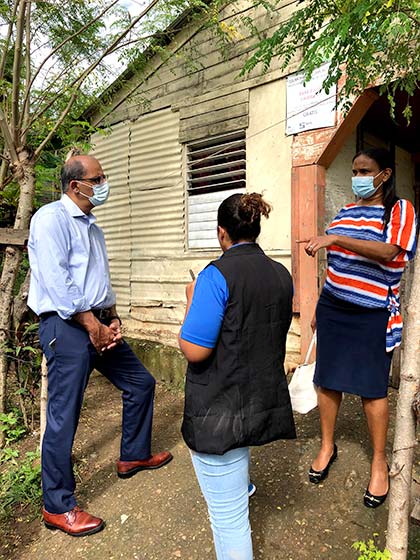 In Santo Domingo, Dominican Republic, Dr. Kashef Ijaz, far left, visits the home of a community health worker in an area affected by a malaria outbreak. He is talking with representatives from the Ministry of Public Health and the Carter Center's local office.
With Ijaz's background, the researchers were excited to involve him in their work. "There was a dearth of people in Arkansas at that time who were trained in public health or qualified to be an epidemiologist," he said. Over time he became a tuberculosis expert and gained experience in other areas, working with marginalized rural populations in the state.
As lead epidemiologist for southeastern Arkansas, he faced public health challenges such as food-borne outbreaks, health disparities, and congenital syphilis. "I remember walking into a high school and the ceiling was literally falling down in places," he said. "There was poverty that you don't see portrayed on television or in the movies."
The U.S. Centers for Disease Control and Prevention in Atlanta eventually recruited him, and he began responding to tuberculosis outbreaks, traveling to places off the beaten path, such as Micronesia and the Marshall Islands in the Pacific.
He also worked on developing the U.S. government's global health security agenda and helping countries better prepare for epidemics and pandemics.
After almost two decades at the CDC, Ijaz was ready for a new challenge and joined The Carter Center in 2020. He said he is still learning but can already see ways for the Center to expand its health programming into newer areas, such as strengthening the overall health systems in the countries where the Center works and collaborating more with the Center's peace programs.
'Mental health and the peace programs
can go hand in glove.'
Mental health is another area where The Carter Center has been influential and could make an even larger impact. "Mental health and the peace programs can go hand in glove," he said. "Think of refugees like the Afghan people coming to this country or internally displaced populations."
Ijaz believes climate change will likely play a role in the Center's work in the coming years, affecting the water sources communities rely on and famine that could cause people to migrate. Such changes may alter geographic spread of disease or disease vectors, such as flies and mosquitoes.
Ijaz's broad experience with local communities and international programs has positioned him to respond to the global health landscape as it evolves. At The Carter Center, we talk about helping people at the end of the road, Ijaz said. "I have lived at the end of the dusty road," he said. "It's hard work, but it's where you can find the majority of the population in this world."
---
Related Resources
Kashef Ijaz, vice president, Carter Center Health Programs »
Carter Center Health Programs »