Nov. 27, 2007
Swathed in a loose-fitting tunic conservatively hiding his deformed right leg, 38-year-old Hamisu Isa pulls up a white plastic chair to join a group of his fellow Nigerians under two mango trees in the city of Jos.

"There is no cure, but there is hope," Carter Center lymphatic filariasis expert John Umaru told the group. "If you keep your leg clean and treat cuts for infection, the swelling will not increase and may even decrease."

Isa is a member of a support group in which people suffering from the disease lymphatic filariasis come together to discuss the physical challenges and social stigma of the disfiguring condition that causes grotesque swelling of legs and genitals. Caused by the bite of a mosquito, the parasitic disease not only disfigures the body but also causes incapacitating fevers. The support group that Umaru leads is among the first of its kind. Here, participants learn about transmission and prevention of lymphatic filariasis and discuss techniques for preventing skin infections, such as proper leg washing.

The disease can be prevented and managed through health education and annual single-dose combinations of oral medicines - albendazole and Mectizan® donated by Merck & Co., Inc.

During the first few meetings of the Carter Center-assisted support group, Isa sat quietly on his chair and listened to other members describe their symptoms, challenges, successes, and hopes. For years, he had suffered in silence from the disease's severest form, elephantiasis. The disease ripples beyond the individual, forcing victims to rely on the support of loved ones as effects often make it difficult and sometimes impossible for them to farm and carry out other basic daily tasks of living.

After he had been in the group for awhile, Isa began to share his own experiences with his peers. He said that people - including his own family - would shun him because the infection in his leg created a bad odor. By taking proper care of his leg, he was able to stop the sores, and the swelling decreased. As his health improved, he found a job selling secondhand clothing at the market. In the past, the disease-related fevers kept him from holding a job or completing seemingly simple tasks.

"Hamisu's story shows other people that someday they can be better, too," said Umaru.

Today, Isa's life has turned around. His skin looks clean, and, because he is feeling better, Isa recently earned a teaching certificate and is teaching mathematics and English at a local elementary school a few times a week and working in the market part time.

And now Isa can serve as an inspiration to new members of the support group. He may even recognize shades of his former self in people such as Helen, a distraught 20-year-old with severe elephantiasis who avoids eye contact and does not speak above a whisper.
Meet Other Members of the LF Support Group
Just outside the city of Jos, 42-year-old Joseph, 37-year-old Rakia, and their families live with the devastating effects of lymphatic filariasis. Joseph has had an unusually large leg since he was very young, and Rakia's leg has been abnormally swollen for three years.

Both Joseph and Rakia learned about their disease and its treatment from Plateau state Ministry of Health and The Carter Center, which work with local health authorities and residents to establish community-based education and drug treatment plans. The disease has a cruel effect on the quality of life, impacting people not only physically but also emotionally and economically.

Joseph would like to have married, but instead he lives with his parents, who as they grow older are concerned about their son's care

"Rather than supporting my family, my parents support me," Joseph said. "I have had seven years of primary education, and if I could have continued with my schooling, I would have liked to have been a teacher."

Rakia is married and has followed her treatment program for a full year. Her ulcers have healed, she has not had fever, she is no longer bedridden for months at a time and since she has a husband and brothers who can assist her, she wants to enroll in evening classes to continue her education.

"When I started classes, my leg would swell and become painful from sitting," said Rakia. "I couldn't continue, but now I want to try again."


Lymphatic Filariasis in Nigeria
Watch the Video >>
Related Resources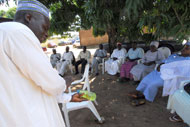 All Photos: The Carter Center/E. Staub
John Umaru, Carter Center expert, demonstrates with a water bottle how the parasitic disease causes blockages in the lymph nodes resulting in permanent disfigurement also known as elephantiasis. Umaru takes the time to illustrate this concept to the Hope Group because understanding how the illness is caused helps participants cope with the stigma and infections often associated with the disease.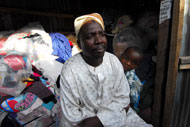 Through his participation in the lymphatic filariasis support group, Isa learned how to properly care for his leg which has resulted in his return to a steady job for the first time in years.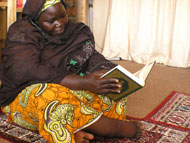 Since joining the lymphatic filariasis support group, Rakia's ulcers have healed and she feels well enough to continue her education.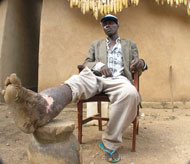 42-year-old Joseph contracted lymphatic filariasis when he was very young. Due to the disfigurement of his leg caused by the disease he never married, and he must continue to rely on his parents for care and support.