This article was originally featured in the 2007 Spring issue of Carter Center News
Ethiopian farmer Mamo Tesfaye is no stranger to disease. Four years ago, he could only sit idly outside his home as the growing season came and went. Afflicted with river blindness, he could not see well enough to work his land or provide for his children. But soon after, The Carter Center began distributing the drug Mectizan®, which prevents the disease and even reverses its effects, in his village of Afeta. Today, Tesfaye surveys his land from behind his two brown oxen as he plows his fields.
But as most Ethiopians know, surviving one disease is no insurance against others, and in this country, the biggest threat is malaria. Spread by mosquitoes, malaria is the single largest killer in Ethiopia, and unlike most African countries where children are most vulnerable, the epidemic nature of the disease in Ethiopia does not discriminate by age. Both young and old are stricken.
Building on an established network of community-based health care in Ethiopia that treats river blindness and trachoma, The Carter Center has launched a program to combat malaria by distributing long-lasting insecticidal bed nets free of charge to all members of designated at-risk communities. The program will work in conjunction with the national malaria control program in the country.
The infected mosquitoes that transmit malaria bite only at night, which is why bed nets are crucial for preventing the disease. Hung over sleeping areas and tucked under the mattress, the nets are made from insecticidal fabric that kill biting insects that land on it as they attempt to bite the sleeper below. These nets use the most current technological innovations in textile development; the insecticide is incorporated into the fibers and will remain effective for an estimated five to seven years. This compares favorably to the nets of the past that only had insecticide on their surface and needed to be retreated annually. The long-lasting nets promise a more sustainable solution to malaria control than ever before.
In Ethiopia, The Carter Center has purchased 3 million bed nets, and in the zone where Tesfaye's village of Afeta is located, the Center has already distributed more than 300,000 nets to families at risk for malaria. The program expects nets to hang in every household in the area by this July.
Tesfaye eagerly received a net in February. After receiving instruction on how to use it properly, he brought the package home and carefully hung the blue netting over the mat where his four young sons sleep each night. This season, Tesfaye will plow his fields with two fewer worries-he has conquered river blindness, and his children are protected from Ethiopia's single largest threat.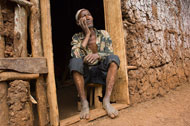 All Photos: The Carter Center/ L. Gubb

Farmer Mamo Tesfaye has "leopard skin" on his legs from debilitating onchocerciasis, or river blindness disease. Thanks to annual treatments of Mectizan®, donated by Merck and Co, Inc., Mamo is once again able to farm.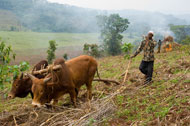 Mamo Tesfaye farms his land in malaria-endemic Ethiopia.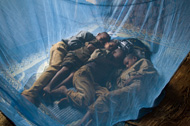 Mamo Tesfaye's four children sleep under insecticide-treated nets to prevent bites from malaria-infected mosquitoes.