Tune in June 15-19, 2009, to Morning Edition on WABE 90.1 FM, Atlanta's NPR station, as Odette Yousef - who traveled with The Carter Center to Ethiopia in April 2009 – reports a five-part series on work to prevent trachoma and malaria there. Beginning Monday, June 15, segments will be aired at 6:39 a.m. and again at 8:39 a.m. (EST). Click here for more series information and for archived reports. Listen live online at www.pba.org.
With help from The Carter Center, the people of northern Ethiopia's Amhara Region are taking the lead in an innovative series of "MALTRA" weeks - the word combines malaria and trachoma - that show how simple and inexpensive tools can enable millions of people to protect themselves and their communities from these diseases and build hope for a healthier future. MALTRA weeks have been held in November 2008 and April 2009.
In the lush valleys of Amhara, people depend on their physical strength to provide for their loved ones. Days are long, with adults and children often working side by side in the fields tending the crops and herding livestock. Surviving on less than a dollar a day, even a minor illness can have a devastating effect on a family's livelihood. Yet, two diseases, in particular, pose serious challenges to the people of Amhara - the blinding bacterial infection trachoma, and the potentially fatal parasitic illness, malaria.
With a population of approximately 17 million, the Amhara Region is one of the most severely affected trachoma-endemic areas in the world. There are currently more than 15 million people at risk of infection and approximately 470,000 people visually impaired as a result of trichiasis, the blinding form of the disease. In addition, the region is susceptible to seasonal malaria epidemics, which is a major killer of children in sub-Saharan Africa.
"The people of Amhara have dedicated themselves to fighting trachoma and malaria," said Dr. Paul Emerson, director of the Carter Center's Trachoma Control Program. "In just one week, despite Amhara being one of the most challenging environments in which to conduct public health work, the region has achieved goals that used to be accomplished during an entire year. Ethiopia's success is a wonderful inspiration to other trachoma-endemic countries."
As a world leader in the implementation of community-based public health interventions, The Carter Center, in partnership with the Lions Clubs International Foundation, supports the application of the full SAFE strategy for trachoma control and for malaria, facilitates the distribution of long-lasting insecticidal nets (LLINs), health education, and malaria testing and treatment.
By integrating prevention and treatment interventions to fight malaria and trachoma simultaneously, The Carter Center is harnessing the greatest impact of its investments in time and travel, allowing remaining resources to be directed at other aspects of disease prevention programming in Ethiopia that simply and inexpensively make a big impact on public health, such as promoting face and hand-washing and building latrines to improve environmental sanitation.
---
WABE Series on MALTRA
June 15 - "From Georgia to Ethiopia: The Fight Against Blinding Trachoma"
June 16 - "Innovative Approach Highlights a Neglected Disease"
June 17 - "Rural Health Workers Spread Solutions, Face Challenges"
June 18 - "Gender and Blindness: Restoring the Hope to Women"
June 19 - "Covering Trachoma in Ethiopia"
Learn about the Hilton Foundation's Parnership with The Carter Center
Read Article: Carter Center Successfully Distributes Nine Million Doses of Antibiotics During Ethiopia MALTRA Weeks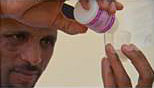 Carter Center Photo
An Ethiopian health worker distributes antibiotics to Trachoma sufferers.