The Carter Center Congratulates Beverly Benson Long
For a Lifetime of Advocacy for the Prevention of Mental Illnesses
and Behavioral Disorders
ATLANTA....Beverly Benson Long, a mental health pioneer whose efforts were instrumental in establishing the Rosalynn Carter Endowed Chair for Mental Health at the Rollins School of Public Health at Emory University, was awarded an honorary Doctor of Science degree during Emory's 162nd commencement ceremony.

Nominated for the honor by former First Lady Rosalynn Carter, Carter Center President and CEO John Hardman, M.D., and the Center's Mental Health Program, Ms. Long's work with former U.S. President Jimmy Carter and Mrs. Carter spans almost four decades. Her service has been local, state-wide, and national, including an appointment by then-President Jimmy Carter as a member of the 1977-1978 President's Commission on Public Health.


Beverly Benson Long
Internationally recognized advocate for behavioral health issues, Beverly Benson Long has worked tirelessly for the humane treatment of people suffering from mental illnesses. She began her advocacy on the frontlines of the civil rights movement in Athens and Atlanta, Ga., as she led HOPE (Help Our Public Education) to fight segregation in public schools. Ms. Long's experiences in desegregation provided the benchmark for her life and her work.

She has served as the President of the World Federation for Mental Health, President of the National Mental Health Association (NMHA) of Atlanta and Georgia; chaired the first Georgia Governor's Advisory Council on Mental Health, Mental Retardation, and Substance Abuse from 1975 to 1978; and was appointed by President Jimmy Carter as a member of the 1977 to 1978 President's Commission on Public Health.

Ms. Long has been instrumental in bringing together top researchers, governmental organizations, non-profit agencies, and individuals from around the world to encourage action of the latest developments in prevention and promotion through the biennial international conference series on the Promotion of Mental Health and the Prevention of Mental and Behavioral Disorders and through her inspirational support in helping to bring the Rosalynn Carter Endowed Chair for Mental Health at the Rollins School of Public Health at Emory University.

She has served as a member of the Institute of Medicine (IOM), National Academy of Sciences' Board of Neuroscience and Behavioral Health; The Board of the Society for Prevention Research, a member of the Dean's Council of the Rollins School of Public Health, Emory University. Ms. Long was Chair of the Biennial Conference Committee for the Inaugural World Conference "To Promote Mental Health and Prevent Mental and Behavioral Disorders" held in 2000 and 2002.

She continues to be a major force in the development of mental health, promotion, and prevention in the behavioral health movement. Ms. Long is recognized for her 35 years of leadership, vision, and persistence in ensuring a place for mental health in public health.
Citation:

Beverly Benson Long
Daughter of Georgia, Public Health Visionary

For more than three decades
your passionate focus on mental health
has served our state, our nation, and the world.
Determined to make emotional and psychological wellness
a vital component of thinking about public health,
you have guided the work of policy makers and organizations.

Your fight for more humane treatment, better funding,
and more effective detection and prevention
has helped diminish the unfair stigma of mental illness.
Your understated manner hides a fiery zeal.
Your counsel has proved invaluable to Emory
in educating our students about mental well-being.

In recognition of your clarity of purpose in behalf of others,
we gratefully confer on you
the degree of Doctor of Science, honoris causa.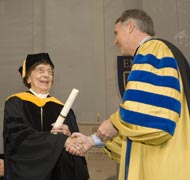 Beverly Long receives honorary degree at the 2007 Emory University commencement ceremony.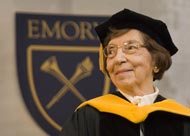 Beverly Benson Long receives the honorary Doctor of Science degree during Emory University's 162nd commencement ceremony.