Feb. 1, 2022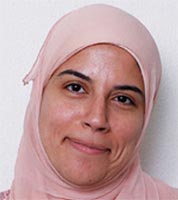 Deena Kamel, 2020-2021 recipient of a Roslaynn Carter Fellowship for Mental Health Journalism
The travel industry was one of the hardest hit by the COVID-19 pandemic. Business and leisure travel stopped abruptly and have yet to fully recover. While many of us wondered last year when we might take our next airplane trip to visit far-flung family and friends, those who work in the airline industry feared for their jobs and health.
Journalist Deena Kamel has spent the last year looking at the mental health of airline employees. Kamel, a 2020-2021 recipient of a Rosalynn Carter Fellowship for Mental Health Journalism, is a business reporter at The National newspaper in Abu Dhabi whose beat focuses mainly on aviation and transportation. As Rosalynn Carter fellows, she and a cohort of journalists received resources and guidance to pursue the mental health topics of their choosing. The idea is that knowledgeable reporting on mental health issues can help reduce their stigma.
For her fellowship project, Kamel looked at the mental health of those in the commercial airline industry.
Thousands of airline employees— pilots, flight attendants, gate attendants, and ground crew — were furloughed or terminated as travel shut down early in the pandemic. Those whose jobs survived had erratic schedules and concerns for their own health when flights resumed, and they often had to deal with a surge in uncooperative or even combative passengers while in the air. Stressful jobs became even more so, leading to anxiety and depression for many.
"This has taken me to consider that my reporting should be solutions-based — in other words, not to just identify that there's a problem in the industry, but to talk to experts about how this problem needs to be addressed," Kamel said.
Kamel said a study done in the United Kingdom found that members of the airline industry were more likely to suffer problems with mental health than the general public. About 58% of cabin crew surveyed were likely to suffer from moderate depression, compared with 23% of the U.K. general population, the study found. Many interviewees told Kamel they were reluctant to report mental health problems out of fear of losing their jobs or future opportunities.
Regulators do not require airlines to provide any mental health support for their employees. In fact, employees with mental health issues fear being discovered and deemed a safety liability for their employers, so they hide their conditions and don't seek help, Kamel said.
"A lot of people said, just as airlines have to make their planes airworthy when they start flying again, they also have to make their people airworthy by helping them cope with mental health issues," Kamel said.
Kamel said her year as a fellow changed the way she approaches her job.
"The fellowship has really got me thinking about ways of covering business news and my beat as an aviation reporter while also tackling mental health issues," she said. "What that has meant is finding mental health angles that I previously had not thought of— more and more asking questions related to mental health, where relevant. I'm also conscious of the need to keep doing this beyond the year of the fellowship because it adds an extra layer of depth and understanding to the reporting, which I've really come to value."
It's changed the way she approaches life, too.
"On a personal sphere, doing the fellowship in the year that we've had has really helped me to talk the talk and walk the walk," Kamel said. "It's really got me thinking about my own mental health journey, dealing with issues of anxiety and depression and being able to seek help for that, whether that's talk therapy, meditation, breath work, whatever was needed to tackle this head on, having the courage to talk about it with more people, and finding there is less shame around doing so."
Kamel is currently finishing up her research and reporting, which will culminate in a two-part series for The National. The reporter said she started out expecting to tell "a doom-and-gloom story."
"But it really wasn't at all," she said. "People will surprise you with their resilience."
Related Resources
Applications Open for 2022-23 Rosalynn Carter Fellowships for Mental Health Journalism
Rosalynn Carter Fellowships for Mental Health Journalism