Oct. 29, 2019
When journalists ask the right questions of the right people and understand an issue well enough to explain it clearly to the public with the right language, change can happen.
That's the principle behind the Rosalynn Carter Fellowships for Mental Health Journalism, whose fellows have shone a light on mental health care inequities and inspiring better laws and policies for more than 20 years.
Radio reporter Christine Herman, a 2018–19 fellow, produced a series of stories for Illinois Public Media on a dilemma faced by parents of children with severe mental illnesses. In certain situations, parents in Illinois must technically abandon a child to obtain necessary treatment for the child. The heart-rending choice puts the children in the custody of the state, which then becomes responsible for their very costly residential care.
"It's traumatic to the parents, it's traumatic for the child, but it happens, and it happens to about a hundred kids a year in Illinois alone," Herman said.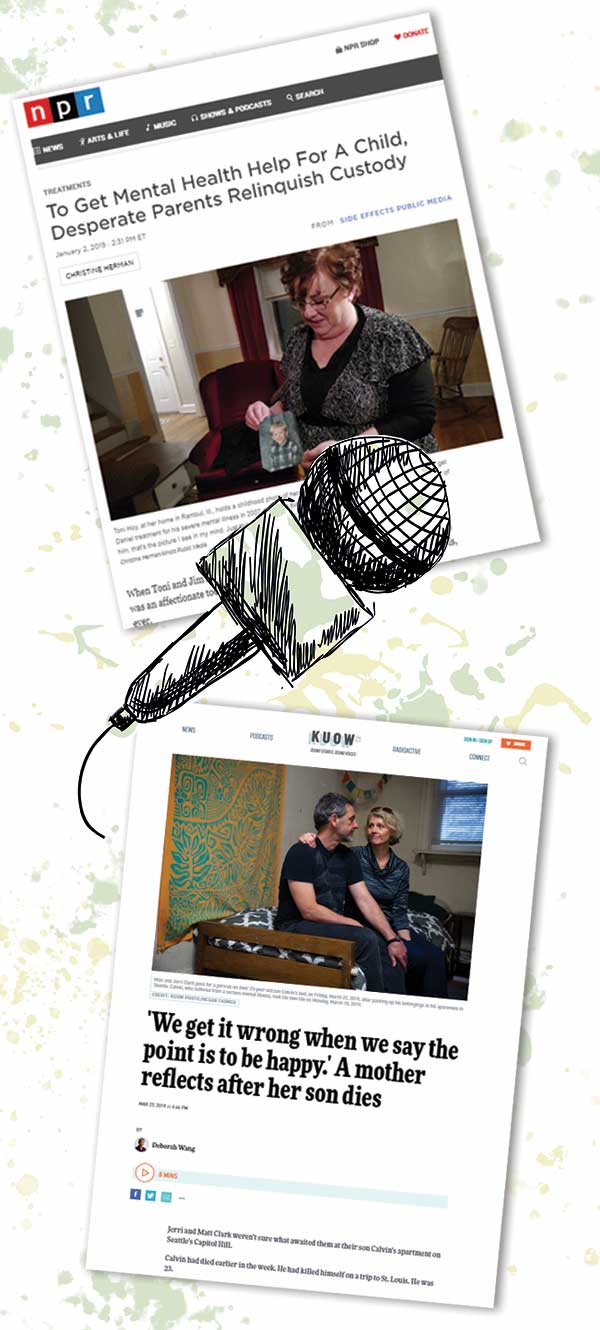 Herman's reporting on "planned abandonment" aired nationwide on NPR's "Morning Edition," and Herman heard from parents across the country who were in the same situation. Illinois had enacted legislation in 2015 that is supposed to help many families avoid the custody dilemma, but Herman's reporting revealed the problem is ongoing and that more needs to be done. In July 2019, Illinois took additional steps to prevent parents of some youths involved in the juvenile court system from having to give up custody to access mental health services.
Herman said her Carter Center fellowship made it possible for her to do the story.
"I had not reported very much on mental health issues before," she said. "I wanted to do it well, I wanted to do it right, I wanted to do it in a way that wouldn't further stigmas, and I knew that having the extra support and training that comes with the Rosalynn Carter Mental Health Journalism Fellowship would be really beneficial."
During his 2013-14 fellowship, Seattle Times reporter Jonathan Martin wrote dozens of articles, blog posts, and columns about the Affordable Care Act and the need to treat and insure mental health care on par with physical health care. A column he wrote sparked a lawsuit that eventually reached the Washington state Supreme Court.
In the column, Martin described a practice in hospital emergency rooms known as boarding.
"It's essentially short-term detentions in ERs for people who had been involuntarily committed or held there because there was nowhere for them to go," Martin said.
The patients would often be strapped down in an ER hallway, unmedicated, to keep them lucid for court. A judge who read the Seattle Times column called a hearing and declared the practice unconstitutional. After many appeals, the state Supreme Court agreed.
Martin saw an opening for comprehensive reform in mental health care.
"We cannot have a narrow response that means a few more hospital beds," he said. "You're looking at the preventative system that's been starved… It's a stars-aligning moment for mental health change.
Years later, there is still room for improvement in Washington and elsewhere. Stories by public radio reporter Deborah Wang spotlighted a Washington state law that allows teens as young as 13 to initiate — or refuse — mental health care without their parents' permission or input.
"It's a complicated and sort of confusing set of standards when it comes to mental health care," said Wang, a 2018–19 fellow. "This has been a problem for a lot of parents for a couple of decades."
Before Wang's year-long fellowship ended, the Washington state legislature passed a law allowing parents more involvement in decisions surrounding their adolescent children's mental health.
And the effects of good journalism go beyond legislative and policy changes.
"I think [my reporting] definitely has had an impact on families who have kids who are struggling," Wang said. "I've heard numerous families say, 'Thank you for writing these stories. This is exactly what my family has gone through.' … Just having the stories out there brings some comfort because they know they're not alone."
Learn more about the Rosalynn Carter Fellowships for Mental Health Journalism »
Learn more about the Carter Center's Mental Health Program »
Related Resources
NPR | To Get Mental Health Help For A Child, Desperate Parents Relinquish Custody
KUOW | 'We get it wrong when we say the point is to be happy.' A mother reflects after her son dies