Feb. 9, 2023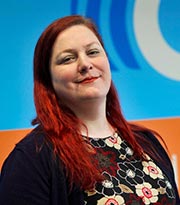 Reporter Ellen Eldridge received a Rosalynn Carter Fellowship for Mental Health Journalism.
Many schoolchildren in Georgia don't have the mental health resources they need. Fortunately, they have Ellen Eldridge to let the world know about the problem.
Eldridge, a reporter for Georgia Public Broadcasting, is a 2021–2022 recipient of a Rosalynn Carter Fellowship for Mental Health Journalism. The fellowships provide a stipend, guidance, and valuable contact with other journalists who cover topics related to mental health. For her fellowship project, Eldridge chose to cover school-based behavioral health, substance use and addiction treatment, and mental health in the criminal justice system.
"I believe I'm like Mrs. Carter in finding community the most important," Eldridge said. "I may be idealistic or even naïve, but I want to live in a world in which neighbors genuinely look out for one another."
One way for that to happen is through schools, she said. For example, Eldridge said, a perceptive and properly trained teacher may notice a student is struggling with depression or anxiety or other mental health issue and take the step of speaking with the child's parents or making a referral to a school counselor, putting the student on the path to better mental health.
"Schools are an entry point into society's systems," she said.
Unfortunately, like many other states, Georgia has a dearth of school-based behavioral health professionals, Eldridge noted. She said the state has a ratio of one school psychologist per 6,390 students; the recommended ratio is 1:500.
The COVID-19 pandemic was problematic for many students in a number of ways, Eldridge said. Many had more exposure to domestic violence than they had in the past, compounded by fewer opportunities to lean on friends and school-based support such as counselors.
She noted that recently more people are being encouraged to pursue counseling careers. It takes real commitment to follow that path.
"Like journalism, it can be a tough job, but at least it doesn't pay well," Eldridge joked.
Eldridge also is a member of the Mental Health Parity Collaborative, a network of journalists covering the issue of treating and insuring mental health on a par with physical health. For the collaborative, she reported stories about how mental health issues are not well covered by insurance. Part of the problem is a lack of providers, while another part is a lack of mental health practitioners who accept insurance, making service too costly for many patients.
Some progress is being made. The Georgia State Legislature passed the Mental Health Parity Act last spring, and the governor signed it into law in May. The legislation reinforces federal law that requires all health insurance plans to cover mental health the same way they cover physical health. It also provides for more training for law enforcement officers and offers student loan forgiveness for people pursuing mental health professions.
Although her fellowship has concluded, Eldridge's passion for the subject is just heating up.
"This is the beginning for me, not the end," she said. "While my fellowship year is ending, I know I have The Carter Center at my side. School-based behavioral health and mental health parity are issues I plan to follow for years."