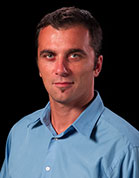 Nicolae Ciorogan
Looking back, Nicolae Ciorogan, 38, might tell you that his life has been a journey to learn about many different kinds of people - as a child growing up in Transylvania, Romania, a documentary filmmaker in the Peruvian Andes, and as a television photojournalist in Boston.
But for all of his cultural adventures, Ciorogan says that his experience as a Rosalynn Carter Mental Health Journalism Fellow in 2009 has shaped how he works as a storyteller. During his fellowship, Ciorogan met Miriam, a middle-aged mother who shared her struggle with depression.
"I didn't realize, at first, how much trust is needed to get someone to talk about mental illness," Ciorogan said. "Even Miriam's children didn't know she was working on the project until we had been talking and filming for a year! By that point, Miriam was functioning as much as a co-producer of the video as well as its subject!"
Ciorogan met Miriam, a recent immigrant from the Dominican Republic, when he was visiting a local Hispanic community center in Boston, Mass. He was looking for subjects for his fellowship project, a short film about mental health issues facing immigrants.
"In Romania, when someone had a mental health problem, they relied on their family or the church to help them, but in the United States, I was hearing a different story - that people could get help," he said. "But most of the mental health stories we covered at WHDH-TV [Boston] were about a murder or something else sensational. I wanted the chance to dig deeper into the complex but subtle issues."
One of Ciorogan's colleagues told him about the Carter Center fellowships, which would provide a $10,000 stipend and allow him to remain in his newsroom to cover mental health stories. Ciorogan applied, drawing from his own experience as an immigrant.
He says the three-day training he received from experts as part of the fellowship program encouraged him to think about how he was going to find and build relationships with subjects who were willing to speak with a journalist about mental illness. Language and cultural barriers among immigrant populations are significant. So are fears of stigma and discrimination, when settling into a new community.
"Some cultures don't see depression as depression, but more of a case of nerves," he said. "Others are very stoic, so talking about feelings isn't common."
But Ciorogan knew that mental illnesses affect everyone. One in four Americans have a mental illness each year and half of Americans experience one in their lifetime.
Today, Ciorogan's video profile of Miriam's story has been incorporated into the curricula of more than two-dozen colleges and universities in courses on public health, psychiatry, medicine, and psychology. The Massachusetts Department of Public Health plans to show the film in every community health center in the state.
Meanwhile, Miriam has become a mental health leader in her community. She plans to return to the Dominican Republic to talk about her experience recovering from depression.
"We know that mental illnesses already aren't covered to the same extent or with the sensitivity that other health conditions are in the news media, and the mental health issues of immigrants to the United States are even fewer and farther between," said Rebecca Palpant Shimkets, assistant director of the Rosalynn Carter Fellowships for Mental Health Journalism. "Nicolae's film epitomizes the goal of the fellowships to bring balanced and accurate portrayals of people living with mental illness to the public eye to educate, to enlighten, and to build support for mental health to benefit all of us."
Learn more about the Rosalynn Carter Fellowships for Mental Health Journalism
Journalism Fellows Explore Mental Health Issues, Fight Stigma