Pitasia Gonzáles lives in rural Mexico with her daughters, in a home surrounded by coffee fields accessible only by foot. Like many of the women in her community, Gonzáles was a strong and capable provider for her family, until river blindness (also known as onchocerciasis) stole her sight many years ago.
In her one-room house in Brasil, Mexico, Gonzáles wept into her hands as she recounted how onchocerciasis left her blind and unable to care for herself.
"My daughters must cook my meals, clean the house, and help me dress," said Gonzáles. However, Gonzáles is hopeful for her grandchildren, who receive preventative treatment for river blindness through a campaign led by The Carter Center.
"Their generation has the opportunity to preserve its vision," said Gonzáles.
Spread by the bites of tiny black flies that breed near swiftly flowing rivers, river blindness is a leading source of preventable blindness worldwide. The disease can cause intense itching, skin disfigurement, vision damage, and irreversible blindness. More than 99 percent of those infected live in Africa. In the Americas, 500,000 people are at risk for river blindness, and 180,000 are infected in endemic nations.
In Guatemala and Mexico, contracting onchocerciasis used to be considered an occupational hazard for coffee harvesters like Gonzáles because their work often brought them near the fast-flowing streams where the black flies breed.
The disease is less widespread in the Americas than in Africa, which led experts from the International Task Force for Disease Eradication to conclude that with health education and semiannual mass distribution of ivermectin (Mectizan®), donated by Merck & Co., Inc., river blindness could be eliminated completely from the Western Hemisphere. Together with the six national programs, the Carter Center's Onchocerciasis Elimination Program for the Americas (OEPA) and its partners are close to realizing this goal, likely making Gonzáles one of the last people in the region to be blinded by this debilitating disease.
Acting under a 2008 Pan American Health Organization (PAHO) resolution, the campaign seeks to stop transmission of the disease throughout the Americas by 2012. Campaign partners includes The Carter Center, OEPA, Lions Clubs International Foundation, Merck, the Mectizan® Donation Program, Bill & Melinda Gates Foundation, the World Health Organization/PAHO, U.S. Centers for Disease Control and Prevention, and the ministries of health of the affected countries, Brazil, Colombia, Ecuador, Guatemala, Mexico, and Venezuela.
To date, six foci and one subfocus of the 13 endemic areas in Latin America have interrupted transmission of river blindness and stopped treatment. Two of Mexico's three foci have interrupted transmission and the nation is well on its way to ending the tragic cycle of river blindness once and for all.


Learn more about how The Carter Center is combating river blindness in Mexico.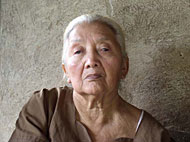 Photo: Becky Brookshire/The Carter Center
River blindness has cost Pitasia Gonzáles her sight, but she is hopeful for her family's future. With continued focus on health education and Mectizan® treatment, it is likely Gonzáles will be one of the last people in the Western Hemisphere to be blinded by this horrible disease. Together with the six endemic countries, the Carter Center-led river blindness campaign pushes to stop transmission of the disease by 2012.
Learn more about the Carter Center's River Blindness Program