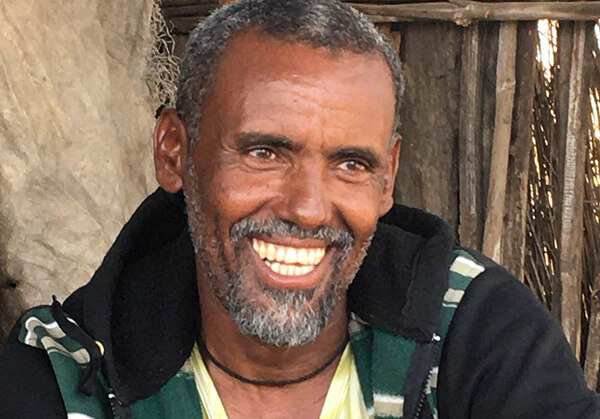 Berihun Takele wants to do everything he can to help his community in Ethiopia's Amhara region to thrive. Not only is he a kebele leader (similar to a village chief), but he also leads a team of volunteers who protect the village, called Wudi Gemzu, against river blindness by distributing medication and education and catching black flies for testing for the disease.
"I'm happy to serve my people," he said.
River blindness is a parasitic disease that can cause intense itching, skin discoloration, rashes, and eye disease that often leads to permanent blindness. It can be economically disastrous to individuals, families, and entire communities. The parasite is spread by the bites of infected black flies that breed in rapidly flowing rivers. To monitor progress against the disease, scientists need to test flies for indicators of the parasite. But first the flies must be caught.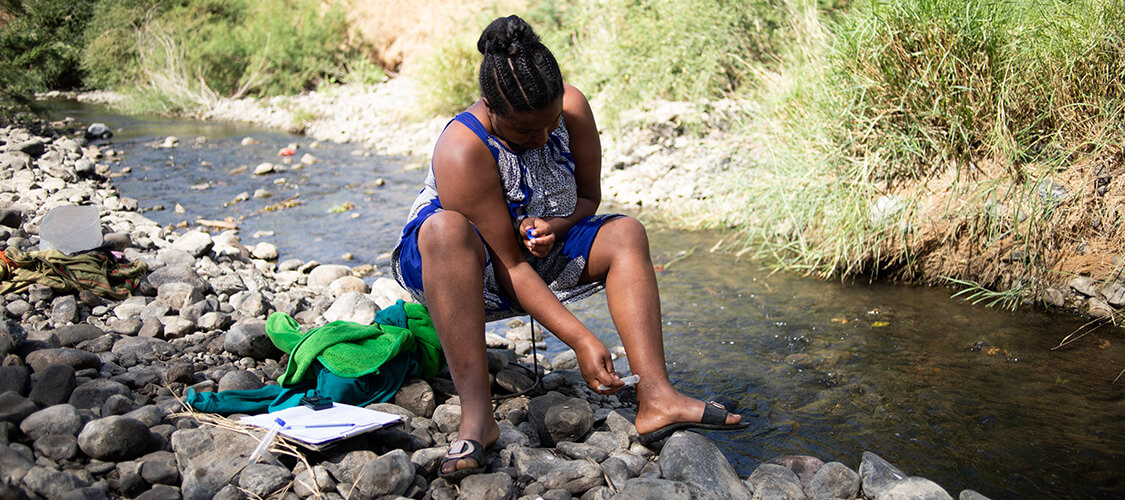 The process of catching flies is as tedious as it is important. Takele and two other volunteers set out very early in the morning for the riverbank. Then they roll up their pantlegs or skirts and wait — often for hours — for the black flies to come land on them. When one does, the volunteer traps it in a plastic tube, sets it aside and records the catch in a notebook. The captured flies will be sent off to a laboratory, where Carter Center-supported scientists will test them.
The wait can be punctuated by excitement at times. There was the time a man became too animated while telling a story and fell over backwards into the river, and the time a woman lost both shoes while trying to wade across. And, of course, the river is full of crocodiles.
"There are many crocodiles in the river," Takele says, "but we are not afraid of them."
In recent years, fewer and fewer captured flies have tested positive. That's because the elimination program is working: Mass administration of the drug Mectizan® (donated by Merck & Co. Inc., Kenilworth, N.J., USA) to humans has reduced the number of infected persons, so that when flies bite, they don't pick up pathogens (called microfilariae) to pass on to other humans via subsequent bites.
Wudi Gemzu, however, has been an exception. Although the surrounding area appears to have interrupted transmission of river blindness, Takele's village is a "hot spot" where some flies have continued to test positive. In response, The Carter Center and the Ethiopia Federal Ministry of Health, with funding from the Reaching the Last Mile Fund housed within the END Fund, have increased the Mectizan distribution from twice to four times a year in a bid to snuff out the remnants of river blindness in the area.
And so, Takele and his friends continue to sit by the river, waiting for flies to land. He doesn't mind. Takele understands that his small village is connected to the world around it. Eliminating river blindness in the village will help eliminate it regionally.
"The future, I believe, of this community," he said, "is that all of them are free from disease, thriving in development, and that the neighboring countries should all prosper in education, in knowledge, in wealth, and in prosperity."
Related Video
Learn more about the Carter Center's River Blindness Elimination Program »