Update: US$10 Million Announced to Accelerate Efforts
Peter Onuchukwu is a subsistence farmer who has lived all his life in the farm community of Ibu in Okigwe local government area of Nigeria. He is only 65 years old, but ever since 2006, he has been unable to see the lush green leaves on his farm or the yields hanging from his orange tree just a few feet from his doorsteps in Imo state, southeastern Nigeria. He can still hear the splatter from overripe oranges as they make contact with the hard, unforgiving earth of Ibu. It is, however, a constant reminder of his lost world, a world stolen from him by the bites of black flies.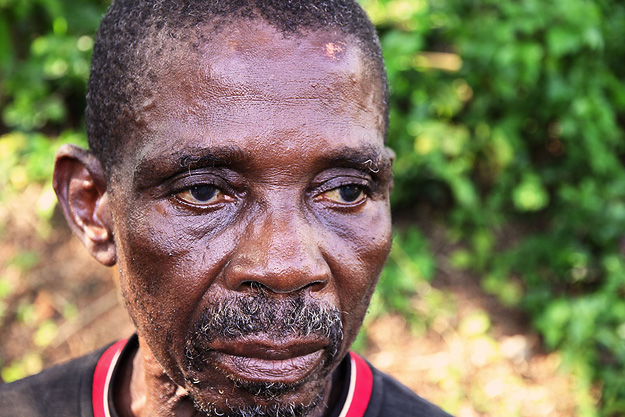 Peter Onuchukwu, from Imo state, Nigeria, has suffered the ravaging effects of river blindness, also known as onchocerciasis, a parasitic infection that can cause intense itching, skin discoloration, rashes, and eye disease that often leads to permanent blindness. (Photos courtesy of Sir Emeka Offor Foundation)
"I remember going to the farm with my father," said Onuchukwu. "The black flies would rest on our legs while we tilled the soil near the river. At first, you don't feel anything, but suddenly you feel a sharp sting. We wave it off and continue to face our farm. It is just a bite, like a mosquito bite, we always thought. So, when we fall sick, we treat it the way we treat malaria. When our elders complain of failing sight, we say it is the curse of old age. Today, they tell us it is river blindness," he narrated in his local dialect.
Onuchukwu is one of many thousands of southeastern community dwellers afflicted with river blindness, also known as onchocerciasis, whose ability to see has been stolen. His condition could have been prevented. The key, according to experts, is early intervention.
River blindness is an eye and skin disease caused by baby worms (microfilariae) known scientifically as Onchocerca volvulus. They are transmitted to humans through the bites of black flies (Simulium species), which breed in fast-flowing streams and rivers, increasing the risk of blindness to individuals living nearby. Symptoms include severe itching and various skin lesions. In most cases, nodules, where adult worms breed, develop under the skin. Some infected people develop eye lesions that can lead to visual impairment and permanent blindness.
A Devastating Rippling Effect
The economic burden to families can be enormous, and the dependents of afflicted parents often face unimaginable consequences. Indirectly, river blindness creates an unusually high economic burden on the social ecosystem of a state. According to the World Health Organization, "In the West African savannah, the risk of onchocercal blindness used to be very high along the riverine breeding sites of the black fly vector. Blindness affected up to 50 percent of adults in some areas, and people abandoned the fertile river valleys in fear of contracting the disease. Poverty and famine increased. In the 1970s, economic losses were estimated at US$30 million, and onchocerciasis became a major obstacle to socioeconomic development."1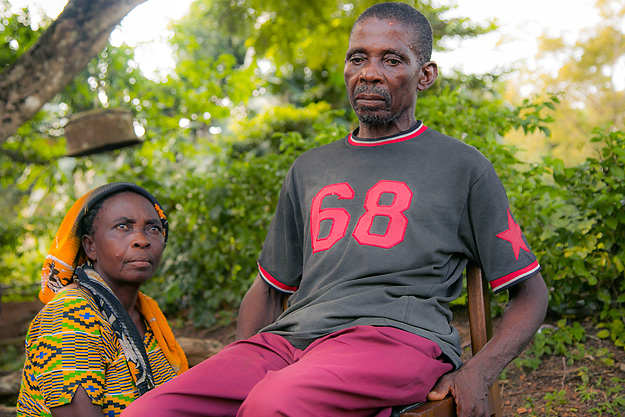 Formerly a farmer on land near the fast-flowing Ibii River, Onuchukwu lost his sight to river blindness in 2006, which has had a profound impact on his entire family.
For Onuchukwu's family, the economic pain is written all over, particularly on his wife's face as she solemnly recounts their hardship. "In 2001, my husband started manifesting different symptoms, but without appropriate medical care, he thought he had malaria. He went blind in 2006, and that brought untold hardship to us. Our first son had to drop out of school to fend for us. Another tragedy struck when my son was killed in the North by Boko Haram attacks, and that left me as the new breadwinner," Mrs. Onuchukwu disclosed through an interpreter. This account and several others around the community of Ibu are proof of the sad reality river blindness poses in both health and economic terms, on communities and individuals.
But the narrative in Ibu community, like many others in southeastern Nigeria, is dramatically changing for good, thanks to the intervention of The Carter Center. This noble institution was founded by former U.S. President Jimmy Carter and his wife, Rosalynn. Among its missions is the mandate to alleviate human suffering and improve health. The Center's rich history and success in treating river blindness in nine states, through mass drug administration by community volunteers, led to the addition of lymphatic filariasis, schistosomiasis, and soil transmitted helminth interventions in those states. Two states that the Center assists in central Nigeria have interrupted transmission of lymphatic filariasis through continued effort. In 2014, the Carter Center-assisted program in Nigeria provided health education and Mectizan® (a drug donated by Merck) treatments to more than 6.7 million people in nearly 16,000 villages.
Partnership to Prevent Blindness, A Worthy Cause
As American social-work pioneer Jane Addams said, "Social advance depends quite as much upon an increase in moral sensibility as it does upon a sense of duty." Sir Emeka Offor, the founder of Sir Emeka Offor Foundation, felt a sense of duty when apprised of river blindness and the associated burden to families. As a successful businessman turned philanthropist, he understood the physical pain and the accompanying distress associated with river blindness, but more so the enormous economic toll on the people of his region. "Supporting efforts to eliminate river blindness is a way of investing in my people," Sir Offor said. So, when he looked at the passionate and successful efforts made by The Carter Center against this disease in the Americas and Africa, he knew then he had found a credible partner for waging a fight against river blindness.
In 2013, Sir Offor through his foundation supported the Carter Center's efforts with USD$250,000 for the River Blindness Elimination Programme in five southeastern states (Abia, Anambra Ebonyi, Enugu and Imo) and two states in the South-south (Delta and Edo) of Nigeria. Such a gesture is in accordance with the aims and objectives of the health services programs of his foundation. Encouraged by the immediate and judicious use of the funds by the Center, Sir Emeka Offor has determined to enter into a long-term partnership that he hopes will culminate in total elimination of river blindness from the aforementioned region.
On why he is a philanthropist, Sir Offor said, "I want to make my mark. Actually, I want to make two marks. One, as an excellent businessman who has built a group of companies that will stand the test of time. Two, to be as good at giving as I am at turning a profit. I hope to set an example for the next generation of successful Nigerian businessmen and women, who will know they can make money while also making a difference."
Nigeria is the most endemic country in the world for river blindness with over 40 percent of the global disease burden. The World Health Organization estimates that river blindness affects 17.7 million around the world, and of this number, about 270,000 are blind and 500,000 others have visual impairment. About 99 percent of infected persons live in 29 countries in Africa.2
While Onuchukwu's story may seem pitiable to many, there is hope. He was robbed of life's hues and colors by river blindness, but through joint efforts between The Carter Center and the Sir Emeka Offor Foundation, his children and future generations are assured a brighter society free of the scourge of onchocerciasis.
1. [WHO: Onchocerciasis – the Disease and its Impact]?
2. [WHO: Onchocerciasis - River Blindness]?
---
Video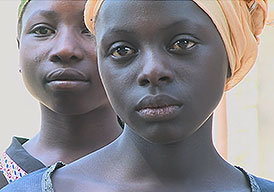 Partnership Brings New Hope to Nigeria
Map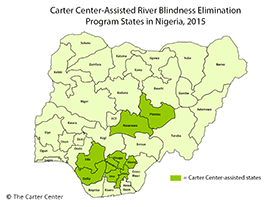 Carter Center-Assisted River Blindness Elimination Program States in Nigeria (PDF)