Dec. 3, 2021
After years of hard work and international cooperation, the onchocerciasis elimination programs of Brazil and Venezuela have confined river blindness to the smallest area yet in the Amazon Rainforest. The achievement comes despite the disruption caused by the COVID-19 pandemic.
River blindness, also known as onchocerciasis, is a parasitic infection that can cause intense itching, skin discoloration, rashes, and eye disease that can lead to permanent blindness. The parasite is spread by the bites of infected black flies that breed in rapidly flowing rivers. It is treated and prevented with health education and the drug Mectizan®, donated by Merck & Co., Inc.

In the Americas, the disease remains endemic only in what is called the Yanomami Focus Area, named for the main indigenous group living there. The area straddles the Brazil-Venezuela border along a section of the twisting, wild Amazon River. With a lack of roads and other infrastructure in the dense rainforest, the area and most of its 35,000 nomadic residents are difficult to reach and treat.
Reaching the Yanomami
Several abandoned airstrips have been rehabilitated in Venezuela to allow small planes to deliver health services to communities in the rainforest. An airstrip in the country's southern Siapa Valley is the latest; it will facilitate access to indigenous communities that until now have been difficult to provide with Mectizan, other medications, vaccines, and health education.
"We expect that over 500 individuals in 16 communities in the Siapa Valley area will be routinely visited and delivered Mectizan treatments from now on," said Mauricio Sauerbrey, director of the Center's Onchocerciasis Elimination Program for the Americas.
Despite the daunting logistical challenges, the Venezuelan and Brazilian river blindness elimination programs have made significant progress. Thanks to over two decades and more than 20 rounds of effective treatment coverage in the Yanomami region, transmission is ongoing in just nine areas in Venezuela and four in Brazil, Sauerbrey said.
One key to the programs' success has been the use of indigenous health agents. These are members of the Yanomami community who are trained to assist in delivering health care services, including education about river blindness and, in Venezuela, to administer Mectizan. In Venezuela, most treatments are delivered by its 99 indigenous health agents; there are plans to increase the number by training more. In Brazil, Yanomami agents assist outside health workers in other ways, such as navigating the jungle to reach hard-to-find communities. They also act as cultural liaisons and interpreters, bridging the gap so that health care services are more readily accepted in communities. Brazil has 147 such indigenous health agents.
"Increasing the participation of Yanomami residents in the delivery of this health program has really improved treatment coverage," Sauerbrey said.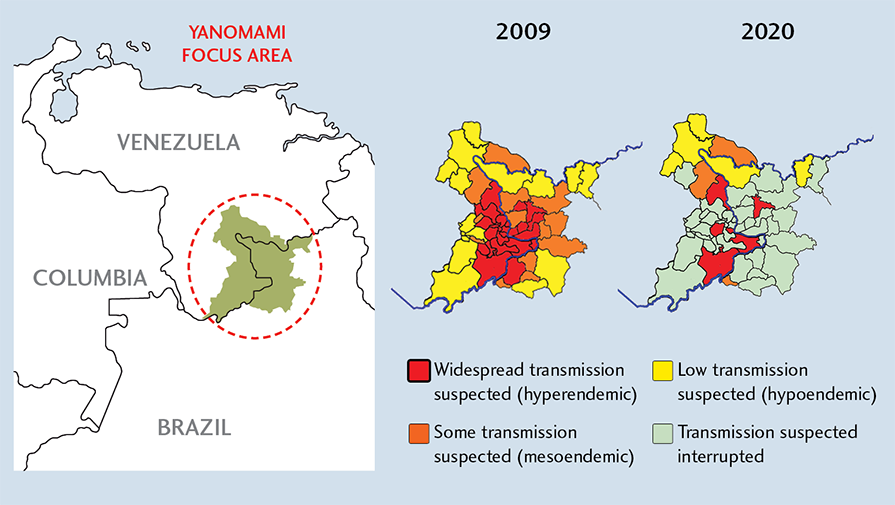 Over 11 years, The Carter Center and the Brazil and Venezuela governments have made inroads to halt transmission of river blindness in the area along their shared border in the Amazon Rainforest.
Pandemic Challenges
The COVID-19 pandemic hampered both countries' programs in 2020. Brazil's program had started treatment distribution during the first quarter of 2020, ahead of the pandemic, but COVID precautions drastically slowed work on river blindness and other diseases, Sauerbrey said. The result is that treatment coverage across both countries in 2020 and the first half of 2021 failed to reach the program's goals, even when Mectizan distribution was paired with COVID-19 vaccination efforts.

"If we choose to see the glass half full, we are extremely grateful that treatment distribution continued at all," and we are focusing on a full treatment recovery by 2022, Sauerbrey said.

In Venezuela, treatment distribution in 2020 had not yet begun when the pandemic shutdown struck. Administrative delays, World Health Organization restrictions, risk mitigation planning requirements, and a fuel shortage meant treatments did not begin until August, and then only by boat or by foot. The suspension of flights was lifted in December, and the program conducted a full 16-day airborne operation.

Although increased challenges in drug distribution logistics plague the Yanomami area, there remains reason to hope for the long-term success of eliminating river blindness in the region. A recently published study of young children in Ecuador revealed that transmission of river blindness remained interrupted there, eight years after halting treatment.

"It confirmed what we already knew, but this was a much-needed piece of very good news," Sauerbrey said.