Christopher Olanya, now in his 60s, has survived the brutalities of war, the trauma of displacement, and the ravages of disease in his native Uganda. He has become an unlikely symbol of hope in the mission to eliminate onchocerciasis, a parasitic infection commonly known and feared as river blindness.
The Carter Center and the Ugandan Ministry of Health have been working since 1996 to combat river blindness. Though rarely fatal, the disease - transmitted by the bites of infected black flies - can cause horrible itching, skin rashes, disfigurement, and greatly diminished vision or blindness.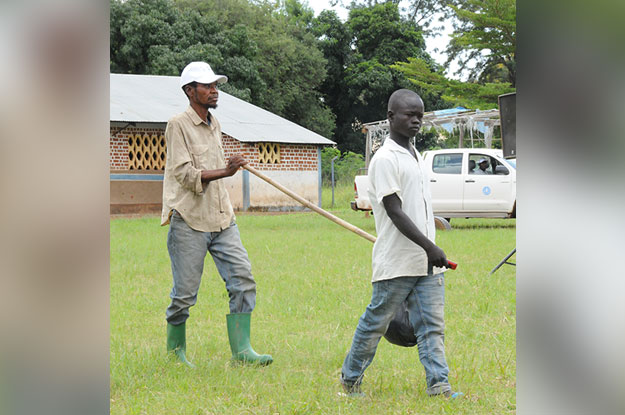 Christopher Olanya follows his youngest son's lead as he returns home from a village health meeting in Uganda's Lamwo district. Olanya likely lost his vision due to the parasitic disease onchocerciasis, also known as river blindness, but he is grateful that regular Mectizan® (ivermectin) treatments, donated by Merck, will save others from a similar fate. (Photos: The Carter Center/ E. Echwalu)
Millions of Ugandans were at risk of contracting the debilitating disease, which would have a devastating impact on individual livelihoods and village economies. In 2007, the Ugandan government and The Carter Center launched a phased program to eliminate river blindness altogether by 2020.
In August 2014, the Center's efforts to eliminate the disease in all endemic areas marked an important benchmark, as Olanya received the 200 millionth treatment of Mectizan® (ivermectin) donated by Merck, an American pharmaceutical company that is helping to remove this public health threat in 11 countries in Africa and the Americas where The Carter Center assists national programs.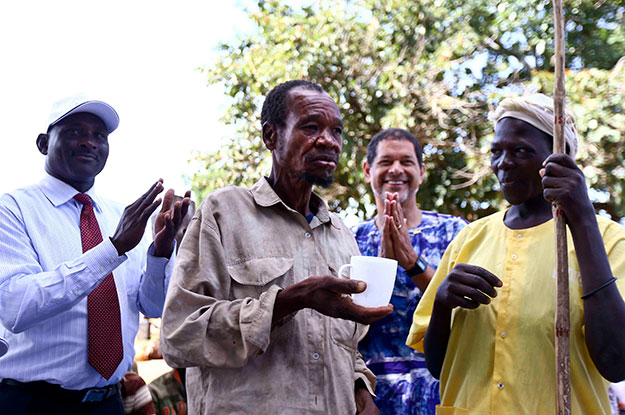 In northern Uganda, Olanya takes the ceremonial 200 millionth dose of Mectizan, delivered by a community drug distributor. Mectizan treatments can prevent the damaging effects of river blindness disease by killing the worm larvae that cause skin and eye damage.
The ceremony was an important affirmation that river blindness is not an unstoppable scourge in Africa. It can be eliminated.
Olanya is proud to be a living link to the turbulent history of Uganda and a brighter, healthier future for his young countrymen.
"My teenage years were exciting," he remembers. "Uganda had just gotten its independence and was generally peaceful. There was an aura of optimism, of prosperity, of good times ahead … but that is where it ends."
The Lord's Resistance Army (LRA) insurgency surfaced in the late 1980s, gaining popularity thanks in large part to its charismatic leaders, Alice Lakwena and her cousin Joseph Kony. When Kony started executing his tribe mates, the Acholi, optimism turned to terror.
"From then on, it was a case of survival," Olanya said. "I literally started living my life on the run for fear of abduction or even death. My nights became short and sleepless. Daylight didn't fare any better."
During these years on the run, Olanya first developed itching sensations on his body. For years, he ignored the itching. But by 1999, he had developed serious rashes and swelling, and his eyesight had started to fade.
By 2008, the LRA was pushed out of Uganda and the River Blindness Elimination Program reached Olanya's home, the remote and previously war-ridden Lamwo district. At a camp for internally displaced people, Olanya first heard the diagnosis of river blindness. In 2009, after several medications failed or had debilitating side effects, Olanya and other members of his village received their first dose of Mectizan.
"I had given up hope, to be honest," Olanya said.
But suddenly, the swelling and rashes on Olanya began to get better. Though his eyesight was too far gone to recover, he is happy that the drug will be used to treat other people before it is too late.
Before the river blindness, Olanya supported his family as a laborer on other people's farms. Losing that regular income has been hard for him and his family, forcing them to accept occasional gifts of charity.
"That is hard to take for a proud man like me, who prefers to personally take responsibility for his family," Olanya said.
"But I remain hopeful," he said. "And I hope taking the landmark pills as the 200 millionth person will inspire and give hope to those fighting this disease that it can be overcome."
Published May 22, 2015.
Related Resources