March 8, 2022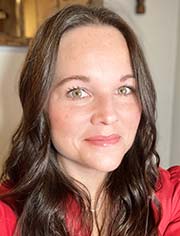 Kim Jensen is an associate director in the Carter Center Trachoma Control Program.
Distributing medication to fight trachoma in Ethiopia's Amhara region is challenging under normal circumstances. It's a huge area with a large population and mountainous terrain. Amazingly, an estimated 14 million people in the region are treated with antibiotics for trachoma every year. Our Ethiopian colleagues have always been remarkably dedicated, but the complications of the coronavirus pandemic have really shown what they're made of.
One of the ways we fight trachoma, the leading cause of infectious blindness worldwide, is through widespread distribution of antibiotics. To do this efficiently, health workers typically hold large gatherings in central community locations. In the pandemic, this was no longer an option, so volunteers and health workers went door to door instead.
Community leaders spread the word so people would know to stay home when the distribution teams were coming. In the early spring of 2021, each team visited an average of 49 households a day, treating a total of 14.9 million people. Some health teams screened household members for trachomatous trichiasis, the more advanced stage of trachoma that would require surgery later to prevent eventual blindness.
The Carter Center has been fighting trachoma in Amhara since 2001, assisting in the distribution of more than 200 million doses of the antibiotic Zithromax® (donated by Pfizer Inc) and tetracycline eye ointment.
Other interventions include face washing and environment improvement, like latrine construction and use. As a result of the extraordinary efforts in Amhara, I'm happy to report that, to date, more than 5 million people in the region no longer require antibiotic treatment to fight trachoma.
I get to be the one to tell you about our progress against trachoma in Amhara, but it's the thousands of health workers, community volunteers, local government and religious leaders, and our Carter Center Ethiopia staff who are on the ground making it happen. Their dedication inspires me daily and gives us real hope that eliminating trachoma as a public health problem is possible.