Oct. 12, 2012
It was late afternoon in Dorum, southern Niger, when a man and his elderly mother rode in on a motorcycle. The woman's calm façade belied the excruciating pain she felt. An hour-long ride outdoors through dusty roads in the midday sun comprised some of the worst conditions a woman with an advanced eye disease could face. But as agonizing as it was, the journey likely saved her eyesight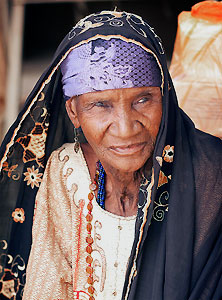 Hajan Hassan, 88, awaits eyelid surgery at a Carter Center camp in Dorum, southern Niger.
(Photos: A. Mosher/Carter Center)
Hajan Hassan, an 88-year-old grandmother, suffered from the bacterial disease trachoma for more than a decade. Repeated infections over the years had left her eyelids scarred, causing her eyelashes to turn inward and scrape her cornea with every blink.
A simple 15-minute eyelid surgery can reverse this condition, and Hassan had been looking forward to receiving the free procedure, offered at a surgery camp sponsored by The Carter Center in nearby Dorum. The Carter Center is working to eliminate blinding trachoma from Niger.
Hassan had intended to ride the free bus taking other trichiasis patients to the surgery camp - but missed it. She told her son what happened, and he sprang into action, fueling his motorcycle and insisting she climb aboard.
Before her surgery, Hassan had to spend most of her days inside her hut, because the condition is aggravated by bright sun-light, debris in the outdoor air, and even smoke from cooking fires. Hassan was not even able to keep watch over her grandchildren. "Children are always running, and I am sitting on my mat in my house," she said. "How could I care for them?"
To date, in Niger, The Carter Center has supported the distribution of approximatley 3.9 million doses of antibiotics and more than 21,000 surgeries. The Center also helps implement radio programs, theatrical performances during weekly markets, and educational activities at local schools to spread messages about trachoma prevention in more than 600 villages. In addition, nearly 75,000 household latrines have been built by Carter Center–trained masons using low-cost, local materials.
"All of our activities against trachoma are helping Nigerien communities reach their goal of eliminating blinding trachoma in the next few years," said Aryc W. Mosher, assistant director of the Carter Center's trachoma program.
And while Niger keeps its eye on halting the bacterial disease, Hassan will be busy keeping her eyes on her grandchildren.

(last updated Oct. 22, 2012)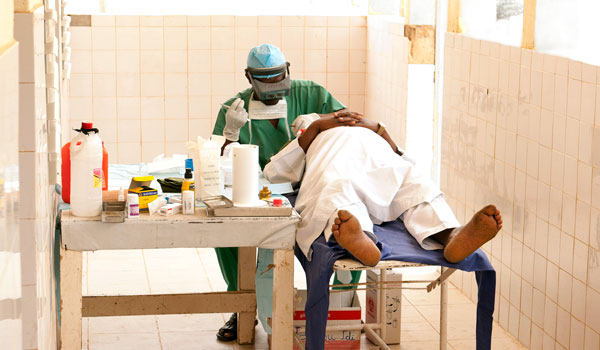 Corrective eyelid surgery requires simple tools and can be performed in many settings, including health clinics and mobile camps.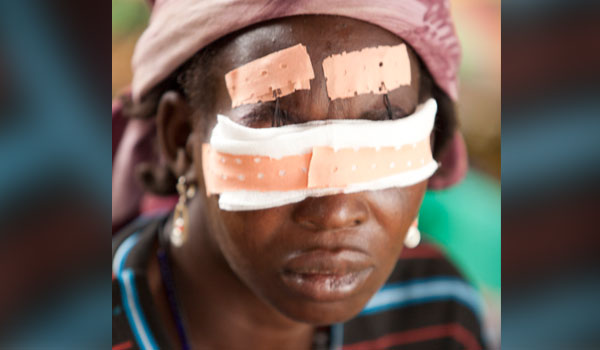 Recovery time for surgery is relatively short - patients can often resume work and family chores in a few days.