Aug. 22, 2022
If you had a huge, stinking, bloated animal carcass—say, a horse or a buffalo—blocking the main street in your neighborhood, you probably could figure out who to call to do something about it.
But in much of the world, women in particular lack access to municipal services simply because of a dearth of transparent information. Through its Inform Women, Transform Lives initiative, The Carter Center is working with cities around the globe to help more women gain access to available services.
Several months ago, a large decaying animal was indeed obstructing a street in a township in Cape Town, South Africa. The whole community had to navigate around the carcass while they waited for it to deteriorate enough for them to be able dispose of it, which might have been weeks.
As Carter Center partners, the city of Cape Town had used public libraries to provide training to 400 women from the townships on digital literacy and the municipal services. That information soon proved useful: A woman in the township with the dead animal who had received the training told another that the city would remove dead animals. Others did not believe her. She showed them by calling the city number she had learned about through the campaign, and that same day, city workers came and took the carcass away.
"To think that because these women did not have information, they had spent their whole lives living with the rotting smell of animals in their streets," said Laura Neuman, who leads the Carter Center's campaign. "Information really is transformational."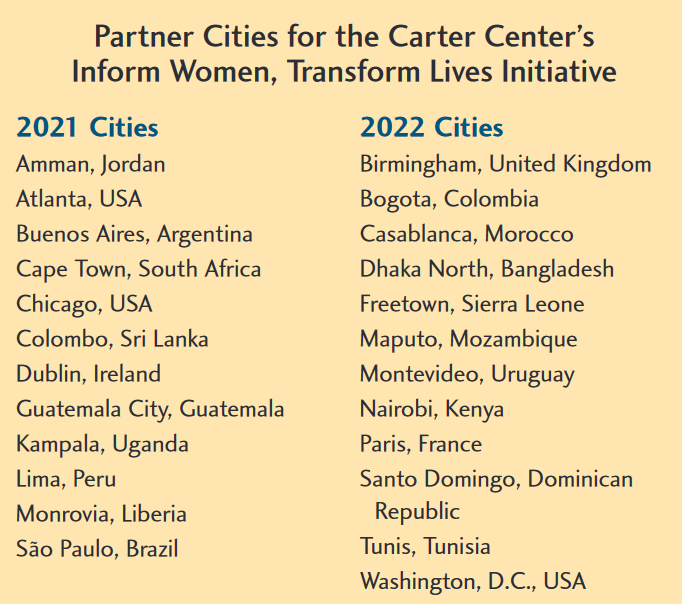 Over the last year the first 12 cities taking part in the campaign have come up with a dozen ways women can enhance their lives through public information, said Neuman.
Guatemala City raised awareness about women's centers that provide health, legal, and social services. Colombo, Sri Lanka, created a mobile app for women to use when feeling unsafe, particularly on public transit, where harassment is common.
Chicago focused on increasing the number of women who receive the CityKey, a program that provides a government-issued photo ID, particularly important for marginalized women, such as survivors of domestic violence or those experiencing homelessness, Neuman said. The key unlocks services such as access to public libraries, transit, and discount medicine. With the support of The Carter Center, Chicago recently reached 60,000 CityKeys distributed.
This spring, 12 more cities were added to the campaign, and they all have plans for how to reach the women in their areas.
In Nairobi, Kenya, for example, organizers will reach out to women about the city's health, legal, and psychosocial services and support mechanisms for survivors of sexual and gender-based violence. In Bogota, Colombia, the city will inform women caregivers about city resources, such as training, respite, and health services.
During a Carter Center-sponsored roundtable, the team from Casablanca, Morocco, learned about the work done by Monrovia, Liberia—one of the first cohort cities—to raise awareness about the city's waste management services. The Moroccans decided to take on this issue and plan to build build on the experiences and lessons from Liberia.
Neuman called the exchange "a great example of peer-to-peer learning."
"We know the incredible number of competing priorities that the cities must address each day," she said. "But we also know that by providing meaningful information and assuring that it reaches women, astonishing changes will happen."