Update: On Oct. 25, 12 days after this story was published, members of Sudan's military seized control of the government. The Carter Center issued a statement condemning the coup and is now monitoring developments there. It remains committed to supporting the people of Sudan.
---
In 2019, Sudanese youth made their voices heard, taking to the streets for protests and sit-ins that led to the ouster of the dictator who ruled their country for almost 30 years.
Now The Carter Center is helping to ensure that young people continue to have a voice in determining Sudan's future through its new youth citizen observer network. This spring, the Center deployed young surveyors and data managers across the country to learn how youth view their new government and what they think should be its top priorities.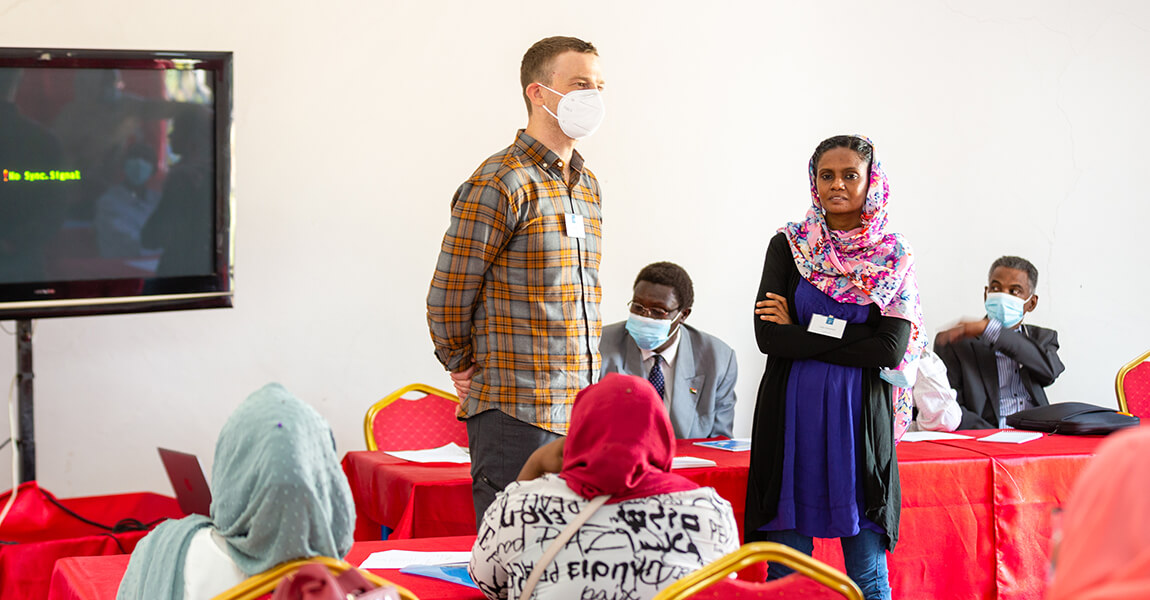 "As we prepared to launch the network, we thought it was important to hear from youth about what matters to them," said Ben Spears, who helps manage the project for the Center. "Right now, Sudan is controlled by a transitional government made up of civilians and military members. They are guided by a handful of obligations laid out in charters and peace agreements that pave the way for democratic elections in 2024. The main goal of this survey was to find out how young people want to be involved in the transitional processes and how we can help them reach their goals."
The team, made up of 25 young women and men representing Sudan's geographic and ethnic diversity, surveyed more than 1,000 representatives of youth-led organizations and resistance committees and conducted more than 120 focus groups and one-on-one interviews.
"Their efforts were really heroic, because they had to overcome a lot of logistical challenges to reach all of Sudan's 18 states," Spears said. "At times, they took motorcycles, rickshaws, boats—even tractors. They sent back photos and videos of them stranded on the side of the road because of potholes or lack of fuel."
The team's findings, released in August, indicate that Sudanese youth are optimistic about the future and keen to support the country's transition to democracy. But many are frustrated by their lack of influence on the course of the transition and feel that even when their opinions are heard, they are not valued.
Survey respondents also said they wanted training in how to access information about the transition and peace negotiations, as well as training in public communication and social media to help bolster their advocacy efforts.
With this in mind, the Center is now working to develop and train the youth citizen observer network, which will eventually be made up of hundreds of young people. They will report on what's happening in their local communities and whether the transitional government and other key stakeholders are living up to their various obligations.
"We want to equip young people to be watchdogs and to provide the government with information on what's happening and what still needs to be done," Spears said. "Young people make up the majority of Sudan's population, and if they feel engaged rather than sidelined, the country's transition to democracy is much more likely to be a success."
Related Resources
Press Release | Carter Center Calls on Sudan's Military to Reinstate Civilian Leadership (Oct. 25, 2021)
مركز كارتر يدعو السودان إلى إستعادة السلطة المدنية
Press Release | Carter Center Issues Report on Sudan's Youth and the Transition (Aug. 5, 2021)
Report | Sudan's Youth and the Transition: Priorities, Perceptions, and Attitudes
مركز كارتر يصدر تقريراً عن شباب السودان وعملية الانتقال
Related Videos
Youth Citizen Observer Project: Youth Voices
Youth Citizen Observer Project: Briefing on Preliminary Findings