Oct. 3, 2010
For Carter Center officer Pewee Flomoku, bringing justice to the citizens of Liberia is personal.
In 2003, Liberia began to emerge from 14 years of brutal civil war that ravaged the nation's physical, economic, and social foundations. A central challenge of reconstruction is to create a functional and accountable justice system, a prerequisite for lasting peace and democratic progress. While the nation's postconflict peace-building efforts have made remarkable progress, many challenges remain in the effort to ensure accountability and provide justice for all Liberians.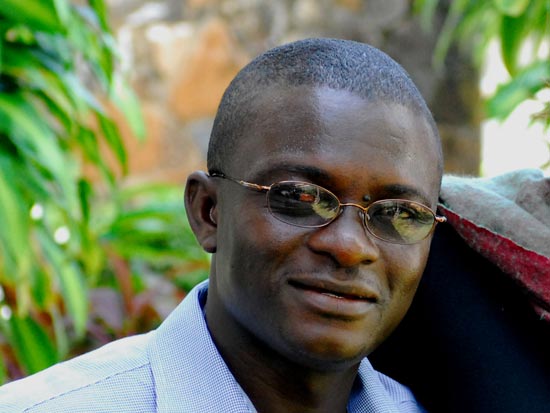 All photos: Carter Center
(Click to enlarge)
Pewee Flomoku
A comprehensive Carter Center project is focused on strengthening the rule of law in Liberia, partnering with grassroots civil society organizations to educate citizens and increase access to justice in underserved rural communities. It also serves as an example of steps that can be taken to prevent the re-emergence of conflict.

Carter Center program officer Pewee Flomoku is a native Liberian who now helps coordinate the Liberia justice project. Below, he discusses Liberia and its road to lasting peace.
Q: What is the story of your own family and the war?
A: The war in Liberia affected my family just like it affected all other families in the country. My family endured separation, deaths, sickness, displacement, and the loss of property. At one point, my whole family had to separate due to the fighting, and some members did not come back again. Some had to go into exile for safety and underwent difficult hardships.
We used to have a very large family farm, but as a result of the war, other family members are now relying on the very few of us who are working.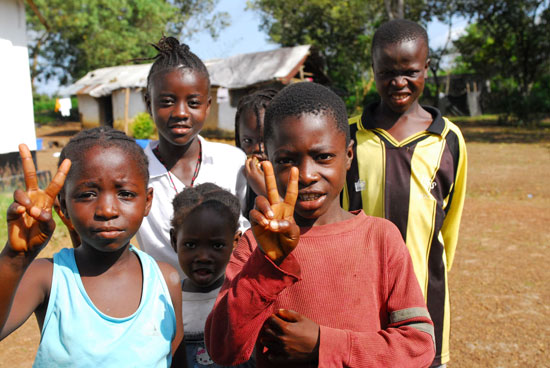 (Click to enlarge)
Outside capital city Monrovia, children flash the peace sign after participating in a gathering of the group Traditional Women United for Peace, which included Carter Center representatives.
Q: What signs of progress are you seeing in Liberia?
A: I see peace, the return of refugees, the commitment of the government to provide basic social services to the people, the commitment of the government to the rule of law, the continued engagement of the international community within Liberia, the training of a new army, and the restriction of the security sector.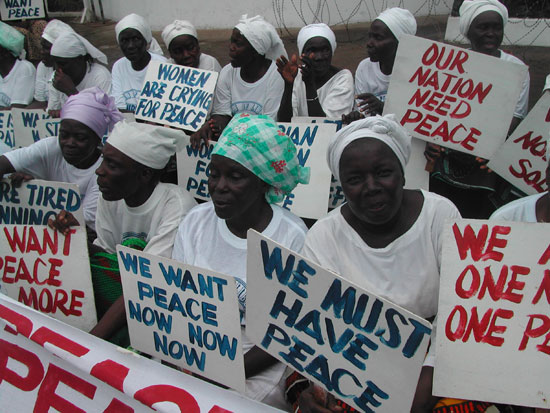 (Click to enlarge)
During Liberia's civil war, Pewee Flomoku was a photographer for the Associated Press. He took the photo below of Liberian women demonstrating at the American Embassy in Monrovia at the height of the war in July 2003. Today, he helps his fellow Liberians access justice through his work at The Carter Center.
Q: What continue to be the greatest challenges?
A: The greatest challenges include, but are not limited to, the following: poor security, poor road conditions, corruption, crime, and poor provision of basic social services.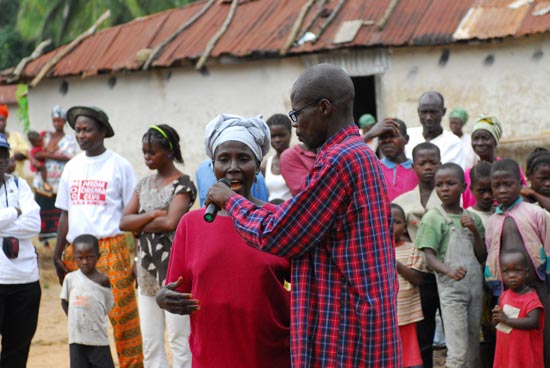 (Click to enlarge)
In the village of Leleh, a woman asks a question following a drama troupe's presentation on Liberian laws. A Carter Center project helps educate rural Liberians about their legal rights.
Q: Describe your work with the Carter Center's rural justice project.
A: The project's goals are to develop and build public confidence in a functional rural judicial sector that serves local needs; educate the public so that it is knowledgeable about its rights and responsibilities, including women and children's rights and basic human rights; and create awareness of local judicial mechanisms and conditions, including statutory, traditional, and informal processes.
We're providing technical and legal support to the Ministry of Justice. The Center is also conducting a public information and awareness campaign on the rule of law in rural areas. Local partners share rule of law messages in some of the most remote villages in the country using creative methods such as drama, town hall meetings, and radio programs.
Q: What is your personal hope for your country?
A: I personally hope and pray that Liberia will shine again and that Liberia will once again find its rightful place among the community of nations. I hope that Liberia will be a country of laws and that all Liberians will have equal access to the justice system and be treated equally before the law. I hope that The Carter Center will remain engaged in Liberia and that the international community will give our president the necessary support so that she can provide sound leadership for our country.
Real Lives, Real Change
Read more stories of women, children, and men whose lives have been changed through the Carter Center's peace and health programs >