Oct. 9, 2011
Read election day blog and post-election statements at right.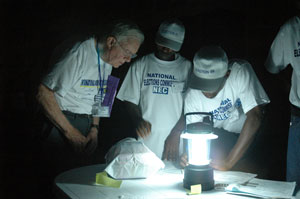 Photo: D. Hakes/The Carter Center
Former U.S. President Jimmy Carter observes the 2005 Liberia elections.
What: Presidential and legislative elections in Liberia on Oct. 11 will be a critical test for the country's transition from war to democratic and constitutional government. A Carter Center delegation will observe those elections, led by His Excellency General Dr. Yakubu Gowon, Nigeria's former head of state. Observers reported on Oct. 3 (PDF) that campaigning has been vibrant and generally peaceful. Four teams of long-term observers who have been reporting from across Liberia since early September have been joined by short-term observers in a joint delegation with the Electoral Institute for Sustainable Democracy in Africa.
The delegation includes more than 50 observers representing 25 different nations, deployed to all 15 Liberian counties. The Center hopes its presence will strengthen the efforts of voters, candidates, parties, and election officials to ensure transparent, credible, and peaceful elections.
Who: There are 16 candidates for president, including Winston Tubman of the Congress for Democratic Change, Charles Brumskine of the Liberty Party, and current President Ellen Johnson Sirleaf of the Unity Party. Three women are on the ballot. Liberian civil society aims to deploy several thousand observers, including 2,000 domestic observers through the Election Coordinating Committee. International observation delegations besides The Carter Center include the African Union, ECOWAS, and the Electoral Institute for Sustainable Democracy in Africa. Liberia's National Elections Commission has hired and trained  more than 27,000 poll workers for  4,457 polling places on election day. Approximately 8,000 UNMIL soldiers help to ensure peace and stability.
Where: The West African country of Liberia was founded in the early 1820s by freed slaves from the United States. The country has a population of 4.1 million with more than a quarter of the population living in the capital city of Monrovia, named after U.S. President James Monroe. Liberia endured 14 years of civil war that ended in 2003. During the country's civil war, as many as 250,000 people were killed and hundreds of thousands fled the violence. The Carter Center previously observed elections in Liberia in 1997 and 2005 and also currently has projects to advance access to justice, access to information, and mental health services.
When: Voting will be held throughout the country on Tuesday, Oct. 11, with counting and tabulation to follow.  If a single candidate does not receive a majority vote (50 percent plus one vote) on Oct. 11, a presidential runoff election will be held, most likely on Nov. 8.
Why: Why is this election important? Elections in 2005 solidified peace; credible elections in 2011 are a key test of whether the country's institutions are strong enough and its leaders are sufficiently committed to creating the conditions for an open and competitive process. This is the first election to be administered primarily by the National Elections Commission and the first to be held under Liberia's 1986 constitution.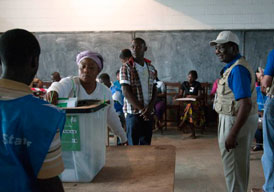 Read the Blog
Voting Day: Liberia's Oct. 11 Presidential and Legislative Elections
Related Resources