Read the Preliminary Statement:  Nepal Constituent Assembly Elections
Carter Center election observers witnessed a historic vote in Nepal on April 10 creating a constituent assembly to draft a new constitution for the country that will likely abolish the 240-year-old monarchy.
"This election was transformational for the people of Nepal," said President Carter. "Traditionally marginalized groups are guaranteed a place in the new government."
Nepal's decade-long Maoist insurgency left more than 12,000 people dead and some 100,000 people displaced. Shortly after a breakthrough peace agreement was made in November 2006, the Maoists joined an interim government, but elections were twice delayed due to political disagreements among the interim government's parties.
Sixty election monitors from 21 nations joined delegation leaders former U.S. President Jimmy Carter, former First Lady Rosalynn Carter, and Dr. Surakiart Sathirathai, former deputy prime minister of Thailand for the election.
Nepal's electoral system, which is a complicated combination of single-member constituencies and proportional representation, introduced quotas for women and other marginalized groups to create a far more inclusive and elected body than previously existed in Nepal. More than 6,000 candidates representing 73 political parties sought a position for the constituent assembly's 575 directly elected seats. Twenty-six seats will be appointed by the cabinet after election results are final.
The Carter Center's observation mission — the only international election observation organization present throughout Nepal's entire electoral process — established its field office and deployed long-term observers in March 2007. They traveled throughout the country's 75 districts multiple times during the pre-election period. On election day, Carter Center observers visited more than 400 polling centers in 28 districts.
Center observers found that most polling stations opened on time or with only a brief delay and followed the correct procedures. In a postelection statement, the Center noted that a significant number of eligible young voters were left out due to insufficient time to update the voter roll prior to the elections, but overall the majority of Nepali voters participated in a remarkable and relatively peaceful constituent assembly election.
"These elections are another step for Nepal on its path to peace and political stability," said David Pottie, associate director of the Carter Center's Democracy Program. "But there is still a long road ahead for the country, and it is essential for the international community to remain engaged." The Carter Center will continue to observe the district counting and national tabulation until complete and comment on the electoral process periodically through public statements.
Nepal's constituent assembly elections were the 70th elections observed by The Carter Center. All Carter Center reports on Nepal's election process are available at www.cartercenter.org.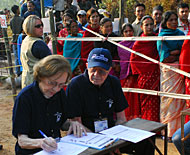 All Photos: The Carter Center/D. Hakes

Former U.S. President Jimmy Carter and Rosalynn Carter witness poll opening procedures in Bhaktapur, Nepal, where long lines of voters mirrored the large turnout across the country.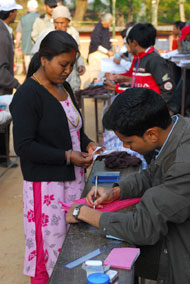 In Bhaktapur, a woman presents her identification card before voting.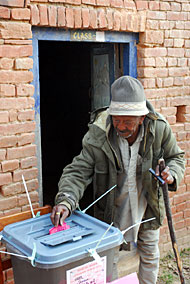 A man casts his vote for the Nepal's constituent assembly
Multimedia

View slideshow: Carter Center Observes Historic Nepal Elections >>