Feb. 14, 2020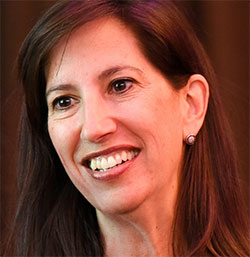 Paige Alexander
ATLANTA - The Carter Center Board of Trustees is pleased to announce that Paige Alexander has been appointed CEO of The Carter Center, effective June 16, 2020. She succeeds Ambassador (ret.) Mary Ann Peters, who is retiring. 
The CEO is charged with leading the Center into its next era of building peace, health, and hope for the world's poorest people.
"Paige Alexander will carry forward the vision and values of the Carter Center's founders, my grandparents, Jimmy and Rosalynn Carter," said Jason Carter, chair of the Carter Center Board of Trustees. "The Center's mission to alleviate suffering and advance human rights globally has never been more urgent."
Said President Carter, "Rosalynn and I are excited that Paige Alexander will become CEO of The Carter Center. Paige is exceptionally well qualified to lead the Center into its next chapter, and she is fully aligned with our vision for the Center. We are confident that many of the Center's most significant accomplishments are yet to come."
"My life's work has been to lift up human rights, justice and fairness, economic and social opportunity," said Paige Alexander. "For years, I have observed and admired the work of The Carter Center on the ground and in global human rights, health and peace-keeping contexts. Joining the Center at this time of transition, when the founders' vision, legacy and mission are needed more than ever, is the privilege of a lifetime."
As CEO, Alexander will provide vision and leadership for The Carter Center and will oversee all program implementation and operations. The not-for-profit Carter Center was founded by former U.S. President Jimmy Carter and his wife, Rosalynn, in 1982. Since then,  the Center has improved the quality of life for hundreds of millions of people in 80 nations by resolving conflicts; advancing democracy, human rights, and economic opportunity; preventing neglected tropical diseases; and improving mental health care.
Alexander has had a distinguished global career, with over two decades of experience spanning government and nonprofit sectors. She has held leadership positions at two regional bureaus of the United States Agency for International Development (USAID), covering missions and development programs in 25 countries from Eurasia to the Middle East and Africa over 15 years (1993-2001, 2011-2017).
She also has had over a decade of nonprofit leadership roles, including as SVP and European founder/president of IREX (2001-2010), an international civil society, democracy, and education nonprofit organization. Since 2017, she has served as executive director of the European Cooperative for Rural Development (EUCORD) in Brussels and Amsterdam.  EUCORD helps marginalized farmers in Africa grow marketable crops that sustainably improve the livelihoods of families and communities.
Earlier, Alexander was associate director of Project Liberty at the Harvard Kennedy School (1992-1993) and a consultant to foundations including C.S. Mott, Rockefeller Brothers Fund, and the Open Society Institute in Prague. She has served on many global boards and committees, currently including the Romanian-American Foundation board and advisory boards for World Learning and IREX. 
Alexander earned her bachelor's degree at Tulane University in organizational communication and social psychology in 1988.
Her appointment culminates a wide-ranging global search that reached over 500 potential candidates and referral sources in over 20 countries.  The Carter Center Board of Trustees search committee worked with BoardWalk Consulting, a national firm based in Atlanta, Georgia.
###