Sept. 15, 2022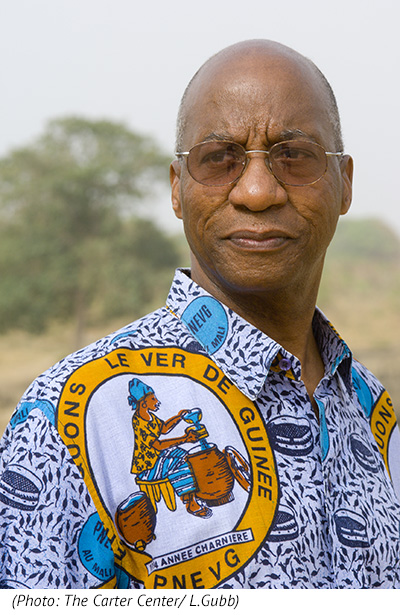 ATLANTA (Thursday, Sept. 15, 2022) — Dr. Donald R. Hopkins, the Carter Center's special advisor for Guinea worm eradication, received an honorary Doctor of Science degree Wednesday from the American Museum of Natural History's Richard Gilder Graduate School.
"For your influential scientific research and extraordinary success in the eradication of smallpox, near-eradication of Guinea worm disease, and similar efforts against many other devastating diseases, you are rightly considered an international hero," the school's citation reads.
Hopkins and The Carter Center collaborated with the American Museum of Natural History in 2015 in the creation of "Countdown to Zero: Defeating Disease," a powerful exhibition to educate visitors of all ages about disease eradication. The exhibition appeared in New York, Abu Dhabi, London, Atlanta, and Seattle. 
"The impact of institutions like the museum that are training the next generation of scientists and working to increase scientific and public health literacy is hard to overstate," Hopkins said in accepting the honorary degree. "I extend my thanks to the Richard Gilder Graduate School at the museum for this honor."
Hopkins joined The Carter Center in 1987 as senior consultant for health programs, leading the Center's efforts to eradicate Guinea worm disease. Under his leadership, the Center became the home of the International Task Force for Disease Eradication and added programs to eliminate river blindness and lymphatic filariasis and control trachoma and schistosomiasis, all of which are considered neglected tropical diseases. With the ITFDE, he created the Hispaniola Initiative, a binational campaign to eliminate lymphatic filariasis and malaria from Haiti and the Dominican Republic.
Hopkins retired as vice president of health programs in 2015. He continues to serve actively as the Center's special advisor for Guinea worm eradication.
During Hopkins' tenure, Guinea worm disease has been reduced by more than 99.99%. In 1986, there were an estimated 3.5 million cases annually in 21 countries in Africa and Asia. In 2021, just 15 human cases were reported in four countries. Guinea worm is poised to become the second human disease in history to be eradicated. The first was smallpox, in 1980; Hopkins worked in that campaign in Sierra Leone, India, and Ethiopia while at the U.S. Centers for Disease Control and Prevention. He authored Princes and Peasants: Smallpox in History in 1983, which was re-issued in 2002 as The Greatest Killer: Smallpox in History.
Hopkins has received numerous awards, including the CDC Medal of Excellence, the Distinguished Service Medal of the U.S. Public Health Service, and a MacArthur Fellowship in 1995, as well as honorary degrees from Morehouse College (1988), Emory University (1994), University of Massachusetts-Lowell (1997), Morehouse School of Medicine (1999), Harvard University (2013), and Yale University (2021). He was elected a member of the Institute of Medicine of the National Academy of Sciences in 1987 and has been a member of the American Society of Tropical Medicine and Hygiene since 1965. He was elected a fellow of the American Academy of Arts and Sciences in 1997, inducted as a Knight of the National Order of Mali in 1998, awarded the Medal of Honor of Public Health (Gold) by the country of Niger in 2004, and named a Champion of Public Health by Tulane University in 2005.
His wife Dr. Ernestine Mathis Hopkins has enabled his work and achievements since 1967.
The American Museum of Natural History citation recognized his achievements with these words: "You are a brilliant, successful warrior against pervasive health scourges in some of the most disadvantaged places. In these ways, you embody the mission and work of the American Museum of Natural History."
The Richard Gilder Graduate School is located at the American Museum of Natural History in New York City. It houses two graduate programs; the Ph.D. program in comparative biology and the Master of Arts in Teaching Earth science residency program.
Related Resources
The Museum's Richard Gilder Graduate School Confers PH.D. and MAT Degrees
###
Contact: Emily Staub, (404) 420-5126; Emily.Staub@CarterCenter.org
The Carter Center
Waging Peace. Fighting Disease. Building Hope.
A not-for-profit, nongovernmental organization, The Carter Center has helped to improve life for people in over 80 countries by resolving conflicts; advancing democracy, human rights, and economic opportunity; preventing diseases; and improving mental health care. The Carter Center was founded in 1982 by former U.S. President Jimmy Carter and former First Lady Rosalynn Carter, in partnership with Emory University, to advance peace and health worldwide.