FOR IMMEDIATE RELEASE
Contact: Deborah Hakes, 404-420-5124
Atlanta...Former U.S. President and Nobel Peace Prize winner Jimmy Carter will visit Ecuador, Peru, Bolivia, and Brazil from April 27-May 4 to assess Carter Center projects, participate in a regional conference on the right of access to information, and meet with officials to discuss regional themes of importance following the Summit of the Americas. President Carter will meet with each country's president - Rafael Correa in Ecuador, Alan García in Perú, Evo Morales in Bolivia, and Lula Da Silva in Brazil – as well as with each foreign minister and representatives of other sectors. Accompanying him will be former First Lady Rosalynn Carter; Dr. John Hardman, president and CEO of The Carter Center; Dr. Jennifer McCoy, director of the Center's Americas Program; and Francisco Diez, representative of the Center in Latin America.
In Ecuador, the delegation will look at the Carter Center's programs that have accompanied the country's constitution-drafting process for the past one and a half years and that now focus on implementation of the new constitution, as well as meet with the Ecuador-Colombia Binational Dialogue Group supported by The Carter Center.
In Bolivia, the delegation will meet with local partners in the Center's initiatives on conflict management, peace building, media, and electoral issues, as well as with leaders of the national government and representatives of the "media luna," the four eastern states.
In Peru, President Carter will receive a human rights award from the ombudsman's office and participate in the Carter Center's Americas Conference on the Right of Access to Information, organized in collaboration with the Organization of American States, the Andean Judicial Commission, and the Knight Center for Journalism in the Americas. The Americas regional conference serves as a follow-up to the Global Conference on the Right to Information held in Atlanta in February 2008. More than 100 representatives of governments, civil society, media, and academia from 17 countries will participate in the Lima conference from April 28-30.
In Brazil, the delegation will meet with the president and several ministers in Brasilia, as well as political and economic leaders in Sao Paolo, to discuss the state of democracy in the region, the international financial crisis, energy, food, and a Carter Center program to eliminate river blindness from the Americas.
####
The Carter Center: A not-for-profit, nongovernmental organization, The Carter Center has helped to improve life for people in more than 70 countries by resolving conflicts; advancing democracy, human rights, and economic opportunity; preventing diseases; improving mental health care; and teaching farmers in developing nations to increase crop production. The Carter Center was founded in 1982 by former U.S. President Jimmy Carter and his wife, Rosalynn, in partnership with Emory University, to advance peace and health worldwide. Please visit www.cartercenter.org to learn more about The Carter Center.
---
Comunicado de Prensa
Jimmy Carter en América Latina
13 de abril de 2009
PARA DIFUSION INMEDIATA
CONTACTO:
Deborah Hakes, +1-404-420-5124
Atlanta...El ex Presidente de los Estados Unidos de América y premio Nobel de la Paz, Jimmy Carter, visitará Ecuador, Perú, Bolivia y Brasil del 27 de abril al 4 de mayo con el propósito de evaluar los proyectos del Centro Carter en la región, participar en la Conferencia Regional de las Américas sobre el Derecho de Acceso a la Información y reunirse con distintos líderes para discutir temas regionales importantes después de la Cumbre de las Américas. El Presidente Carter se reunirá con los presidentes de cada país – Rafael Correa en Ecuador, Alan García en Perú, Evo Morales en Bolivia y Luis Ignacio Lula da Silva en Brasil- , así como también con los respectivos Ministros de Relaciones Exteriores y con representantes de diferentes sectores. Acompañándolo estarán la ex – Primera Dama Rosalynn Carter; el Dr. John Hardman, Presidente y Director Ejecutivo del Centro Carter; la Dra. Jennifer McCoy, Directora del Programa para las Américas del Centro Carter; y Francisco Diez, Representante del Centro Carter en América Latina.
En Ecuador la delegación analizará los proyectos que el Centro Carter ejecuta desde hace un año y medio y que se han concentrado en el acompañamiento al proceso de elaboración de la nueva Constitución del país así como en su implementación. Además, la delegación se reunirá con el Grupo Binacional de Diálogo Ecuador – Colombia, apoyado por el Centro Carter.
En Bolivia, la delegación se reunirá con sus socios locales en las iniciativas del Centro Carter sobre manejo de conflictos, construcción de la paz, medios de comunicación y temas electorales. Asimismo, se reunirá con líderes del gobierno nacional y representantes de los cuatro departamentos del este del país que integran la región conocida como la "Media Luna".
En Perú, el Presidente Carter recibirá un premio por su trabajo en Derechos Humanos otorgado por la Defensoría del Pueblo, y participará en la Conferencia Regional de las Américas sobre el Derecho de Acceso a la Información organizada por el Centro Carter en colaboración con la Organización de Estados Americanos, la Comisión Andina de Juristas y el Centro Knight para el Periodismo en la Américas. La conferencia regional de las Américas da continuidad a la Conferencia Global sobre el Acceso a la Información que tuvo lugar en Atlanta en febrero de 2008. Esta a se llevará a cabo en Lima entre el 28 y el 30 de abril y contará con la participación de más de 100 representantes de los gobiernos, la sociedad civil, los medios de comunicación y la academia de 17 países.
En Brasil, la delegación se reunirá con autoridades nacionales en Brasilia y con líderes políticos y económicos en Sao Paulo para discutir el estado de la región en términos de democracia, la crisis financiera internacional, energía y alimentación. Se tratará y analizará también el programa del Centro Carter en el ámbito de sus programas de salud para eliminar la oncocercosis o ceguera de río en las Américas.
####
El Centro Carter fue establecido en 1982 por el ex Presidente de los Estados Unidos de América, Jimmy Carter y su esposa Rosalynn, en sociedad con la Universidad de Emory para promover la paz y la salud en todo el mundo. El Centro, una organización no gubernamental sin fines de lucro, sin filiación partidaria, ha contribuido a mejorar la vida de personas en más de 70 países a través de la resolución de conflictos, la promoción de la democracia, los derechos humanos y oportunidades para el desarrollo económico; así como mediante la prevención de enfermedades, el mejoramiento de los sistemas de salud mental y la capacitación de agricultores para aumentar la producción de sus cultivos.Visite www.cartercenter.org para conocer más del trabajo del Centro Carter.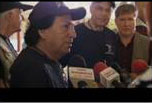 Strengthening Democracy in Latin America (2008)
Watch Video (2:53) >
Read more about the Carter Center's work in Latin America >>
Read Latin America trip blog by Americas Program Director Jennifer McCoy >>
Press Release: Carter Center Conference to Address Advancements and Challenges to the Right of Access to Information in the Americas >>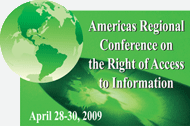 Learn more about the Americas Regional Conference on the Right of Access to Information, April 28-30, 2009 >>
Conferencia Regional de las Américas sobre el Derecho de Acceso a la Información >>