Aug. 31, 2015
Contact: Soyia Ellison, soyia.ellison@cartercenter.org
WASHINGTON, D.C. – Leaders of The Asia Foundation, The Carter Center, Democracy International, Freedom House, IREX, and World Learning met in Washington today to discuss their enhanced cooperation in programs worldwide to advance democratic elections and political transitions.
The gathering comes at a time when setbacks in once-hopeful transitions in the Arab world and elsewhere have prompted some to doubt the viability of democracy support across borders. In this context, these six major international development organizations have come together in a joint venture – Advancing Democratic Elections and Political Transitions (ADEPT) – to reaffirm and elevate their commitment to work with local partners worldwide, and the global international development community, to advance the democratic space.
The ADEPT consortium offers sustainable, effective, and responsive solutions that not only build on the organizations' combined expertise, networks, contacts, and global experience, but also present to donors a way to access integrated, efficient programming to promote the development of resilient, democratic societies around the world.
On Monday, the leaders re-affirmed their commitment to fundamental values that inform their work. These include:
Citizens in every country deserve to choose their own leaders. As such, citizens are the most important beneficiaries of and participants in programming to support elections and political transitions.
Elections can be catalyzing events for successful democratic transitions and long-term stability, particularly with the uniquely well-positioned, responsive, and broad-based support of the organizations that have come together in ADEPT.
Successful political transitions reinforce other development goals, including social inclusion, equitable economic growth, better health care, heightened food security, enforceable commitments to climate change, and increased access to education.
New technologies and a rapidly changing political landscape in priority regions highlight the need for innovation and agility Thus, ADEPT works with partners to develop cutting-edge, technologically driven solutions to maximize engagement and effectiveness.
Participants in the meeting included: David Arnold, president, The Asia Foundation; Mary Ann Peters, chief executive officer, The Carter Center; Eric Bjornlund, president, Democracy International; Mark P. Lagon, president, Freedom House; Kristin M. Lord, president and chief executive officer, IREX; Donald Steinberg, president and chief executive officer, World Learning.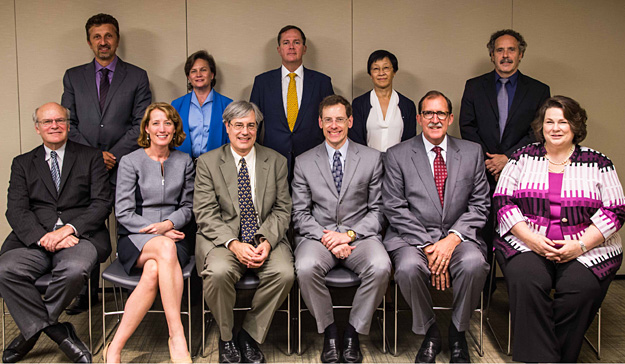 Standing, left to right: Aleksander Dardeli (IREX), Jennifer Whatley (World Learning), Thomas O. Melia (Democracy International), Nancy Yuan (The Asia Foundation), David Carroll (The Carter Center). Seated, left to right: Donald Steinberg (World Learning), Kristin M. Lord (IREX), Eric Bjornlund (Democracy International), Mark P. Lagon (Freedom House), David Arnold (The Asia Foundation), Amb. (Ret.) Mary Ann Peters (The Carter Center).
###
"Waging Peace. Fighting Disease. Building Hope."
A not-for-profit, nongovernmental organization, The Carter Center has helped to improve life for people in over 80 countries by resolving conflicts; advancing democracy, human rights, and economic opportunity; preventing diseases; and improving mental health care. The Carter Center was founded in 1982 by former U.S. President Jimmy Carter and former First Lady Rosalynn Carter, in partnership with Emory University, to advance peace and health worldwide.