FOR IMMEDIATE RELEASE
Contact: Deborah Hakes, 404-420-5124
Atlanta . . . Participants in a conference on the right of access to information released today their findings and plan of action to advance the right in the Americas.The Americas Regional Plan of Action provides a blueprint for the regional and international community, states, and non-state actors to establish, develop, and nurture the right of access to information in the Americas and calls on them to commit to the plan in furtherance of our common objective. The regional document serves as an annex to last year's global Atlanta Declaration and Plan of Action.

The conference was held April 28-30, 2009, in Lima, Peru, and was organized by The Carter Center in collaboration with the Organization of American States, the Andean Jurists Commission, and the Knight Center for Journalism in the Americas. More than 115 representatives from government, civil society, media, private sector, regional intergovernmental organizations, international and regional financial institutions, and donors from 18 countries in the region came together to consider the main obstacles and potential solutions to advance the right of access to information in the Americas.

Participants found that the greatest challenges to the right of access to information in the Americas are a lack of implementation and enforcement of legislation, backsliding in the more developed systems, and an absence of widespread use of the existing legislation and mechanisms, and that the diversity of the region necessitates diversity in responses.

The group also agreed that states have a special obligation to disclose information pertaining to human rights violations or corruption. This is all the more important in the Americas regional context of past state-sponsored or approved human rights violations and the more recent "global war on terror," whereby systematic torture and other cruel, inhuman, and degrading treatment has been allowed to flourish under the veil of state secrets.

Chairing the final day of the conference, former U.S. President Jimmy Carter reminded those gathered that "access to information can change the landscape of society" as it provides citizens a tool to hold government accountable, improve development, and assure greater security, as well as being a fundamental human right. President Carter was in Peru as part of a trip to four Latin American countries also including Ecuador, Bolivia, and Brazil, where he met with the heads of state and urged them to establish and implement access to information legislation.

Read the full Americas Regional Findings and Plan of Action and the Atlanta Declaration for the Advancement of the Right of Access to Information.
####
A not-for-profit, nongovernmental organization, The Carter Center has helped to improve life for people in more than 70 countries by resolving conflicts; advancing democracy, human rights, and economic opportunity; preventing diseases; improving mental health care; and teaching farmers in developing nations to increase crop production. The Center has observed over 70 elections in nearly 30 countries. The Carter Center was founded in 1982 by former U.S. President Jimmy Carter and his wife, Rosalynn, in partnership with Emory University, to advance peace and health worldwide.
Plan de Acción para el avance del derecho de accesso a la información pública en las Américas emitido hoy
21 de mayo de 2009
PARA PUBLICACIÓN INMEDIATA
Contacto: Deborah Hakes, 404-420-5124 o dhakes@emory.edu
Atlanta . . . Las personas que participaron en la Conferencia Regional sobre el Derecho de Acceso a la Información dieron a conocer hoy sus hallazgos y plan de acción para impulsar este derecho en las Américas. El Plan de Acción Regional de las Américas proporciona un plan maestro para que la comunidad regional e internacional, los Estados y los actores no estatales establezcan, desarrollen y cultiven el derecho de acceso a la información en las Américas, y los insta a comprometerse con este plan para la consecución de nuestro objetivo común.
El documento regional se adjunta como anexo a la Declaración de Atlanta y el Plan de Acción, y está disponible en www.cartercenter.org/AccesstoInformation.
La conferencia celebrada entre el 28 y el 30 de abril de 2009 en Lima, Perú fue organizada por el Centro Carter en colaboración con la Organización de Estados Americanos, el Comité de Juristas Andinos y Knight Center for Journalism in the Americas. Más de 115 representantes de gobiernos, sociedad civil, medios de comunicación, sector privado, organizaciones intergubernamentales regionales, instituciones financieras internacionales y regionales, y donantes de 18 países de la región se reunieron para analizar los principales obstáculos y posibles soluciones para impulsar el derecho de acceso a la información en las Américas.
Las personas participantes determinaron que los mayores retos para ejercer el derecho de acceso a la información en las Américas son la falta de ejecución y cumplimiento, los retrocesos en los sistemas más desarrollados y la ausencia de uso generalizado de las leyes y mecanismos vigentes, y que la diversidad de la región exige respuestas diversas.
Este grupo también estuvo de acuerdo en que los Estados tienen la obligación particular de divulgar información pertinente a violaciones de derechos humanos o actos de corrupción. El cumplimiento de esta obligación es aún más importante en el contexto regional de las Américas de violaciones de derechos humanos cometidas en el pasado bajo los auspicios o con el consentimiento del Estado y la más reciente "guerra mundial contra el terrorismo", la cual ha dado pie a que prospere el uso de torturas sistemáticas y otros tratos crueles, inhumanos y degradantes bajo el velo de secretos de Estado.
El ex Presidente de Estados Unidos Jimmy Carter, quien presidió el último día de la Conferencia, les recordó a todos los presentes que "el acceso a la información puede cambiar el panorama para la sociedad" pues constituye una herramienta necesaria para que los gobiernos rindan cuentas a la ciudadanía, para impulsar el desarrollo y garantizar mayor seguridad, además de ser un derecho humano fundamental. El ex Presidente Carter estuvo en Perú como parte de su viaje a cuatro países de América Latina, incluyendo Ecuador, Bolivia y Brasil, donde se reunió con los jefes de Estado y les instó a establecer y poner en práctica leyes de acceso a la información.
Si desea leer el texto completo de Hallazgos y Plan de Acción de las Américas, la Declaración de Atlanta para el Avance del Derecho de Acceso a la Información, visite www.cartercenter.org/AccesstoInformation.
####
El Centro Carter fue establecido en 1982 por el ex Presidente de los Estados Unidos de América, Jimmy Carter y su esposa Rosalynn, en sociedad con la Universidad de Emory para promover la paz y la salud en todo el mundo. El Centro, una organización no gubernamental sin fines de lucro, sin filiación partidaria, ha contribuido a mejorar la vida de personas en más de 70 países a través de la resolución de conflictos, la promoción de la democracia, los derechos humanos y oportunidades para el desarrollo económico; así como mediante la prevención de enfermedades, el mejoramiento de los sistemas de salud mental y la capacitación de agricultores para aumentar la producción de sus cultivos.
Learn more about the Carter Center's efforts to advance the right of access to public information >>
Read the Americas Regional Findings and Plan of Action in English or Spanish(PDF) >>
Read the Atlanta Declaration and Plan of Action (PDF) >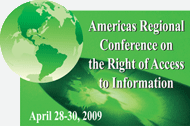 Learn more about the Americas Regional Conference on the Right of Access to Information, April 28-30, 2009 >>
Conferencia Regional de las Américas sobre el Derecho de Acceso a la Información >>