FOR IMMEDIATE RELEASE
Contact: Deborah Hakes, 404-420-5124
Atlanta...Participants in a global conference on the right of access to public information released today the Atlanta Declaration and Plan of Action to advance access to information as a fundamental human right.
The conference, held Feb. 27-29, 2008, brought together more than 125 representatives of government, civil society, media, private sector, international financial institutions, donors, and academics from 40 countries at The Carter Center in Atlanta, Georgia. The group's final declaration is available now at www.cartercenter.org.
The declaration states that "access to information is a fundamental human right; it is essential for human dignity, equity and peace with justice; and a lack of access to information disproportionately affects the poor, women, and other vulnerable and marginalized people."
It also establishes a series of principles, stating that transparency provides more safety and security than secrecy and that the right of access to information should apply to all branches of government at all levels, to all divisions of international bodies, and even to private corporations in certain circumstances. The declaration includes a set of tenets that should be included in any law or legal instrument.
"Giving people the access to information they need to participate fosters greater trust between citizens and government. It increases their common interest in shaping a fruitful and progressive future for their nation," said former U.S. President Jimmy Carter during the conference.
The declaration calls on all states and intergovernmental organizations to enact legislation and instruments for the exercise of this right, as well as calling on states to ensure the full implementation and effective enforcement of the legislation.
Serving as a blueprint for advancing the right, the Atlanta Declaration encourages international and regional bodies, donors, states and corporate, professional, and civil society organizations to take concrete steps to establish, develop, and nurture the right of access to public information across the world.
To read the full Atlanta Declaration and Plan of Action for the Advancement of the Right of Access to Information, please go to www.cartercenter.org.
####
The Carter Center has observed 69 elections in 27 countries since 1989. The Center is a not-for-profit, nongovernmental organization working to advance peace and health worldwide by resolving conflicts; advancing democracy, human rights, and economic opportunity; preventing diseases; improving mental health care; and teaching farmers in developing nations to increase crop production. The Carter Center was founded in 1982 by former U.S. President Jimmy Carter and his wife, Rosalynn, in partnership with Emory University. Please visit www.cartercenter.org to learn more about The Carter Center.
Read the Atlanta Declaration and Plan of Action (PDF) >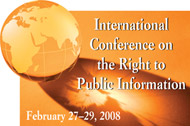 Learn more about the International Conference on the Right to Public Information, Feb. 27-29, 2008 >>