Feb. 20, 2008
FOR IMMEDIATE RELEASE
Contact: Deborah Hakes, 404-420-5124
Atlanta…The Carter Center will offer two live webcasts at www.cartercenter.org that will explore challenges facing the right to information in the United States and around the world.
The first webcast takes place on Tuesday, Feb. 26, from 7-8:30 p.m., when panelists Tom Blanton, director of the National Security Archive, which collects and publishes declassified documents obtained through FOIA; Michelle Roberts, award-winning journalist from The Oregonian, who used FOIA to expose abuse at state mental health facilities in Oregon; and Kevin Dunion, Scotland's information commissioner, who is responsible for enforcing the Freedom of Information Act, will discuss recent open government legislation in the United States; share their experiences regarding how the right to information protects people; and discuss how more information enables better decisions by citizens. The event will be moderated by Laura Neuman, Carter Center access to information project manager.
Former U.S. President Jimmy Carter will lead the opening session of a Carter Center conference on the right to information, which will also be webcast live on Wednesday, Feb. 27, from 2-3 p.m.  Other speakers will include Juan Ramon Quintana, Bolivian minister of the presidency, and Maharafa Traoré, Mali's minister of justice.
The conference is bringing together high-level participants from more than 30 countries to explore challenges facing the right to information and to establish a concrete set of recommendations for the future advancement of the right worldwide.
Both webcasts will be archived at www.cartercenter.org for future viewing.
The Carter Center has worked in the access to public information field since 1999, working extensively in Jamaica, Bolivia, Nicaragua, and Mali to support the establishment of comprehensive laws and voluntary disclosure strategies and assist their implementation and enforcement. The Carter Center also has worked at the regional level with organizations such as the Organization of American States, the World Bank, and the Commonwealth Parliamentary Association.
####
"Waging Peace. Fighting Disease. Building Hope."
A not-for-profit, nongovernmental organization, The Carter Center has helped to improve life for people in more than 70 countries by resolving conflicts; advancing democracy, human rights, and economic opportunity; preventing diseases; improving mental health care; and teaching farmers in developing nations to increase crop production. The Carter Center was founded in 1982 by former U.S. President Jimmy Carter and his wife, Rosalynn, in partnership with Emory University, to advance peace and health worldwide.
Learn more about The Carter Center's Access to Information Project >>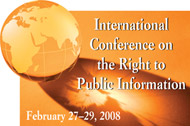 Learn more about the International Conference on the Right to Public Information, February 27-29, 2008 >>