Oct. 1, 2011
"Beyond the White House: Waging Peace, Fighting Disease, Building Hope," by former U.S. President Jimmy Carter, was published Oct. 2, 2007, by Simon & Schuster. The book is available from the Jimmy Carter Library and Museum Shop (order online here).

Since leaving the White House in 1981, Jimmy Carter has achieved more in his post-presidential years than any other president in American history. He has received the Nobel Peace Prize, published more than 20 bestselling books, and spoken out boldly – and sometimes controversially – on many of the most important issues of our time. But the bulk of his work, accomplished in close partnership with his wife, Rosalynn, has been realized through The Carter Center.

Founded in 1982, The Carter Center is devoted to achieving specific goals in the advancement of peace, health, and human rights around the globe. Along with dedicated experts from The Carter Center, Jimmy Carter has led peace efforts on four continents, monitored more than 65 troubled elections, and cured or prevented terrible diseases that afflict tens of millions of the world's most forgotten people. Now, he chronicles all the excitement, challenge, unpredictability, adventure, and satisfaction of his and Rosalynn's work with The Carter Center over the past 25 years in "Beyond the White House: Waging Peace, Fighting Disease, Building Hope."
Waging Peace
For the first time, President Carter tells the full story of how he, Rosalynn, and the Carter Center's team of mediators have stepped in with the approval of Democratic and Republican administrations alike, often quietly and behind the scenes, to help resolve conflicts.

In the Middle East, they have worked continuously to build upon the historic Camp David peace accord between Israel and Egypt, which Carter negotiated during his presidency.

In North Korea, they brokered an agreement to limit the development of nuclear arms in that nation, later terminated by the U.S. government.

They averted a major U.S.-led invasion of Haiti, and negotiated an end to conflict between Sudan and Uganda, and worked quietly to help end Sudan's 21-year-old civil war.

They negotiated a six-month ceasefire in the Balkans, which preceded the Dayton Agreement that brought a partial peace to the Balkans.

President Carter made a live television and radio address in Cuba, which was the first time in 43 years that its citizens had heard any strong public criticism of their government and its human right policies. He calls the current U.S. prohibition against American visitation and our trade embargo against Cuba's 11 million people "one of our nation's most ill-advised and counterproductive policies."
Building democracy
Monitoring elections is one of the Carter Center's best-known activities, and Jimmy Carter shares many moving personal accounts of these historic moments in "Beyond the White House: Waging Peace, Fighting Disease, Building Hope." He writes of weeping along with a South African man who has just seen people vote for the first time in 53 years, and of seeing ordinary people wait in line all night to vote in Liberia.

The Carter Center sent its first election monitoring team to Panama in 1989, to observe a contest in which the notorious dictator Manuel Noriega was ousted. In Nicaragua, President Carter and his colleagues have facilitated several peaceful transitions since the Sandinista revolution.

One of The Carter Center's most ambitious efforts has been the China Village Elections Project, which monitors and encourages the development of democratic elections in more than 650,000 small villages, affecting about 75 percent of China's 1.3 billion people.

In Indonesia, a peaceful vote monitored by The Carter Center in 2004 proved, after more than fifty years of dictatorship, that Muslim societies can embrace democratic governments.

The Carter Center observed the legitimate election of Venezuela's fiery president, Hugo Chávez, and then a recall referendum, as well as a successful democratic election in the Democratic Republic of Congo, where a fragile peace now prevails.

One of The Carter Center's most sustained commitments has been to help bring peace between Israel and its neighbors, including the monitoring of Palestinian elections in 1996, 2005, and 2006. Recent conflict between the Palestinian factions Fatah and Hamas has disrupted the Palestinian government. But more significant, in President Carter's view, is the fact that no substantive peace talks between Israel and the Palestinians have been held in seven years. He described the plight of the Palestinian people and outlined a practical approach to peace in his 2006 book "Palestine Peace Not Apartheid."
Fighting disease
Of all the stories in President Carter's book, few are more touching than those about the battle against "neglected" diseases in the world's poorest regions. As its first major health project, The Carter Center chose the eradication of Guinea worm, a waterborne disease in which long worms painfully emerge from people's bodies over a period of weeks. For centuries, the disease has brought suffering and shame to millions of people in Africa and Asia. But thanks to the efforts of The Carter Center, working closely with local governments, other humanitarian organizations, private donors, and corporations, this dreadful affliction is on the verge of being eradicated. As President Carter gratefully notes, DuPont's donation of vast quantities of special fabric for filtering water was vital to the project's success.

Likewise, massive donations of medications from pharmaceutical giants Merck and Pfizer, combined with the Carter Center's educational and organizing efforts, have greatly reduced the incidence of other crippling and disfiguring diseases.

The Carter Center currently treats about 12 million people a year for river blindness, and has delivered 16 million doses of the drugs that prevent lymphatic filariasis – a grotesque swelling of the arms, legs, and sexual organs. The Carter Center is also involved in efforts to treat and prevent trachoma, the leading cause of preventable blindness in the world; malaria, which kills 3,000 children in sub-Saharan Africa every day; and schistosomiasis, also known as snail fever, for which it has treated more than a million people. In addition, Rosalynn Carter writes about her energetic campaign to recognize, treat, and remove the stigma from mental illness around the world.

The Center has assisted more than 8 million small farmers in 15 African nations to increase production of food grains through its Global 2000 program. In Ethiopia, it has been made possible for that nation to export grain for the first time in modern history.
Building hope
Jimmy Carter made human rights the foundation of our nation's foreign policy when he was president, and the umbrella for all Carter Center projects is a commitment to human rights – including social and economic as well as political rights.

He laments that since 2001, the United States has abandoned its traditional role as a champion of human rights abroad and severely restricted civil liberties in our own country. Nonetheless, The Carter Center has worked vigorously to help establish the International Criminal Court – supported by more than 120 nations, although not the United States – and to protect and strengthen the effectiveness of human rights defenders and the rights of women, most recently by introducing language to condemn "honor killings" in some nations.

It has also fostered The Atlanta Project, an ambitious, decade-long effort to analyze and address the needs of poor people that involved scores of political, business, educational, and religious leaders as well as thousands of ordinary people from every segment of the Atlanta community.

"An emotional and often a spiritual experience"

Describing his visits to the villages and homes of those who are in need around the world, Jimmy Carter writes: "This intimate relationship with people we have not known before is an emotional and often a spiritual experience. Our natural human tendency is to underestimate those who are poor and cannot provide their families with basic necessities. We have learned that they are just as ambitious, hardworking, and intelligent, and their family values are as good as ours. They take full advantage of any opportunity to improve their lives."



About the Author
Jimmy Carter was born in Plains, Georgia, and served as 39th president of the United States. He and his wife, Rosalynn, founded The Carter Center, a not-for-profit organization that prevents and resolves conflicts, enhances freedom and democracy, and improves health around the world. He is the author of numerous books, including "An Hour Before Daylight," widely regarded as an American classic, and the #1 New York Times bestseller, "Our Endangered Values." Since leaving the presidency in 1981, President Carter has earned a Nobel Peace Prize for his humanitarian work at The Carter Center.


Visit Simon & Schuster on the Web at www.simonsays.com
---

Book Tour schedule

New York , N.Y. Info
Date: Monday, Oct. 8, 2007
Time: 6:00 p.m.
Location: Barnes & Noble
Address: Union Square
City: New York
State: New York

Bailey's Crossroads, Va. Info
Date: Tuesday, Oct. 9, 2007
Time: 6:00 p.m.
Location: Borders
Address: 5371 Crossroads Center Way
City: Bailey's Crossroads
State: Virginia

Jacksonville, Fla. Info
Date: Wednesday, Oct. 10, 2007
Time: 6:00 p.m.
Location: Costco
Address: not specified
City: Jacksonville
State: Florida

Mooresville, N.C. Info
Date: Thursday, Oct.11, 2007
Time: 6:00 p.m.
Location: Wal-Mart
Address: not specified
City: Mooresville
State: North Carolina

Gastonia, N.C. Info
Date: Friday, Oct. 12, 2007
Time: 11:00 a.m.
Location: BAM
Address: 3710 E Franklin Blvd.
City: Gastonia
State: North Carolina

Atlanta, Ga. Info
Date: Wednesday, Oct. 17, 2007
Time: 5:30 p.m.
Location: The Jimmy Carter Library & Museum
Address: 441 Freedom Pkwy N.E.
City: Atlanta
State: Georgia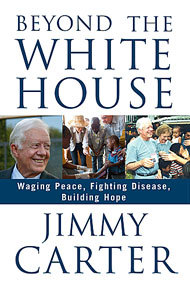 Schedules for Book Tour, Author Appearances Listed Below:

Book Tour Schedule
(Click date for details)

10/08/07: New York, N.Y.
10/09/07: Bailey's Crossroads, Va.
10/10/07: Jacksonville, Fla.
10/11/07: Mooresville, N.C.
10/12/07: Gastonia, N.C.
10/17/07: Atlanta, Ga.
Visit Simon & Schuster's Web site for updates >>
Tune In:  Author Appearances
(Check local listings for stations and times)

10/08/07:  ABC-TV, "Good Morning America"

10/08/07:  PBS-TV, "Charlie Rose"

10/09/07:  NPR, "Morning Edition"

10/09/07:  CBS-TV, "Early Show"

10/09/07:  CNN, "Larry King Live"
10/10/07:  PBS-TV, "Newshour with Jim Lehrer"

10/10/07:  BBC-TV, "BBC World News America"

10/12/07:  MSNBC-TV, "Morning Joe"

10/28/07:  NBC-TV, "Late Show"
Order "Beyond the White House:  Waging Peace, Fighting Disease, Building Hope,"  Browse Other Books by President and Mrs. Carter >>
From the publisher:

Jimmy Carter is at his most engaging and inspiring when writing about the things he cares about most, and that is surely the case in "Beyond the White House:  Waging Peace, Fighting Disease, Building Hope."  As he gives his personal testimony of how he, Rosalynn, and their associates at The Carter Center have spent the past quarter-century in the service of humanity, he is extraordinarily honest, revealing, and emotional.  Most importantly, as he recounts the stunning and often little-known achievements of The Carter Center in the fields of peacemaking, health, and human rights, he reminds us that the world truly can be changed for the better.