FOR IMMEDIATE RELEASE
Contact:
In Khartoum: Deborah Hakes, +249 909010573 or dhakes@emory.edu
In Abidjan: Sabina Vigani, +225-08-23-55-23
The Carter Center calls on political leaders in Cote d'Ivoire to renew their commitment to genuine democratic elections and ensure necessary steps are taken to realize that goal as soon as possible.  Cote d'Ivoire has made important strides to keep the peace process on track, but further delay could reverse those achievements.
Invited by the government of Cote d'Ivoire to observe the country's elections, The Carter Center deployed observers on several occasions during 2008 and 2009 and has maintained a field office there since 2008.
The overall electoral process was seriously disrupted on Jan. 7, 2010, following allegations made by President Gbagbo's spokesperson that the Independent Electoral Commission (CEI) attempted to commit fraud (Read Carter Center statement from January 2010).  These claims led to a major political deadlock and President Gbagbo's decision to dismiss the government and the leadership of the CEI.
With the assistance of the facilitator of the Ouagadougou Political Accord (OPA), Burkina Faso President Blaise Compaore, Ivorian political parties agreed to form a new government and new CEI leadership has been named.  This chain of events exposes an underlying mistrust among the major political actors in Cote d'Ivoire that poses a constant threat to efforts to build institutions and procedures that sustain the peace process.  While political parties rightly promote their self-interest and compete for every possible vote, mechanisms of the peace process and those implementing it must not be held hostage to persistent partisan political upheavals.
Elections in Cote d'Ivoire are nearly five years overdue, Ivoirians have shown their belief in the electoral process by coming out in large numbers to be identified and registered as voters, and the United Nations and many individual countries have provided years of political and financial support to the government of Cote d'Ivoire.
In November-December 2009, Carter Center observers assessed the posting and public verification of the provisional voters list and the claims and objections period.  These operations were the main means through which the CEI enabled Ivoirians to verify the quality of the voter list.  The CEI demonstrated improved operational ability during the public posting of the provisional voter list.
However, as in previous phases of the voter registration process, these efforts were too often hindered by the absence of clear and timely guidance on procedures from the central CEI.   Deficiencies in communications between central CEI and local branches and discrepancies in the interpretation of instructions by local election officials coupled with inaccurate application of those procedures created irregularities in the verification process. The CEI needs to strengthen the quality and timing of training of local electoral commissioners.
Long distances between rural CEI branches, coupled with continuing challenges of logistical planning and supply also created opportunities for political parties to exceed their legitimate roles, including instances when they provided financial and material support to the CEI and assumed some of the duties of election officials.   Such practices revealed a de facto privatization of some CEI responsibilities.
The absence of robust public awareness and education campaigns left many individuals uncertain about the requirements of the verification process.  Those individuals who found themselves struck from the voter lists for technical reasons were to have been eligible to re-register through the week of Dec. 14, 2009, but the CEI never implemented this provision.  The period for the resolution of claims and objections was extended on multiple occasions, and the agreement to install a new election commission called for an additional 21-day extension, though this step too has yet to be implemented.
The early 2010 suspension of election preparations is an opportunity to remedy these and other deficiencies in election administration but avoid undoing past achievements.  The planned upcoming distribution of identity and voter cards will provide a final opportunity to fine tune these operations before the elections themselves.  If unaddressed, serious difficulties may arise during the critical phases of voting, collection, and consolidation of results. Finally, the reunification of the country, cantonment of Forces Nouvelles volunteers for the new army, and disarmament of ex-combatants and militias are vital facets of the peace process that must go hand in hand with election preparations.
The Carter Center will continue to maintain a presence in Cote d'Ivoire and hopes that its ongoing assessment will contribute to a successful peace process and genuinely democratic elections.
####
At the invitation of the Ivorian authorities, The Carter Center launched an international election observation in November 2008. The Center has published several public reports based on these observations available at www.cartercenter.org. The Carter Center conducts election observation on the basis of the international standards contained in the "Declaration of Principles for International Election Observation" adopted by the United Nations in 2005 and endorsed by 35 election observation groups.
---
Le Centre Carter Appelle Les Responsables Politiques Ivoiriens à Remettre le Processus Électoral Sur Les Rails
7 Avril 2010
POUR PUBLICATION IMMEDIATE
Contact:
In Abidjan: Sabina Vigani, +225-08-23-55-23
Le Centre Carter appelle les responsables politiques en Côte d'Ivoire à renouveler leur engagement pour des élections démocratiques et à s'assurer que les préparatifs nécessaires soient poursuivis pour réaliser cet objectif dans les meilleurs délais. La Côte d'Ivoire a fait des progrès importants dans le processus de paix. Cependant, des retards additionnels pourraient mettre à mal les acquis. Le Centre Carter a été invité à observer le processus électoral et, à cet effet, a déployé des observateurs internationaux à plusieurs occasions en 2008 et 2009.
Le processus électoral a été sérieusement perturbé le 7 janvier 2010 suite aux allégations de tentative de fraude avancées par le porte-parole du Président Gbagbo à l'encontre du Président de la Commission Electorale Indépendante (CEI) (Déclaration du Centre Carter disponible sur le site www.cartercenter.org). Ces affirmations ont conduit à une impasse politique majeure et à la décision du Président Gbagbo de dissoudre le gouvernement et la CEI.
Avec l'assistance du Facilitateur de l'Accord Politique de Ouagadougou (APO), le Président Blaise Compaoré du Burkina Faso, les partis politiques ivoiriens se sont accordés sur la formation d'un nouveau gouvernement et une nouvelle direction de la CEI a été nommée. Cette chaine d'événements a dévoilé une méfiance sous-jacente entre les principaux acteurs  politiques en Côte d'Ivoire et qui pose une menace constante aux efforts visant à mettre en place les institutions et les procédures qui soutiennent le processus de paix. Evidemment, les partis politiques promeuvent leurs intérêts et se disputent chaque voix potentielle. Toutefois, les mécanismes du processus électoral et les individus qui en assument la responsabilité ne doivent pas être pris en otage de calcules et recalcules politiques et partisans.
La réalité est que les échéances électorales en Côte d'Ivoire accusent maintenant presque cinq ans de retard, que les Ivoiriens ont montré leur intérêt pour le processus électoral en sortant nombreux pour se faire identifier et enregistrer comme électeurs, et que les Nations Unies et de nombreux pays individuellement ont fournit pendant des années un soutien politique et financier considérable au gouvernement ivoirien.
En novembre et décembre 2009, les observateurs du Centre Carter ont évalué l'affichage et le contentieux relatif à la liste électorale. Ces opérations étaient le moyen principal par lequel la CEI a donné l'opportunité aux Ivoiriens de vérifier la qualité de la liste électorale. Au cours de l'opération d'affichage de la liste provisoire, la CEI a démontré des capacités opérationnelles renforcées.
Cependant, comme pendant l'opération précédente d'identification et de recensement électoral, ces efforts ont été entravés par l'absence d'instructions claires de la CEI centrale quant aux procédures. Des carences de communication entre la CEI centrale et ses démembrements, des divergences dans l'interprétation des instructions par les commissaires locaux ainsi que l'application parfois inexacte des procédures ont aboutit à des irrégularités et incohérences dans le processus de vérification de la liste électorale. Il apparaît dès lors que la CEI doit consacrer une attention particulière au renforcement de la qualité de la formation impartie aux commissaires locaux.
Par ailleurs, les longues distances en zone rurale ainsi que les défis persistants en termes de planification et moyens logistiques ont donné l'opportunité aux partis politiques de dépasser leur rôle légitime, notamment en fournissant un soutien financier et matériel aux CEI locales. De telles pratiques révèlent une privatisation de facto de certaines responsabilités qui incombent à la CEI.
En l'absence d'une solide campagne d'éducation et de sensibilisation, de nombreuses personnes n'étaient pas informées des exigences relatives au processus de vérification de la liste électorale, exigences d'autant plus complexes que la liste a été affichée en deux parties distinctes. Par ailleurs, les personnes ne figurant pas sur la liste provisoire pour cause de rejet technique étaient censées pouvoir se ré-enrôler à partir du 14 décembre et pendant une semaine, mais cette mesure annoncée par la CEI n'a pas été suivie d'effet. La période du contentieux a été prolongée à plusieurs reprises. Selon les termes de l'accord pour le rétablissement de la CEI, une extension additionnelle de 21 jours a été prévue mais n'a toujours pas démarré.
La suspension des préparatifs électoraux depuis début 2010 devrait devenir une opportunité pour remédier aux lacunes relevées dans l'administration électorale, mais sans pour autant remettre en cause les acquis du processus électoral. Ainsi, l'opération de distribution des cartes d'identité et d'électeurs sera une dernière occasion d'ajuster le dispositif opérationnel avant les élections. Si on n'y prend pas garde, de sérieuses difficultés pourraient survenir pendant les phases critiques du vote, de la collecte et de la consolidation des résultats.
Enfin, la poursuite de la réunification du pays, l'encasernement des volontaires pour la nouvelle armée, ainsi que la démobilisation des ex-combattants et des milices constituent autant de facettes du processus de paix qui doivent progresser de concert avec les préparatifs électoraux.
Le Centre Carter entend maintenir une présence en Côte d'Ivoire et espère que son évaluation continue pourra contribuer au succès du processus de paix et à la tenue d'élections démocratiques.
####
Sur invitation des autorités Ivoiriennes, le Centre Carter a lancé une mission internationale d'observation électorale en novembre 2008.  Le Centre a publié plusieurs rapports basés sur ses observations (disponibles sur le site www.cartercenter.org).
Le Centre Carter conduit son travail d'observation conformément aux standards internationaux contenus dans la "Déclaration de principes pour l'observation internationale d'élections", adoptée aux Nations Unies en 2005.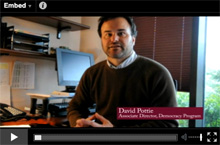 Watch David Pottie, associate director of the Carter Center's Democracy Program, as he explains the significance of Cote d'Ivoire's elections >