Sept. 14, 2009
FOR IMMEDIATE RELEASE
CONTACT: Deborah Hakes, 404-420-5124
In celebration of the second annual International Day of Democracy, former U.S. President Jimmy Carter and The Carter Center call upon citizens around the globe to recommit themselves to the principles of democracy.
"Democracy requires our sustained commitment to ideals never to be taken for granted or considered fully achieved," said President Carter. "Citizens and their leaders must continue to strive for democratic ideals, universal human rights, accountable governance, and effective rule of law.  It is our hope that Sept. 15 can serve as an important annual reminder about the essential responsibility we all share in the promotion of democracy in our own countries."
The Center reiterates its commitment to work closely with like-minded organizations to build democratic societies around the world and recognizes the International Day of Democracy as an opportunity for all states, not just those currently undergoing democratic transition, to reflect upon the effectiveness and strength of democracy within their borders.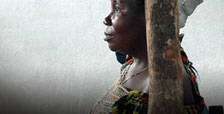 View the Carter Center's Democratic Election Standards Web Section >



International Day of Democracy: Message from Jimmy Carter (2008) Watch Video (6:31) >