Nov. 27, 2007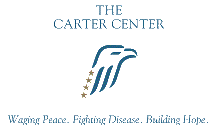 FOR IMMEDIATE RELEASE
Contact: Emily Staub, The Carter Center
Telephone: +1-404-420-5126
Email: emily.staub@emory.edu
WASHINGTON, D.C.  Poised to be the first parasitic disease eradicated in human history, Guinea worm disease now teeters on the verge of extinction. The 2007 Fries Prize for Improving Health was bestowed on Donald R. Hopkins, M.D., M.P.H., Carter Center vice president for health programs, for his sustained leadership in the global campaign to eradicate Guinea worm disease (dracunculiasis), a debilitating parasitic infection contracted from drinking contaminated water. The prestigious award was presented by Kenneth Fries, Esq during the annual Health and Human Services/Centers for Disease Control and Prevention Summit held in Washington, D.C. November 27-29, 2007.
"Dr. Hopkins' three-decade long battle against Guinea worm disease and his continued dedication to the underserved make him an inspiration to all," said James F. Fries, M. D., Foundation chair.  Dr. Fries further noted that the Foundation's first awardee in 1992, Bill Foege, M. D., M. P. H, also a Carter Center stalwart, was honored for his work in the worldwide eradication of smallpox.
James F. and Sarah T. Fries Foundation Prize for Improving Health is awarded each year to an individual for his or her contribution to public health. Dr. Hopkins is the 16th recipient chosen by the prestigious Fries selection jury consisting of scholars and experts in health.  Other award winners include: William T. Sergeant; Faye Wattleton, R.N.; and C. Everett Koop, M.D.
"There have been few heroes in my life and Dr. Hopkins is one of them. His lifetime commitment to alleviating the suffering of those who are afflicted by some of the world's most forgotten diseases makes Dr. Hopkins an outstanding choice for the 2007 Fries Prize for Improving Health," said former U.S. President Jimmy Carter, founder of The Carter Center. "His contribution to the field of global health through his work at The Carter Center and CDC can be measured by the countless people who now have hope for a better future."
Born in south Florida as one of ten children, his prominent career has taken him to communities in Africa so remote the people say they are 'beyond the end of the road.' Dr. Hopkins continually champions causes in which few others take interest—smallpox eradication, Guinea worm eradication, river blindness, schistosomiasis and trachoma control, lymphatic filariasis elimination, yaws control, and building health systems in developing countries.
In 1960-61, Dr. Hopkins attended the Institute of European Studies at the University of Vienna. He later earned his bachelor of science degree from Morehouse College, attended medical school at the University of Chicago, and received a master of public health from the Harvard School of Public Health.  He is board-certified in pediatrics and in public health and has been a member of seven U.S. delegations to the World Health Assembly. Before and after holding an assistant professorship in tropical public health at the Harvard School of Public Health, he spent 20 years with the CDC where his work included leadership of the smallpox eradication and measles control program in Sierra Leone, West Africa. During his time at the CDC, he spent three years as deputy director and served as acting director in 1985.
Currently, Dr. Hopkins serves as the Carter Center's vice president for health programs, overseeing the worldwide campaign to eradicate Guinea worm disease. Under his leadership and that of the Center's Guinea worm program director Dr. Ernesto Ruiz-Tiben, the incidence of this ancient disease has been reduced by more than 99 percent. When the program began there were an estimated 3.5 million cases in 20 countries in Africa and Asia. Today only about 11,000 cases remain in seven African countries. Guinea worm is set to be the next disease eradicated since smallpox and the first to be overcome without a vaccine.
Dr. Hopkins has authored numerous articles for scientific journals and textbooks. He also has received many awards and honors, including a MacArthur Fellowship in 1995 for his leadership in the international campaign to eradicate Guinea worm disease. He currently serves on the MacArthur Foundation's Board of Directors. He was nominated for a Pulitzer Prize in 1983 for his book, "Princes and Peasants: Smallpox in History." He was elected a Fellow of the American Academy of Arts and Sciences in 1997, inducted as a Knight of the National Order of Mali in 1998, awarded the Medal of Honor of Public Health (Gold) by Niger in 2004, and was named a Champion of Public Health by Tulane University in 2005.
Guinea Worm Disease
Guinea worm disease is contracted by drinking water contaminated with the parasite. Inside a human's body, Guinea worms mature and grow, some as long as 3 feet. After a year, the Guinea worm slowly emerges through an agonizingly painful blister it creates in the skin. The emerging worm often causes fever, nausea, secondary infection, and burning pain, earning the parasite one of its nicknames, 'the fiery serpent,' and can take up to two months to be completely removed.
The presence of Guinea worm disease in a geographic area indicates abject poverty, including the absence of safe drinking water.  People with the disease are often unable to go to school, farm, or do other work, resulting in serious economic losses and increased poverty. The disease can be controlled through simple measures such as filtering all drinking water and educating people who are infected to take precautions to prevent transmission. Guinea worm will be the first disease to be eradicated without vaccines or an antibiotic cure.
The Carter Center spearheads the international Guinea worm eradication campaign in collaboration with the national programs, the CDC, the World Health Organization, UNICEF, and many other partners.
####
The Carter Center
"Waging Peace. Fighting Disease. Building Hope."

The Carter Center celebrates its 25th anniversary in 2007. A not-for-profit, nongovernmental organization, The Carter Center has helped to improve life for people in more than 70 countries by resolving conflicts; advancing democracy, human rights, and economic opportunity; preventing diseases; improving mental health care; and teaching farmers in developing nations to increase crop production. The Carter Center was founded in 1982 by former U.S. President Jimmy Carter and his wife, Rosalynn, in partnership with Emory University, to advance peace and health worldwide. Please visit www.cartercenter.org to learn more about The Carter Center.
The James F. and Sarah T. Fries Foundation

The James F. and Sarah T. Fries Foundation, formerly known as the Healthtrac Foundation, is a nonprofit corporation incorporated in 1991. The mission of the Foundation is to identify and honor individuals, organizations, or institutions, which have made great contributions to the health of the public. The Foundation seeks to reward accomplishment rather than promise, practicality rather than theory. Both the Fries Prize for Improving Health and the Elizabeth Fries Health Education Award are awarded for outstanding achievements as determined by the Selection Jury, and are conferred yearly. Please visit http://www.friesfoundation.org to learn more about the Fries Froundation.