Oct. 19, 2014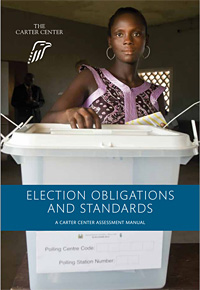 Read the handbook (PDF)
The Carter Center is joining forces with the International Institute for Democracy and Electoral Assistance to launch two new election manuals Tuesday, Oct. 28, at the United Nations in New York.
The launch event, which will feature Carter Center CEO Ambassador (Ret.) Mary Ann Peters and International IDEA Secretary General Yves Leterme, will be webcast live at noon at http://webtv.un.org/.
International IDEA's manual is called International Obligations for Elections: Guidelines for Reviewing Legal Frameworks. The Carter Center's new manual is called Election Obligations and Standards: A Carter Center Assessment Manual, and it serves as a companion handbook to the newly redesigned Election Obligations and Standards Database, which was created to strengthen citizens' ability to hold authorities accountable when they fail to meet their democratic obligations.
First launched in 2010 as the Database of Obligations for Democratic Elections, the Center's new EOS consolidates nearly 200 sources of public international law related to human rights and elections. With this easily searchable tool, observers have at their fingertips a transparent framework for evaluating electoral processes. It helps users understand how such important obligations as the right to vote, freedom from discrimination, and freedom of association apply to each phase of the process, from the design of electoral laws to the resolution of disputes long after votes are counted. The database, available at eos.cartercenter.org, is intended for use by election assistance providers, researchers, and citizens alike.
The new manual is already available online. In an easily referenced format, it links the source excerpts and assessment criteria found in the database to specific issues that tend to arise during each part of the electoral process.
The database and handbook are an initiative of the Center's Democratic Election Standards project.
Updated Oct. 27, 2014
Election Obligations and Standards Database
Election Obligations and Standards Manual (PDF)
Democractic Elections Standards