Sept. 27, 2007
Battling the dangerous void left by the migration of its skilled health professionals to other countries, Ethiopia, a country challenged by the grim realities of killer diseases, has proven it can build a sustainable health workforce to meet its unique health situation.
This great achievement, in large part, is due to a network of Ethiopian government officials and faculty who have painstakingly tailored health science curricula to specifically address the Ethiopian context. These supplementary materials have strengthened the education of thousands of health care workers which has translated into improved health care delivery for 75 million rural Ethiopians.
Now to share this grassroots approach with other nations, the Ethiopia Public Health Training Initiative's health education materials are posted to the Carter Center's Web site at www.cartercenter.org/ethiopia_health.
For a decade the Carter Center's Ethiopia Public Health Training Initiative (EPHTI) has addressed this problem and worked with Ethiopia's Ministry of Education, Ministry of Health, and seven Ethiopian universities to develop contextualized health education materials to strengthen the training of the country's health work force. By making these materials globally available online, the program will be able to collaborate with government officials and university faculty of other African countries to adapt a similar grassroots approach to strengthen the teaching capacities of their health professional training institutions.
Directly relevant to the country's health practices and priorities, EPHTI health learning materials are an outstanding example of how a country can tailor pre-service training to meet its unique heath situation. EPHTI materials are written by Ethiopians, for Ethiopians, and cover a wide-range of topics such as malaria, HIV/AIDS, research methodology, psychiatric nursing, and vector and rodent control. Teachers and professors at seven Ethiopian universities participated in the development of and now use these materials to educate health students, who work in primary health care centers. Additionally the universities have prepared materials that are being used by the Ministry of Health to prepare qualified community health workers. The cycle of improved learning comes full circle when better-trained healthcare professionals not only provide better quality training to the community, but also train and manage future generations of community health workers. The quality and quantity of Ethiopia's health workers is being increased with these types of grassroots-developed and country-specific training materials.
Today, EPHTI has completed two instruction manuals, 65 training modules, and 123 sets of lecture notes. Currently 38 lecture notes and modules (complete references by topic) for seven types of health professionals and two types of degree programs are posted to the site. Additional materials will be posted as copyright permissions are received.
Read Voice of America Feature:  Ethiopia Partners with Carter Center on Public Health Training Initiative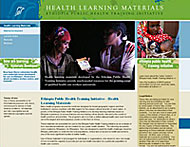 Visit the EPHTI Health Training Materials Web Site
This site includes modules, lecture notes, and manuals developed by Ethiopians, for Ethiopians. The materials are designed to meet the country's health challenges, particularly in underserved rural populations, where lack of access to health personnel is one of the most significant hurdles to better health.