Jan. 19, 2015
FOR IMMEDIATE RELEASE
Contact: Emily Staub, The Carter Center, Emily.Staub@emory.edu, +1-404-420-5126
ATLANTA...Former U.S. President Jimmy Carter and The Carter Center congratulate Ghana on being certified by the World Health Organization this week as having eliminated Guinea worm (Dracunculus medinensis), a water-borne parasitic disease poised to be the second human disease in history to be eradicated.
"Ghana's triumph over Guinea worm disease serves as a reminder to the world and the remaining endemic countries that the greatest challenges can be overcome with hard work, political commitment, and the support of the international community," said President Carter, founder of The Carter Center, which has led the international campaign to eradicate the disease.
President Carter has recalled seeing his first case of Guinea worm disease in Denchira, a village near the Ghanaian capital of Accra in March 1988. (Read more in President Carter's essay for TIME magazine).
The WHO's International Commission for the Certification of Dracunculiasis Eradication, in consultation with Ghana's Ministry of Health, sent a certification team to Ghana in July 2014 to assess whether transmission of the disease continued or whether it was interrupted for three or more years after the last indigenous case was reported. On Jan. 14, 2015, WHO Director-General Dr. Margaret Chan provided Ghana with official notification that WHO has certified Ghana as Guinea worm-free.
For a disease to be eradicated (worldwide), every country must be certified as free of the disease, even if transmission has never taken place there. To date, 198 countries and territories have been certified. The WHO is responsible for certifying countries as Guinea worm-free, and is the only organization that can officially certify the eradication of a disease.
The Carter Center began leading the international Guinea worm eradication campaign in 1986. The following year, Ghana became one of the Carter Center Guinea Worm Eradication Program's first country partners. Nearly 180,000 cases of Guinea worm disease were reported during the county's first national case search in 1989. This ranked Ghana second in the world in cases at the time.
Strong partnerships throughout the campaign helped the nation overcome many challenges and setbacks, including a massive Guinea worm outbreak in Savelugu town in 2007. As a result of redoubled program efforts and reaffirmed national and international commitments, cases were reduced the following year by 85 percent - the greatest single-year reduction of any moderately endemic country in the history of the campaign.
In May 2010, Ghana reported and contained its last indigenous case, indicating that the disease cycle had been broken after a 22-year (1988-2010) nationwide battle.
Today, Guinea worm disease remains endemic in pockets of South Sudan, Mali, Chad, and Ethiopia. On Jan. 12, 2015, The Carter Center announced that there were 126 provisional Guinea worm cases reported in 2014. When the campaign began, there were an estimated 3.5 million cases in 21 countries in Africa and Asia. Critical to the campaign's success has been long-term collaboration at the community level as well as among the national ministries of health and key implementing partners.
Guinea worm disease afflicts the world's poorest and most isolated communities, and is contracted when people consume Guinea worm-contaminated water. After a year, a meter-long worm slowly emerges from the body through a painful blister in the skin. The ancient disease is being wiped out through health education and behavior change, for example teaching people to filter all drinking water and keeping anyone with an emerging worm from entering water sources. There are no vaccines or medicines to prevent or treat the disease.
"The last cases of any disease are the most challenging to wipe out, especially when stability is threatened in the endemic communities of South Sudan and Mali," said Carter Center Vice President of Health Programs Dr. Donald Hopkins, who has led the international campaign with Dr. Ernesto Ruiz-Tiben, also at the Center. "But we know that with the international community's support, eradication of Guinea worm disease is not a question of if, but when," Dr. Hopkins said.
Strong Partnerships
Many generous foundations, corporations, governments, and individuals have made the Carter Center's work to eradicate Guinea worm disease possible, including major support from the Bill & Melinda Gates Foundation; the United Kingdom's Department for International Development (DFID); Children's Investment Fund Foundation (CIFF) - United Kingdom; and His Highness General Sheikh Mohamed bin Zayed Al Nahyan, Crown Prince of Abu Dhabi, in the name of His Highness Sheikh Khalifa bin Zayed, President of the United Arab Emirates (UAE). The DuPont Corporation and Precision Fabrics Group donated nylon filter cloth early in the campaign; Vestergaard donated pipe and household cloth filters in recent years. ABATE® larvicide (temephos) has been donated for many years by BASF. Key implementing partners include the ministries of health in endemic countries, The Carter Center, WHO, CDC, and UNICEF.
Editor's Note:
• B-roll and photographs from the Carter Center-led Guinea worm disease eradication campaign are available by contacting Emily.Staub@emory.edu.
• Get up-to-date Guinea worm resources including, monthly case reporting, graphs, news articles, and human interest stories. Learn more.
###
"Waging Peace. Fighting Disease. Building Hope."
A not-for-profit, nongovernmental organization, The Carter Center has helped to improve life for people in over 80 countries by resolving conflicts; advancing democracy, human rights, and economic opportunity; preventing diseases; and improving mental health care. The Carter Center was founded in 1982 by former U.S. President Jimmy Carter and former First Lady Rosalynn Carter, in partnership with Emory University, to advance peace and health worldwide.
Video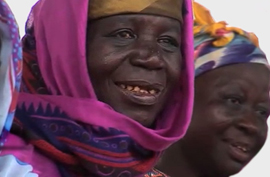 Watch Video: Ghana Declares Victory Over Guinea Worm Disease
Related Resources