FOR IMMEDIATE RELEASE
Contact: Emily Staub, The Carter Center, Emily.Staub@emory.edu, +1-404-420-5126
ATLANTA...Former U.S. President Jimmy Carter and The Carter Center congratulate Ghana on becoming the world's newest country to stop transmission of Guinea worm, a water-borne parasitic disease poised to be the second human disease in history to be eradicated.
"Ghana's triumph over Guinea worm disease serves as a reminder to the world and the remaining endemic countries that the greatest challenges can be overcome with hard work, political commitment, and the support of the international community," said President Carter, founder of The Carter Center, which has led an international campaign to eradicate the disease.
Today, during the nation's celebration in the northern city of Tamale, Ghana, Ghana Vice President John Mahama officially announced that the country had completed 14 consecutive months reporting zero indigenous cases of Guinea worm disease, indicating that the disease cycle has been broken after a 23-year nationwide battle.
Guinea worm disease afflicts the world's poorest and most isolated communities. Also known as dracunculiasis, Guinea worm disease is contracted when people consume water contaminated with Guinea worm larvae. After a year, a meter-long worm slowly emerges from the body through a painful blister in the skin. The ancient disease is being wiped out through health education and behavior change, for example teaching people to filter all drinking water and keeping anyone with an emerging worm from entering water sources. There are no vaccines or medicines to prevent or treat the disease.
The Carter Center began leading the international Guinea worm eradication campaign in 1986. The following year, the Center and Ghana collaborated making Ghana one of the Carter Center Guinea Worm Eradication Program's first country partners. Nearly 180,000 cases of Guinea worm disease were reported during the county's first national case search in 1989. This ranked Ghana second in the world in cases at the time.
Strong partnerships throughout the campaign helped the nation overcome many challenges and set-backs, including a massive Guinea worm outbreak in Savelugu town in 2007. As a result of redoubled program efforts and reaffirmed national and international commitments, cases were reduced the following year by 85 percent-the greatest single-year reduction of any moderately endemic country in the history of the campaign.
In May 2010, Ghana reported and contained its last indigenous case.
Today, Guinea worm disease remains endemic in South Sudan and pockets of Mali and Ethiopia. Chad also recently experienced an isolated outbreak. Approximately 804 cases (provisional) have been reported in those nations between January-June 2011. When the campaign began, there were more than 3.5 million cases in 20 countries in Africa and Asia. Long-term collaboration at the community level as well as among the national ministries of health, the U.S. Centers for Disease Control and Prevention, UNICEF, the World Health Organization, and many other organizations are a critical component of the campaign's success.
"The last cases of any disease are the most challenging to wipe out, especially when stability is threatened in the endemic communities of South Sudan and Mali," said Carter Center Vice President of Health Programs Dr. Donald Hopkins, who attended the Ghana celebration on behalf of President Carter and The Carter Center. "But we know that with the international community's support, eradication of Guinea worm disease is not a question of if, but when," Dr. Hopkins said.
Editor's Note:
###
"Waging Peace. Fighting Disease. Building Hope."
A not-for-profit, nongovernmental organization, The Carter Center has helped to improve life for people in more than 70 countries by resolving conflicts; advancing democracy, human rights, and economic opportunity; preventing diseases; improving mental health care; and teaching farmers in developing nations to increase crop production. The Carter Center was founded in 1982 by former U.S. President Jimmy Carter and his wife, Rosalynn, in partnership with Emory University, to advance peace and health worldwide.
Multimedia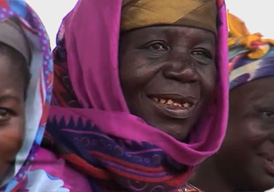 Ghana Declares Victory over Guinea Worm
Watch Video >>