Dec. 3, 2008
GSK CEO marks 10th anniversary of drive to eliminate lymphatic filariasis (LF) with donation of one-billionth albendazole tablet and grant to The Carter Center.
In a meeting today with former U.S. President and founder of The Carter Center, Jimmy Carter, as well as global health thought leaders from around the world, GlaxoSmithKline [LSE/NYSE: GSK] announced that it has made a $250,000 donation to The Carter Center to assist the Ministry of Health of Ethiopia with launching a program to eliminate lymphatic filariasis (LF).  The program will be launched in the Gambella region of Ethiopia, currently known as the most LF-endemic part of the country.  The donation to The Carter Center will help enable a two-year initiative to scale up mass drug administration for LF there. 
The announcement was made during a celebration for the 10th anniversary of GSK's commitment to the Global Program to Eliminate LF at The Carter Center in Atlanta.  LF remains one of the seven diseases deemed eradicable by the International Task Force for Disease Eradication, along with polio, mumps, rubella, pork tapeworm, Guinea worm disease, and measles.  Since the LF program began a decade ago, it has prevented 6.6 million children from acquiring LF.  At the event, GSK also stated the company would scale up its manufacturing to quadruple the supply of medicine to the program.
Andrew Witty, CEO of GlaxoSmithKline, reaffirmed the healthcare company's commitment to global public health, with a focus on diseases of the developing world, stating, "It is truly humbling to be a part of a program that has managed to treat 570 million people in 48 countries.  GSK is proud of the role we have played in the LF program and we are fully committed to ridding the world of this disease.  For this reason, we are increasing our manufacturing capacity so that by 2010 we will be able to supply four times as much albendazole as we do today."
A clear example of the company's long-term commitment, the Global Program to Eliminate LF relies on the donation of two drugs necessary for LF elimination – (albendazole and Mectizan®, respectively) – from GlaxoSmithKline and Merck & Co., Inc. – in partnership with the World Health Organization (WHO).   The program's goals are two-fold:  eliminate LF as a public health problem by 2020; and alleviate physical, social and economic hardship in individuals who have LF-induced disability.
Over the past decade the program, supported by the Global Alliance to Eliminate LF, has become the most rapidly scaled-up drug administration program in public health history.  It is on track to be the largest drug donation program ever supported by the pharmaceutical industry.  This month the one-billionth albendazole tablet will be donated by GSK.  Several countries have completed the 5-year administration program needed to achieve elimination, including Egypt and Sri Lanka; and data shows the program is on track to successfully eliminate the disease in those countries.
President Carter said, "We stand at the cusp of major breakthroughs in the elimination and eradication of a number of tropical diseases, notably lymphatic filariasis, Guinea worm disease and polio. None of these advances would be possible without the collaboration and commitment of both the public and private sectors.  I applaud GlaxoSmithKline for its leadership in helping to shape the ways in which we address the challenges of diseases of the developing world, and I thank them for the past decade of partnership with The Carter Center."  The Carter Center has assisted the Ministry of Health of Nigeria with providing over 22 million treatments for LF since 2000.
Witty confirmed that GSK has begun building a manufacturing line that will result in a four-fold increase in the current global capacity to produce albendazole tablets.  The new facility, to be built in Nashik, India, will enable GSK to produce more that 600 million tablets a year by 2010.  GSK will invest nearly £200,000 (approximately $300,000) in the facility as well as convert existing equipment to produce the tablets. This dramatic increase in capacity will improve the lives of over 550 million people in India who live at risk of developing this debilitating condition, which currently costs India an estimated $840 million each year due to treatment costs and reduced working time.
About lymphatic filariasis – Lymphatic filariasis, often called elephantiasis, is a parasitic infection spread by mosquitoes that causes grotesque, painful swelling of the limbs, breasts, and genitals.  Considered a neglected tropical disease, LF almost exclusively affects the world's poorest people.  Approximately one fifth of the world's population (1.3 billion people) is at risk of contracting LF and approximately 120 million people in 83 countries are currently infected.
GlaxoSmithKline – one of the world's leading research-based pharmaceutical and healthcare companies – is committed to improving the quality of human life by enabling people to do more, feel better and live longer.  For further information please visit http://www.gsk.com
The Carter Center - A not-for-profit, nongovernmental organization, The Carter Center has helped to improve life for people in more than 70 countries by resolving conflicts; advancing democracy, human rights, and economic opportunity; preventing diseases; improving mental health care; and teaching farmers in developing nations to increase crop production. The Carter Center was founded in 1982 by former U.S. President Jimmy Carter and his wife, Rosalynn, in partnership with Emory University, to advance peace and health worldwide. The Center's health programs were honoured with the 2006 Gates Award for Global Health from the Bill & Melinda Gates Foundation. Please visit www.cartercenter.org to learn more about The Carter Center.
Related Resources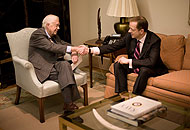 Carter Center Photo: G. Chapman
(Click to enlarge)
Former U.S. President Jimmy Carter receives a check for $250,000 from GlaxoSmithKline CEO Andrew Witty. The donation to The Carter Center will assist the launch of a lymphatic filariasis program by Ministry of Health of Ethiopia.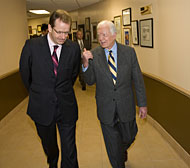 Carter Center Photo: G. Chapman
(Click to enlarge)
GlaxoSmithKline CEO Andrew Witty (left) and former U.S. President Jimmy Carter.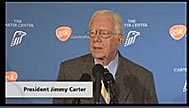 View video highlights from the panel discussion and events held Dec. 4, 2008 at The Carter Center (courtesy GSK).